How to grow pampas grass: follow our tips on when and where to plant this striking grass
It's made a comeback in the popularity stakes, so learn how to grow pampas grass and add this striking perennial to your planting scheme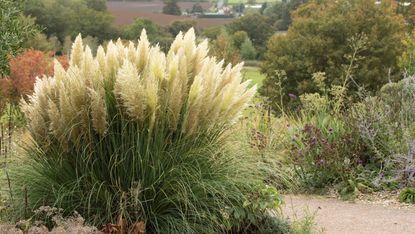 (Image credit: Alamy)
Want to know how to grow pampas grass? You're in good company as it's one of the most on-trend plants around and the good news is that it is very easy to learn how to grow.
Once dismissed as a Seventies relic, its presence in suburban front gardens was said to suggest that the owners were up for wife swapping! The plant's popularity plunged for a couple of decades, only to make a comeback over the last couple of years.
With a muted palette of silvery white, cream and milky coffee tones, and feather duster shaped flowers on long arching stems, this perennial grass fits perfectly with current Scandi/Boho trends. It has become so coveted that a single stem can fetch £25 in an upmarket florists' shop.
So why not save yourself some money and learn how to grow pampas grass in your own garden instead? It's an easy to grow, hardy plant, which is tolerant of heat, drought, exposed spots and coastal climates. It works well as part of a textured prairie border, on its own as a striking focal point, or it can be contained in pots to make a patio feature.
Once pampas grass is established, the only issue is controlling its growth. Many are large, fast-growing plants which can self-seed. In some states of America, it is classed as an invasive species. However, armed with some knowledge and easy-care tips, pampas grass is a stylish and welcome addition to the garden.
Keep reading for our expert tips, plus check our guide on how to grow ornamental grasses for more ways to introduce stunning grasses to your bed, borders and containers.
HOW TO GROW PAMPAS GRASS
The easiest way to grow pampas grass is to buy it as a small plant which is ready to put in the ground. Although dwarf varieties are available, most will grow to at least 2 to 3 metres tall, so check the label carefully for the ultimate height and spread.
Choose a spot with plenty of space around it. Avoid areas close to paths and where children play, as the leaves can be razor sharp. This grass prefers a sunny or partly sunny position with free draining (not soggy) soil.
Plant it out before midsummer's day (June 21), so strong roots can form before winter. It flowers around late August to early September, but the plumes look good for months. The female plants produce the softest, prettiest flowers in pale colours. The male ones have smaller, greyish pink flowers.
Pampas grass can be grown in a container, although this will limit the size. Choose a large pot, and add some handfuls of horticultural grit to the compost for good drainage. You will need to pot the plant on as it grows larger. Find out how to do this in our guide on how to repot a plant.
What type of pampas grass should I choose?
The most commonly grown species is Cortaderia selloana, which originates in South America, although other types come from New Zealand and New Guinea. There are 24 species, varying in colour and size.
'Pumila' is deservedly popular, because it is relatively compact, and it has striking white plumes which appear in late summer and early autumn against mid-green foliage. This plant will grow up to about 2 metres tall.
For an architectural plant which needs plenty of room to grow, try 'Sunningdale Silver.' It has tussocky grey-green leaves and arching stems with densely fluffy white heads. It will reach up to 3 metres tall, and 2.5 metres wide.
If space is tight, opt for 'Silver Feather.' It is worth tracking down this small and compact plant with variegated green and cream foliage, arching stems and shimmery silver-white plumes which are excellent for drying. It will grow to about 1 metre tall.
HOW TO GROW PAMPAS GRASS FROM SEED
Pampas grass can be grown from seed. Start them off indoors, sowing any time between February and April.
Plant the seeds 6mm deep in a tray of seedling compost. Keep in a propagator or place them on a warm, sunny window ledge with cling film over the top of the tray. They should germinate in 21 days.
Once the seedlings are large enough to handle, pot on into some gritty compost. There's top tips in our guide on how to transplant seedlings.
The plants will soon become bushy and they are ready to plant out in the summer, once frost risks have passed. Plant them in rows 30cm apart in finely raked soil.
As they grow, thin the seedlings to 23cm apart. Replant the ones which have been removed.
It will take a couple of years for new plants to flower.
HOW TO PLANT PAMPAS GRASS
For a ready grown plant from a nursery or garden centre, dig a hole that is the same height and width as the root ball of the plant. Add some mulch or a multi-purpose fertiliser into the hole.
Ease the plant from its pot, gently teasing out the roots with your fingertips. Put the plant in the hole and backfill with soil. Press down gently and water with a full can.
There's more advice on the benefits of using mulch in your garden in our ultimate guide to mulching.
HOW TO CARE FOR PAMPAS GRASS
Pampas grass foliage lasts all year round, but it can look scruffy around March and April. This means it's a good time to tidy up the plant, using the best secateurs to remove any dry, damaged or dead leaves from the dense tussocks at the plant's base.
Wear sturdy gardening gloves (you can find the best gardening gloves in our guide) and arm protection for this job, as the leaves can cut. You can also remove tatty plumes around this time, although bear in mind that birds use them to line their nests.
Fertilise plants once in the early spring, but avoid overfeeding, because this boosts foliage growth, rather than the elegant flowers.
PROBLEMS WITH PAMPAS GRASS
Resistant to most diseases and tolerant of even the driest growing conditions, pampas grass presents few problems, other than its tendency to self-seed and spread where it is not wanted. If the plant is becoming too large, it can be divided in early spring.
In hot countries where wildfires are a risk, it is advised that this highly flammable plant should be grown away from houses and outbuildings to reduce fire hazard.
HOW TO DRY PAMPAS GRASS
Cut the stems when the plant is in its first full bloom, usually in late August or September. Choose a dry day, and harvest after midday, when the dew has dried.
Tie a bunch of three or four stems together with string. Make a loop for hanging.
Choose a warm, dry space and hang the bunch upside down, making sure that the air can circulate around it.
Leave for two to three weeks.
Once the plumes are dry, turn the grasses the right way up, fluff them out gently with your fingers and apply a squirt of hairspray before displaying in a rustic vase or a vintage glass carboy. Head over to our guide on how to dry flowers for more tips.
Where to buy pampas grass
Whether you want to grow pampas grass from seeds or prefer the idea of planting out a small plant straight in the garden, there are plenty of striking options to choose from. Use our quicklinks below to buy now, or keep scrolling to check out some of our favourite varieties to try in your garden.
Buy pampas grass in the UK:
Buy pampas grass in the US: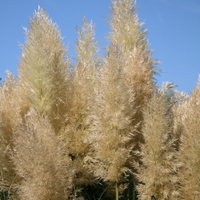 Cortaderia selloana 'Pumila' from Waitrose Garden
This variety has silvery-yellow flower plumes in late summer above bushy mounds of mid-green leaves. It's a hardy variety that likes fertile, well drained soil. It's compact (growing to 1.5 metres high) so also suitable for smaller gardens. Delivered in a two litre pot.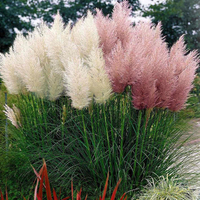 Prairie Seeds - Pampas Feathers Mix from Suttons
Want to try growing pampas grass from seed? Then give this colourful mix a go. These seeds include a mixture of creamy white and pale pink plumed plants, perfect for the back of a border and screening ugly fencing.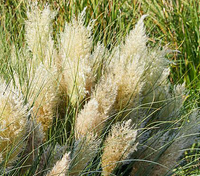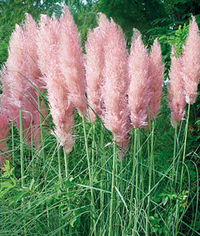 Cortaderia Pink Pampas from Burpee
This has large silky plumes from early summer to mid-autumn. Colors will range from a subtle pink beige to sand-pink and even light salmon pink. It can work well as a dried flower and will make a striking arrangement in your arrangements.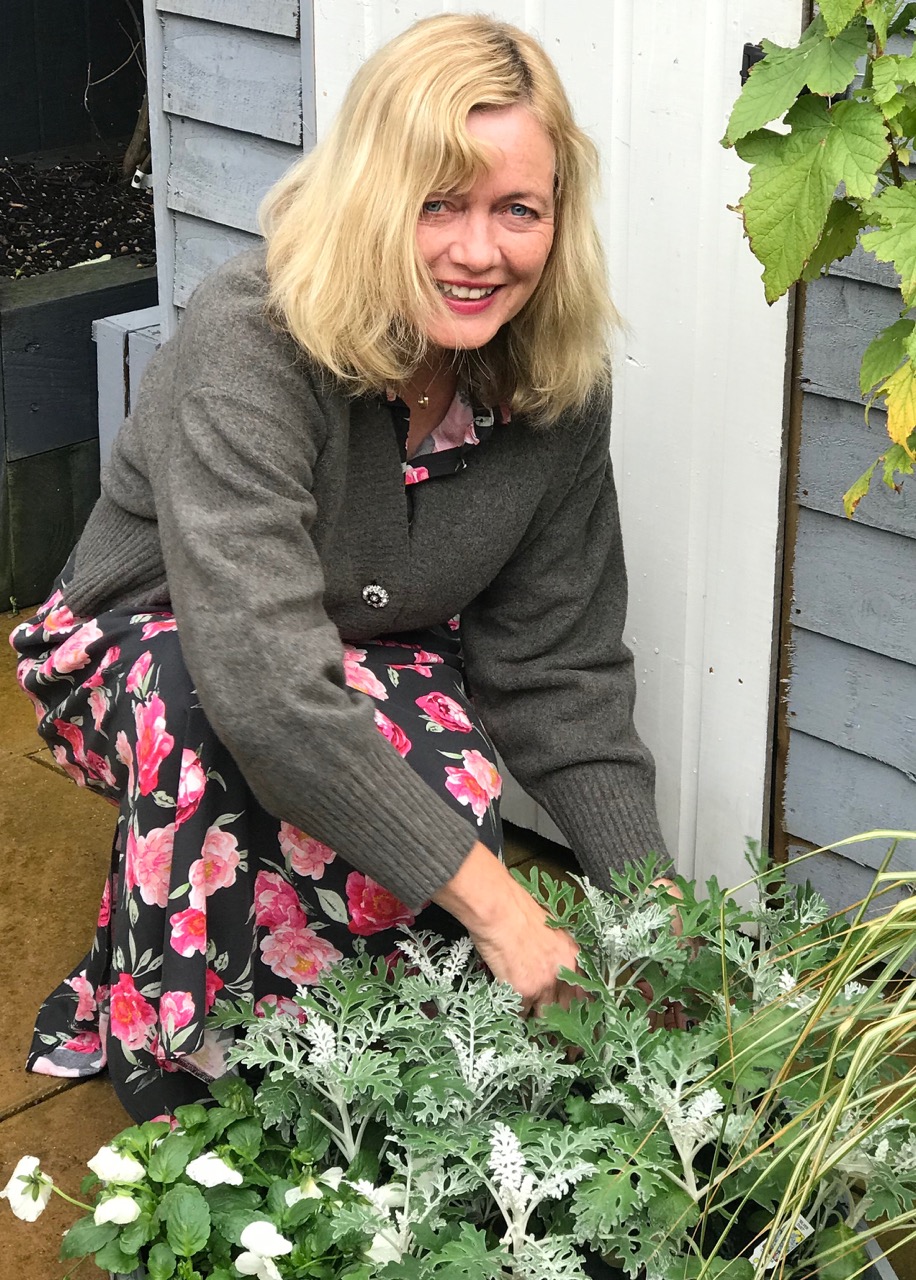 An experienced freelance journalist, editor and columnist writing for national magazines and websites, Fiona now specialises in gardens. She enjoys finding and writing about all kinds, from the tiniest town plots to impressively designed ones in grand country houses.