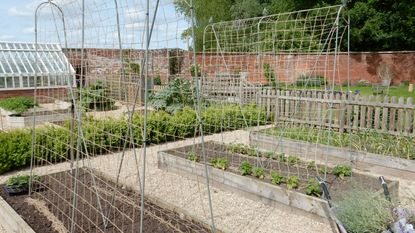 (Image credit: Agriframes)
Gardening Etc Newsletter
The Home Of Outdoor Living
Thank you for signing up to . You will receive a verification email shortly.
There was a problem. Please refresh the page and try again.
The grow your own trend is more popular than ever. If you're already a convert with an established plot you'll know nothing beats the satisfaction of eating homegrown food. It might be that the 'look' of your patch could do with a little work though to turn it into something altogether more pleasing.
Or perhaps you're keen to try grow your own but not sure how to style it up to fit into your space for those polished 'look what I grew' Instagram moments. But either way, if you want to add some stylish touches to help your plants in all their growing endeavours you're in the right place.
The trick is to accessorise with elegant wirework obelisks, cages and cloches that segue beautifully into your growing space and add an ornamental touch, while being sturdy and practical at the same time. Choose supports that are made to last with a solid steel construction that's rust resistant and harnesses the latest technology yet at the same time complements the classic kitchen garden look.
The Elegance Range by Agriframes (opens in new tab) lets you theme your garden accessories to create a cohesive look. The Sage Green and vintage finishes blend seamlessly into planting, whatever your garden style.
What's the secret of success in a kitchen garden?
The trick is to grow small amounts of different crops that offer big rewards, particularly if space is tight.
Choose vegetables that look good as well as being easy to grow, then give them a helping hand with the right supports and protective netting so they reach their full potential. Biodegradable jute netting can also be composted at the end of the growing season to tick the all-important eco-friendly garden box.
What can you grow in a kitchen garden?
Graceful bean and pea hoops (they even have finials!) help super-sweet peas and dwarf varieties of beans romp away, while the runner bean tower adds a pleasing architectural note to the vegetable patch that's a million miles away from the bamboo cane look.
Crop cages and hooped cloches are the perfect growing environment for dark leafy greens like chard, spinach and cavolo nero, and will keep them safe from being nibbled by birds, especially if used together with netting.
Protect cut and come again salad leaves like lambs lettuce and rocket and oriental greens such as mizuna and mustard greens with pretty bell cloches for a rustic garden touch. It's time to get growing!
Follow Agriframes (opens in new tab) on Facebook for the latest news and updates
Lifestyle journalist Sarah Wilson has been writing about gardens since 2015. She's written for Gardeningetc.com, Livingetc, Homes & Gardens, Easy Gardens and Modern Gardens magazines. Having studied introductory garden and landscape design, she is currently putting the skills learned to good use in her own space where the dream is establishing a cutting garden.