Best lawn mower: 6 electric, petrol and ride on options for every yard
Give your yard some TLC with the best lawn mower – with options for every size lawn and budget
Included in this guide:
1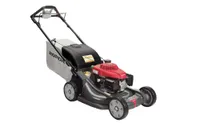 Honda
HRX217K5VKA Lawn Mower
2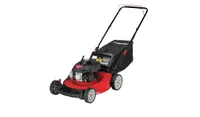 Troy-Bilt
11A-A2SD766 21 in. 3-in-1 Walk-Behind Push Lawn Mower
3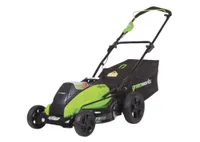 Greenworks
19-Inch 40V Cordless Lawn Mower
4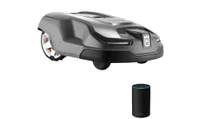 Husqvarna
AUTOMOWER 315X Robotic Lawn Mower
5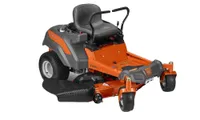 Husqvarna
Z254 54 in. 26 HP Kohler Hydrostatic Zero Turn Riding Mower
6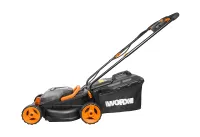 Worx
40V Cordless Lawn Mower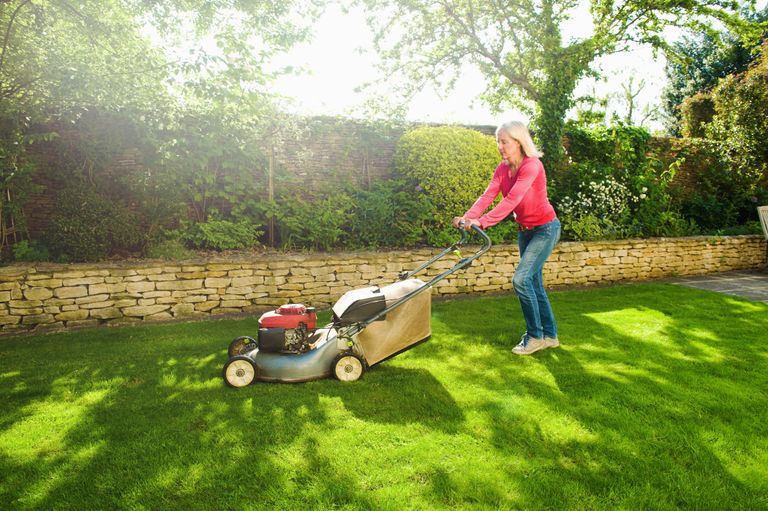 (Image credit: Getty Images)
By Brittany Romano published
Searching for the best lawn mower? Whether you prefer a petrol lawn mower, an electric option is easiest for your large garden, or you're curious about a robot model to do the job for you – we can help you make this all-important decision.
And as we head into the midst of summer, those putting off upgrading their mower better act fast.
To find the best match for you and your garden, we know there are a few considerations to think about before investing. So, to alleviate any confusion and smoothen out the process, we've curated a rundown of the top-performing models on the market.
Here, our guide will get you clued up on all the different types of lawn mowers available: electric, petrol, manual, or robot; and if you're looking for information on the best cordless lawn mower, we can help too.
What's key is that before you invest, you are mindful of your needs, your lawn's needs, and you should set a budget, and we're here to help with all of that. Keep reading to find the best fit for your space.
1. Honda HRX217K5VKA Lawn Mower
The best lawn mower: for the overall best experience
Specifications
Assembled Depth : 64.5 in
Blade Length : 21
Cutting Width: 21
Front Wheel Size: 9
Drive type: Front Wheel
Engine Torque: 8.3
Reasons to buy
+Users can select their own speed to adjust your motor to your stride+Versamow system with clip direct or allows you to mulch, bag, discharge and shred leaves +Impact-resistant to prevent dents, rust, etc.
Whether one wishes to mulch, bag, or discharge their grass, the Honda HRX217K5VKA is one of the best on the market, providing users with maximum comfort, control, and convenience.
Adjustable speed
This machine allows users the chance to choose their speed with Honda exclusive select drive. Users can easily adjust the mower's speed to their stride by rotating the speed adjust dial, followed by engaging the select drive lever for intuitive speed control with maximum support and ease.
Exclusive system
This machine includes Honda's revolutionary versamow system with clip direct allows you to mulch, bag, discharge, and shred leaves — or even a combination of mulching and bagging simultaneously. Slide the convenient clip direct to choose how much grass is bagged or mulched — with no additional items or costs required.
Highly impact-resistant material
Designed with NeXite (a highly impact-resistant material), this lawnmower is both reliable and durable — offering a lifetime warranty, as well.
Efficient and powerful
With an easy start, fuel-efficient system, and premium GVC190 engine, this reliable machine will provide users unmatched service for years to come.
2. Troy-Bilt 11A-A2SD766 21 in. 3-in-1 Walk-Behind Push Lawn Mower
The best lawn mower: the best value option on the market
Specifications
Item Weight : 70lbs
Number Of Positions : 6
Power Source Type : Gas powered
Reasons to buy
+Equipped with TriAction cutting system for versatility +Ease of use+Affordable
The Troy-Bilt TB115 Walk-Behind Lawn Mower features a reliable 140cc Troy-Bilt OHV engine with AutoChoke and one of the best value options.
TriAction cutting system
This machine includes a 3-in-1 steel cutting deck with TriAction Cutting System; side discharge, mulch, or rear bag capabilities. Dual-lever, six-position height adjustment makes it easy to change cutting heights from 1.25 in. to 3.75 inches.
Advanced TriAction cutting system features a rake bumper to lift grass upright, a specially designed blade for a finer mulch, and a symmetrical deck for superior grass flow, eliminating clumping.
Additional features
The TB115 push comes with a choice of side discharge or mulching for disposing of grass clippings, as well as a dual-lever height adjuster for quick changes in cutting height.
3. Greenworks 19-Inch 40V Cordless Lawn Mower
The best lawn mower: the best cordless model available
Specifications
Cordless: Yes
Batteries: Yes (2 included)
Discharge: Side
Engine Type: Horsepower
Power Type: Electric
RPM: Recharge/ 3 hours
Voltage: 40V
Reasons to buy
+Run time of up to 3 hours+Cord-free and runs on battery
Reasons to avoid
-Not self propelled
For those in the market for a cordless model, look no further than the Greenworks 2500502.
High-performance
This model features a high-performance G-MAX Lithium-Ion battery to deliver fade-free power with no memory loss after charging. With up to three hours of run-time on one charge, it's ideal for small-to-large yards alike.
Powerful features
The powerful DigiPro brushless motor offers superior performance without any hassle of gas and carbon emissions. Furthermore, there is a 3-in-1 feature to offers versatile options with rear bagging, mulching, and side-discharge capabilities.
Adjustable height
With a single lever 7-position height adjustment, users have freedom and control over their cutting height that ranges from 1-1/8.
4. Husqvarna AUTOMOWER 315X Robotic Lawn Mower
The best lawn mower: best robotic version on the market
Specifications
Power Source : Battery Powered
Item Dimensions LxWxH: 24.8 x 20.1 x 9.8 inches
Material: Automower Only
Item Weight: 20.94 Pounds
Cutting Width: 8.7
Operation Mode: Automatic
Reasons to buy
+Connects to app to maintain schedule and range+Battery-powered for seamless use
Reasons to avoid
-You need a smartphone or device to connect to the app
The Husqvarna Automower 315x robotic lawn mower is the perfect model for anyone looking to: 'set it and forget it.'
App-driven system
When connected to Amazon Alexa or Google Home device, you can automatically set this model up with one touch of a button to automatically cut your grass day or night, rain or shine. Guided by hidden boundary wires, this lawnmower can easily maneuver around your yard and return to the charging station when finished.
Safety
With anti-collision sensors to keep your pets and children safe, plus GPS technology that tracks your mower's exact location, and an anti-theft alarm when lifted, you can have peace of mind all-around.
5.Husqvarna Z254 54 in. 26 HP Kohler Hydrostatic Zero Turn Riding Mower
The best lawn mower: the best riding model on the market
Specifications
Item Dimensions LxWxH: 72 x 61.49 x 34.48 inches
Material: Metal
Cutting Width : 54 inches
Reasons to buy
+Cutting-edge design with proven performance+Equipted with Air Technology that is proven highly effective
Rounding out our list is the Husqvarna Z254 54 in. 26 HP Kohler Hydrostatic Zero Turn Riding Mower that is perfect for those looking to ride their mower around their yards.
Design
Performance and style hit the grass running with Husqvarna's Z200 series of zero-turn mowers. Cutting-edge design, proven performance, and innovative features combine to make lawn maintenance an event instead of a chore.
Features
Featuring a 54-inch reinforced steel cutting deck, the Z254 mower is powered by a 26-horsepower Kohler engine. Plus, an innovative, maintenance-free transmission makes this an easy mower to own, year after year.
Special Features
Air Induction Mowing Technology allows air to be drawn from the top and bottom of the deck, improving grass lift and delivering a superior cut —classifying this mower in a league of its own, innovation-wise.
6. Worx 40V Cordless Lawn Mower
The best value cordless lawn mower
Specifications
Type: Battery powered
Item dimensions LxWxH: 28 x 13 x 16inches
Cutting width: 14 inches
Reasons to buy
+Edge-to-edge cutting+Powerful enough for longer grass+Good battery life+Great performance for the price
Reasons to avoid
-Some might desire a shorter, neater cut-Not the best instructions
If you want to step away from a petrol mower, but not be inhibited by the battery running time, the Worx 40V Cordless Lawn Mower could be the one for you. It is a highly affordable step into cordless mowing, that won't leave you missing out on function.
Two modes
The Worx 40V cordless can be used in Turbo or Eco Modes. Eco helps the battery last longer, yet Turbo mode adds a little more oomph and is noticeable over thicker grass. Working alongside these modes is Intellicut technology which adjusts the speed automatically with different grass conditions, so it keeps consistent cutting efficiency in dense grass.
Cutting power
The deck design of this mower will cut grass close to fencing/walls, leaving a smaller uncut grass area around the edges. It also has seven cutting heights to a maximum of seven inches.
Power
It's powered by two, rechargeable 20V batteries simultaneously which provides extra power and runtime. Worx estimates you should get 30–35 minutes from one charge with them, which should be plenty enough for lawns of around a quarter acre. You can even share the battery with other tools in the Worx range.
Gardeningetc rating 5 out of 5 stars – read our Worx 40V Cordless Lawn Mower review for more details.
How to buy the best lawn mower?
Petrol or electric: which is best?
You can pick between mowers powered by electricity, those that use petrol, and even lawnmowers you simply push yourself. Within the electric mower range, you'll find both those that have cable and cordless versions with a battery you'll need to charge.
Mowers with cables A mower with a cable has a limited range, of course, so check there's sufficient length to get around the entire lawn. These don't take up a lot of storage space.
Cordless mowers
These designs aren't limited by a cable. Pay attention to charge time and maximum battery life if you want one of these to ensure you're happy with the numbers. Robot lawnmowers are a type of cordless mower – just one you don't have to push.
Petrol mowers
These will cope with big gardens, but there's nothing to stop you from having one for around 100 square meters and upwards. They are powerful and should help you get finished faster. Bear in mind that you'll need to buy and store the petrol and oil and get one of these serviced.
What types of lawn mower are there?
You'll find cylinder, rotary, and hover mowers on offer. Cylinder mowers have a rotating set of blades that cut against a fixed blade. They'll keep a small lawn looking neat and tidy.
The vast majority of lawnmowers are rotary with a single horizontal blade on the bottom that rotates at speed. They'll cope with grass of different lengths and uneven as well as flat lawns.
Hover mowers are different again and hover on a cushion of air. They're best used in small to medium gardens but will cope successfully with uneven grass and slopes.
What about the grass box?
How many trips you make to empty the grass box will be determined by its capacity. If you don't have much to mow that's not an issue, but the bigger the garden, the more the grass box should hold.
You may want to go for a mower that mulches, cutting the clippings into finer pieces and then returning them to the lawn where they add nutrients.
Go for a mower without a grass box and no mulching feature and you'll be raking up the grass at the end.
What about cutting width and height?
The wider the cutting width the mower offers the bigger the area it cuts in one go and hence the faster you'll finish a mowing session. For a large lawn, go for 40cm and above; 30cm is fine for a small lawn, and between the two will work for a medium lawn.
Adjustable cutting heights are handy: they'll allow you to set the height you want the grass to be when you've finished.
What other features should you look out for in the best lawn mower?
Don't want to push the mower? Look out for a self-propelling mower. If you want stripes on your lawn, you need a mower with a rear roller. A foldable handle, meanwhile, will mean your mower demands less storage space.
Brittany Romano joins the Gardeningetc team as the U.S. Shopping E-commerce Editor, based in New York City. From her start as a fashion market assistant at Marie Claire to building highly profitable commerce vertical at Us Weekly and AMI brands, Brittany has produced award-winning content covering everything from celebrity beauty hacks to must-have items from online sales. She is a graduate of New England College. When she isn't writing, you can find Brittany indulging in yet another DIY-project or cheering on her beloved Boston Bruins. Find her on Instagram at @Rammmyyy.