Best Adirondack chairs: 6 stylish buys for relaxing in style
Our list of the very best Adirondack chairs are just what you need to sit back, relax and unwind this summer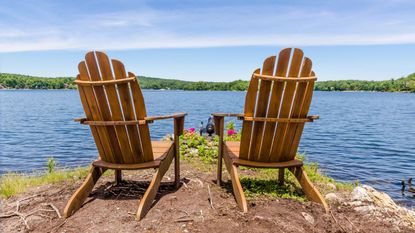 (Image credit: Chasity Cortijo, Unsplash)
Looking for the best Adirondack chairs to doze in the sun in your backyard? You're in the right place. Adirondack chairs with their reclined back, sloping seats, and wide arms offer unbeatable comfort. We've rounded up the most aesthetically and ergonomically pleasing chairs to help you ease into the summer.
The Adirondack chair is a now staple offering at most of the best outdoor furniture stores, and it's easy to see why. They're simple, stylish, and create a laid-back, sociable feel in your backyard. But, there's more to these chairs than just good looks.
Modern-day Adirondack chairs descend from the classic Westport chairs originally designed in the Adirondack mountains way back in the 1900s. Coming from the mountains, they were built to withstand all weather conditions from heavy rain to strong winds to scorching hot sun. There have been some updates to the classic style over the years, but their sturdy design lives on. This makes them perfect for kicking back at the lake house, beachfront or fire pit summer after summer.
Today, Adirondack chairs come in all kinds of colors, materials, styles, and prices. With so many options, it can be hard to choose the best Adirondack chair for your needs, but we've done the leg work for you, searching high and low for options that are weather-resistant, easy to assemble, and super comfortable, taking into account user reviews to ensure they come with top-rated customer satisfaction.
Whether you're looking for a traditional design, something more modern, a budget buy, or a luxury option to go alongside your best grill, we've got something for everyone in our list of the top Adirondack chairs below, so take a seat on your soon-to-be-upgraded patio chair and read on.
Best Adirondack chairs 2022
Why you can trust Gardeningetc Our expert reviewers spend hours testing and comparing products and services so you can choose the best for you. Find out more about how we test.
1. Lifetime Adirondack Chair
Best overall Adirondack Chair
Specifications
Material: Polystyrene
Seat width: 20.7"
Dimensions: 36.9'' H x 31.1'' W x 38.6'' D
Colors: Simulated wood | harbor gray | light brown | black | rustic brown
Weight capacity: 300lbs
Reasons to buy
+
Super low maintenance
+
2-year, 3-year, or 5-year limited warranty (depending on color)
+
Durable and weather-proof
+
Available in a range of colors
Reasons to avoid
-
Brand name is Lifetime, but the warranty is 2-5 years
-
Chairs can stain
-
Some folks have had issues with parts breaking
If you're looking for an easy, low-maintenance Adirondack chair, this is your pick. Yes, it's plastic, but the simulated wood looks and feels good and it doesn't require any varnishing or painting as plastic doesn't rot or splinter.
This chair is made with UV-protected, weather-resistant polystyrene. It's designed for outdoor use and, unlike wood or metal, it will not crack, chip, rust, or peel. It's also super easy to wipe clean. As they're plastic you can use mild cleaning products without having to think about the paint or varnish.
Assembly isn't too difficult and all of the tools are included. Adirondack chairs have a few parts though, so we'd recommend getting everything lined up loosely, before screwing everything tight.
It comes in five different colors, although they are all variations on brown, black, or gray. These are colors that will fit well with most patio furniture though, and you can't go wrong with the classic Adirondack look.
The downsides are that although the brand name is Lifetime, the warranty doesn't back this up. The limited warranty is for two, three, or five years, so maybe a lifetime for a hamster. Strangely the warranty is different for the different colors. We've also seen customer complaints about stains on these chairs, from things like sunscreen or harsh cleaning products, so be careful with harsh chemicals. There are also reports of parts breaking, although the customer service is very good and they are happy to replace parts.
Overall, this chair looks and feels great, without the hassle of real wood. It's super comfy, comes at an affordable price, and has a good range of colors to choose from. It's a nice easy option that will last summer after summer.
2. World Market Natural Wood Adirondack Rocking Chair
Best rocking Adirondack chair
Specifications
Material: Acacia wood
Seat width: 20"
Dimensions: 41.12" H x 27.25" W x 36.5" D
Colors: Wood
Weight capacity: Not specified
Reasons to buy
+
Solid wood
+
Good value
+
U.V.-resistant finish
+
Rocking chair
Reasons to avoid
-
Not designed to withstand inclement weather
-
Only available in one color
-
Needs refinishing each summer
If you're looking for something a little more traditional and a little less plastic than our top choice above, try this timeless solid wood rocking chair from World Market. It looks great on a front porch, balcony or deck.
It's also super comfortable with a wide, gently reclined seat. We thoroughly enjoyed rocking and dozing in this chair, even without the cushions, which you can purchase separately if you'd like even more comfort.
It's crafted from sustainably harvested acacia wood and is covered with a glossy U.V. protected polyurethane finish that helps to prevent scratches, chips and fading. It has a nice sheen which the manufacturers say is due to meticulous sanding in between each coat. As the finish is clear, it also retains its natural wooden look, which we like too.
It wipes clean with a damp cloth, but doesn't do well with cleaning products. It is also not build to withstand harsh weather, so you'll need purchase a cover or stow the chair away when it rains. If you live somewhere with a lot of wind and rain, perhaps go with our first choice instead. You'll also need to refinish it regularly, to protect it from fading.
However, if you're looking for a classic, homely, super comfy chair to go on your front porch, this is a great option.
3. Best Choice Products Folding Wooden Adirondack Chair w/ Natural Finish
Best foldable Adirondack Chair
Specifications
Material: Hemlock
Seat width: 17.5"
Dimensions: 35" H x 28" W x 30.5" D
Colors: Wood
Weight capacity: 350lbs.
Reasons to buy
+
Foldable
+
Lightweight
+
Solid wood
+
Great value
+
Can be painted or varnished any color
Reasons to avoid
-
Not designed to withstand inclement weather
-
Only available in one color
-
Doesn't come with finish
If you're looking for something a little more portable, try this foldable option. It's super easy to stow away or take down to the lake or beach. You can bring it out as you need it, which is so useful if you have a smaller space.
Often folding chairs are unattractive, uncomfortable, plastic, or metal. A foldable chair that is lightweight, compact, easy to carry, and has a tasteful, classic design is a very rare find. The charming, natural wood complements most outdoor spaces or it's a blank canvas if you want to get creative and paint your chairs bright statement colors.
Its tilted seat, wide armrests, and reclined back are very comfortable for summer lounging too. Plus it's a very budget-friendly option. No wonder it's so highly rated!
The main drawback is that the natural finish means it's only available in brown and it doesn't arrive weather-proofed. You can apply wood finish yourself to prevent damage or paint it any color you like to match your backyard décor, but it is a bit of a DIY project. If you'd rather keep it natural, at least it's easy to store during inclement weather.
Overall, this chair is a fantastic choice if you have a small backyard, or if you want to sit in comfort and style on the lawn, by the pool, by the fire, at the beach, at the lake, or even camping. And it's so affordable, you can't go wrong.
4. Frontgate Rowan Adirondack Chair in Aluminum
Most durable Adirondack chair
Specifications
Material: Aluminum
Seat width: 22"
Dimensions: 40" H x 28" W x 44" D
Colors: Black
Weight capacity: Not specified
Reasons to buy
+
10-year warranty on frame
+
Strong, durable aluminum
+
Lightweight
+
Weather-proof
+
Contemporary design
Reasons to avoid
-
Expensive
-
Only available in one color
If you're looking for something that's built to last, or for something more contemporary than the classic wooden Adirondack chairs, look no further than this aluminum option from Frontgate.
It's super durable as it's made with powder-coated aluminum, which is weather-resistant and strong. It feels like it's built to last, plus the frame is backed by an industry-leading 10-year structural warranty. It's easy to assemble too.
The aluminum also makes it lightweight and easy to move around. It's perfect for use at the beach, lake house, patio, lawn, or deck. You can easily take it wherever you want to go.
We love the simple, stylish, and contemporary design. Classic wooden Adirondack chairs look great on the porch of period farmhouses, but if your look is more modern, they can look a little out of place. This sleek, black seat will bring your backyard decor up to date.
The reclined, rounded back makes this chair really comfortable, even for lounging for long periods of time and without any cushions. You can also purchase a matching ottoman from Frontgate for added comfort and relaxation.
The main drawback is that it is substantially more expensive than any of the other options on our list. That said, it will also likely outlast them. It's also only available In black. It will likely work well in most backyards, but it's nice to have options.
Overall though, if you're sick of purchasing new Adirondack chairs every summer, this super durable chair is a great choice for you. Its 10-year warranty and weather-proof aluminum frame make it one of the most hard-wearing chairs on the market.
5. RealComfort Charcoal Resin Plastic Adirondack Chair
Best budget Adirondack chair
Specifications
Material: Plastic
Seat width: 19"
Dimensions: 37.5" H x 30" W x 34" D
Colors: Charcoal | sea grass | midnight
Weight capacity: 250lbs.
Reasons to buy
+
Super budget-friendly
+
Easy to clean
+
Stackable
+
Available in a range of colors
+
No assembly required
Reasons to avoid
-
Doesn't fare well in high winds
-
Colors are slightly different from online images
This Adirondack chair is an absolute bargain. If you don't fancy splashing out on the aluminum option above, try this instead. It's far more affordable than any other chair on our list. At under twenty-five bucks, you really can't go wrong.
Their classic design looks almost as good as their far more expensive siblings. And they're also very comfortable, with wide armrests and a tall, curved, reclined back. The plastic also gives a little when you sit down which adds to the comfort, although we're not sure what this says about the durability. Although this chair has passed testing carried out by the American Society for Testing and Materials, so it should be resilient enough.
It's made with water-resistant resin that is UV-protected to resist fading. As it's plastic, it is super easy to wipe clean. They also come ready to go, there's no assembly required. There are a few different muted colors to choose from that should work well with most outdoor spaces. The chairs are also lightweight and stackable so you can easily stow them away during the off-season.
You will need to stow them away though as they don't do well in the wind. They are prone to blowing away in stormy weather. The other downside is that the colors are a little different than they appear online.
Overall though, this is a fantastic budget-friendly option. It's so affordable you can get one for all your friends and family so you can all lounge together this summer. The plastic seems durable enough to last at least a few seasons too. They're such good value for money.
6. Kidkraft Adirondack Chair
Best Adirondack chair for kids
Specifications
Material: Sanmu wood
Seat width: Not specified
Dimensions: 21.5" H x 19.25" W x 24.5" D
Colors: Honey | white | espresso
Weight capacity: 81 lbs.
Reasons to buy
+
Super cute
+
Good value for money
+
Solid wood
+
Classic design
Reasons to avoid
-
Natural wood finish is quite rough and could give kids splinters
-
Not as durable as adult versions
-
Not weather-proof
This super cute mini Adirondack chair is perfect for spending lazy summer days in the backyard with your little one. Its classic look is ideal for use by the playhouse, pool, or on the patio.
It's built for kids aged 3 - 8 and should fit most toddlers well. The assembly is relatively easy so you can get your little one involved and have them help out a little. It comes in a few different colors to suit your outdoor space.
It is very affordable and should last little ones a few summers until they grow out of it. The classic design is very comfortable and might even encourage your little one to sit down for a minute or two.
The main downside is that it isn't very weather-proof. You may need to purchase some wood finish to add UV and rain protection or stow it away during inclement weather. The natural wood-finished chairs are also a little rough and could potentially give kids splinters.
It is very cute though. If you're going to purchase one of our traditional picks for yourself, it's adorable to have a mini version for your little one too. It's inexpensive too, so it doesn't matter so much that kids will grow out of it. Kids love it.
---
What you need to consider when choosing the best Adirondack chair
If you're looking to purchase one of the best Adirondack chairs, you may also want to thinking about the following considerations.
Material choice
Adirondack chairs were traditionally made out of one piece of knot-free wood. These days however they are usually composed of wood, plastic, or metal. There are pros and cons for each of the materials for outdoor furniture, so this is a good place to start.
Plastic Adirondack chairs are the easiest to maintain. They wipe clean, they don't rot or split and they don't rust. You never need to refinish them either. They really don't need much attention at all. Plastic is also strong and durable. However, it can look and feel a little cheap. That said, our top choice is a great-looking plastic chair that looks and feels more expensive than it is.
Wooden Adirondack chairs have a more traditional, classic feel. They are usually sturdy too, however wood needs much more care. It needs to be refinished in order to prevent fading and weather damage. It's also harder to wipe wood clean and it doesn't usually like cleaning products. It can rot, split or warp if you leave your chair out in bad weather.
Metal Adirondack chairs usually have a more contemporary style. Metal is very strong and durable. And it's fairly low maintenance. It's super easy to wipe clean with a damp cloth. It is usually powder-coated and weather-resistant however, it can be prone to rust, so double-check reviews and warranties before you make a purchase.
Comfort
The whole purpose of the Adirondack chair is to relax and unwind, lazing in the sun. All of the chairs on our list are super comfy. Look for a nice wide seat, a reclined, curved back support, and a nice depth and shape for your knees to be held comfortably.
You want to be sure that you'll happily spend several hours kicking back in the Adirondack chair of your dreams. We'd always recommend that where possible you try before you buy.
Style and color
Just like the best patio dining sets, there are now all sorts of styles available for Adirondack chairs, from classic, curved, wooden rocking chairs to slick, square metal options.
You can go for something super contemporary or for natural, earthy wood, to suit your outdoor decor. There are also many colors to choose from. Neutral, muted tones tend to blend nicely into nature and suit most backyard ideas well.
However, you can also experiment with bright, bold colors with more confidence outdoors. A splash of color can make your Adirondack chair a statement piece and really bring your backyard to life this summer.
Once you've bought your Adirondack chair, why not team it with the one of the best patio umbrellas for a stylish setup in your yard?
How we chose the best Adirondack chairs for this guide
To find the best Adirondack chairs for this list we sat down on the job to try out some of the most popular designs, grilled the Gardeningetc team for their expert knowledge on the best outdoor materials, asked friends and family for their top-rated products, and took into account third party reviews on retailer websites. Click here to find out more about how we review products on Gardeningetc.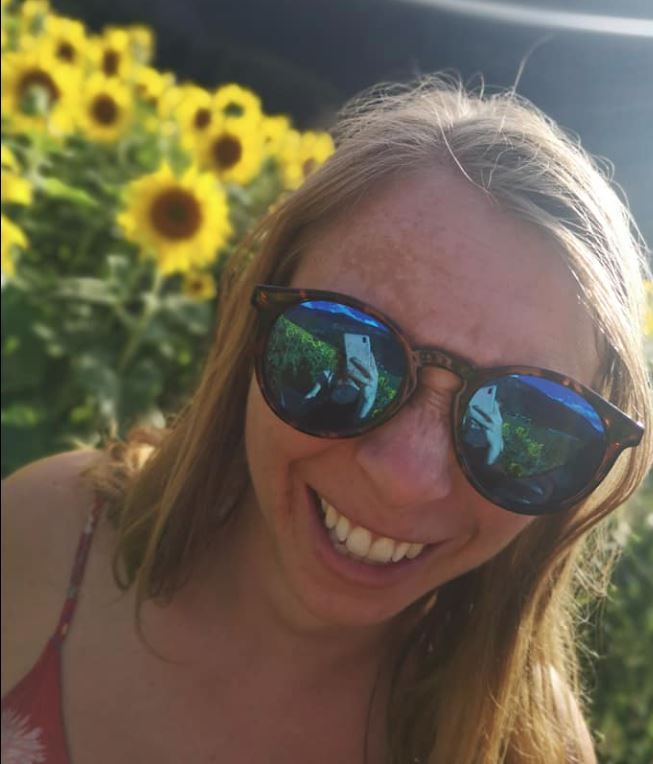 Emily Grant is a British ex-pat living in Squamish, Canada. She has written about all sorts from interior design and gardening, to travel, tourism, and pets. When she's not writing, she loves finding DIY ways to beautify her rented space. She also loves spending time out in the backyard, relaxing in the hammock on her beautiful patio. In addition to Gardeningetc, her work has featured on Real Homes and Homes & Gardens.