About Gardeningetc: who we are, what we do, and how to contact us
Everything you need to know about Gardeningetc, and how we can help transform your garden into the perfect outdoor living space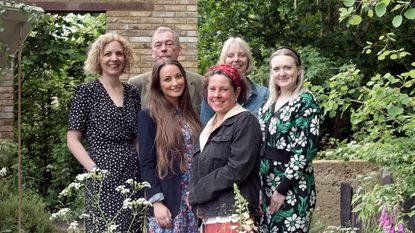 (Image credit: Jacky Hobbs/Future)
Gardening Etc Newsletter
The Home Of Outdoor Living
Thank you for signing up to . You will receive a verification email shortly.
There was a problem. Please refresh the page and try again.
Gardeningetc.com is the website for anyone looking to create the perfect outdoor living experience. Launched in July 2020, it's packed with 1,000s of design ideas and guides to make your garden a brilliant outdoor living area. It also offers expert advice on how to make your time outdoors the best it can be – from rounding up the best BBQs and hot tubs to kids' toys that are guaranteed to keep them entertained.
There will also be practical guides on everything from how to build a brilliant decked area to how to achieve an outdoor pool experience on a budget, plus must-read advice on how you can transfer the style principles you use in your home to your garden. For anyone looking for inspiring ideas, our easy-to-follow guides will help you create your first planting scheme, design your perfect patio or successfully grow your own fruit and veg.
You can also you can join our social community for the latest news, seasonal outdoor living and gardening tips, plus plenty of inspiring ideas for your project. Follow us on Twitter (opens in new tab), Facebook (opens in new tab), Pinterest (opens in new tab) and Instagram (opens in new tab).
Editorial team
My first journalism job was working for Real Homes magazine more than 18 years ago. It cemented my love of all things homes- and garden-related and I've never looked back since.
I've worked for and contributed to a number of leading magazines in the UK, including Ideal Home magazine, Period Living magazine, Grand Designs magazine and Good Homes magazine amongst others, before returning to Real Homes magazine as editor. Now the editor of Gardeningetc.com, my attention is firmly outdoors, and I'm constantly inspired by the many ways in which people are making use of their outdoor space.
My own garden is a really important part of my family home, and we were lucky enough to inherit a space with lots of lovely mature planting when we bought our 1930s property.
Since then, we've built several raised beds for a veg patch, increased the size of the flowerbeds to find room for yet more of my favourite David Austin roses and my husband's ever-increasing collection of hostas, created an outdoor living room complete with comfy sofas and festoon lights, and not forgetting the biggest challenge of all – trying to fit in the ever changing assortment of trampolines, climbing frames and outdoor toys that are inevitable when you have two young kids!
With over 30 years of working in journalism on women's home and lifestyle media brands, I'm the Editorial Director of Gardeningetc, Amateur Gardening, Easy Gardens, Ideal Home, 25 Beautiful Homes and Style at Home.
I'm a writer and visual creator first and foremost and, when I'm not crafting and creating online and print features, you can find me pottering around my coastal garden on the Sussex coast. With a view of the sea and surrounded by shingle, my outdoor space is a wild plot planted and self-seeded with native plants, such as sea kale, poppies and rambling roses.
I've been writing about homes and gardens for 13 years. I started out as a newspaper reporter, then was editor of a regional magazine, and editorial manager for a travel company (who doesn't love a free holiday?). I started at Real Homes magazine in 2015 as Deputy Editor and then become Editor before taking on my current position, which focuses on video and events. I love spending time in the garden with my toddler and have a bizarre passion for mowing lawns!
I have worked as an Editor on a number of gardening magazines for three years now. As well as holding editorship of Easy Gardens magazine and Woman's Weekly gardening I've worked as the gardening specialist on a number of home magazines including Homes & Gardens, Country Homes & Interiors, Ideal Home, Living etc and Style At Home, so I've been lucky enough to see and write about gardening across all sizes, budgets and abilities. And last year I was on the judging panel for the Society of Garden Designers awards which I'll be repeating this year too.
I've recently moved into my first home and the garden is a real project! So I've been loving having the opportunity to plan my own design and planting schemes. What I'm most passionate about when it comes to gardening are the positive effects it has on our mental health to grow and care for plants. I'm also passionate about the environment and keeping my carbon footprint to a minimum. I don't use chemicals and try to get all my materials from sustainable sources (preferably free!).
The garden was always a big part of life growing up, as was the surrounding New Forest where we lived. My appreciation for the great outdoors has only grown since then. I've been an allotment keeper, a professional gardener, and a botanical illustrator – plants are my passion. But, I love all things digital too. I joined the team at Gardeningetc after working as a freelance content creator for a web agency, whilst studying for my M.Sc. in marketing. Now I'm lucky enough to combine both digital and botanical worlds, every day!
I've been a lifestyle journalist for many years and have been writing about gardens since 2015. I've written for Gardeningetc, Livingetc, Homes & Gardens, as well as Country Homes & Interiors and Modern Gardens magazines.
My first job on glossy magazines was at Elle, during which time a visit to the legendary La Colombe d'Or in St-Paul-de-Vence led to an interest in all things gardening. Later as lifestyle editor at Country Homes & Interiors magazine the real pull was the run of captivating country gardens that were featured. Having studied introductory garden and landscape design as well as a course in floristry, I am currently putting the skills learned to good use in my own space where the dream is establishing a cutting garden.
I've been editor of the world's oldest gardening magazine for the last 4 years, delivering weekly practical content to our vast audience of garden enthusiasts of all abilities.
There is always something to do in the garden, even in the depths of winter, and most of my time out of work hours is devoted to improving my own garden. My passions are growing potatoes in borders and containers, fighting a constant battle to keep my various climbing roses pest-free, making the best home-made compost and more recently creating a rock garden. In the last year I've also planted an ornamental cherry and transplanted six copper beeches to a better site.
As gardeners we are always on a journey of discovery, no matter how experienced we are and so I'm delighted to be part of the highly talented team at Gardeningetc so I can share some of those experiences with you.
I have been the gardening editor of Amateur Gardening magazine since 2014 and spend my working days carrying out, writing about and photographing the tasks our readers should be carrying out each week, as well as testing many of the new products that arrive on the gardening market.
I am horticulturally trained, with a qualification from the Royal Horticultural Society, and my work varies with the seasons and includes everything from sowing and planting, to pruning, taking cuttings, dealing with pests and diseases and keeping houseplants healthy.
It is a wonderful job in spring and summer, though not always so easy in the depths of winter when everything seems cold, wet, brown and muddy!
I cover ornamental plants and edible crops and everything I write about and photograph is in my own garden, a mature plot that has been a work in progress since my family moved to our current house in 2012.
Before joining Amateur Gardening, I worked in regional newspapers for more than 20 years but have always had a garden and enjoyed gardening. My main interests are gardening for wildlife and organic gardening, as I firmly believe you don't need to 'nuke' pests and problems with toxic chemicals, nor use peat composts to produce the garden of your dreams.
As assistant editor for Amateur Gardening magazine, I feel blessed to be able to learn on the job every day from some of the most amazing gardening enthusiasts. That said, my gardening passion was fostered from an early age, when my amazing mum had me deadheading hydrangeas, mulching roses, and propagating strawberry plants from runners for school open days.
My gardening childhood was like living with Tom and Barbara from The Good Life, with figs growing in the greenhouse, homemade blueberry jams piled high, and demijohns filled with dad's elderflower sherry experiments. That botanical playground is something I crave, as city living has generally meant doing without a conventional outdoor space. Still, I am slowly transforming my thimble-sized abode into a haven of vertical vegetation. I've also taken part in lots of conservation and rewilding projects for the RHS and TCV as a way of exploring my horticultural horizons whilst helping to create and maintain beautiful spaces for others.
One of my biggest inspirations is Richard Reynolds, a pioneer of 'guerrilla gardening', which transforms outdoor spaces like city roundabouts into intoxicating medleys of regeneration. And my favourite public garden is Heligan, which showcases bamboo tunnels and towering bananas alongside historical productive gardens and giant topiary sculptures.
When I grow up, I would like a Victorian conservatory, some proper old-fashioned cold frames and bell cloches, and a better system for storing all my seed packets.
Ecommerce team
As Editor in Chief for Homes Ecommerce, working on Gardeningetc, Livingetc (opens in new tab), Real Homes (opens in new tab), Ideal Home (opens in new tab) and Homes & Gardens (opens in new tab), my passion is making sure readers can find all the information they need before making a purchase for their property.
On the weekends, I also live all things home related, maintaining my Victorian cottage and its very long, narrow garden. I'm in a never-ending battle with the weeds, but love creating a space for wildlife. I'm aiming to give my garden a look that I best describe as 'cottage garden for the 21st century'.
As Deputy Ecommerce Editor at Gardeningetc, I spend most of my time helping you add those all-important garden decor items to your shopping cart. From striking outdoor lighting to pretty and practical bird feeders, or even a gift for a friend or family member who loves to garden – I cover it all. Otherwise, I spend my time thinking of ways to maximise space out on my delightful yet teeny-tiny London terrace. Next on my shopping list: a fire pit...
I've been writing for Gardeningetc since the beginning of 2021, covering all things barbecues, patio heaters, and fire pits. A lover of al fresco dining, I'm always on the hunt for the best barbecues and pizza ovens for entertaining friends and family. I'm also a firm believer that everyone should have their own herb garden, and can often be found taming my over-zealous rosemary plant.
I write about interiors and decoration for Livingetc, Homes & Gardens and Real Homes, bringing my design expertise outdoors into the garden for Gardeningetc.
Initially honing my green thumb growing indoor plants in my first-floor apartment, I greatly appreciate the benefits we gain from coexisting with plants, including improved wellbeing, air purification, and reductions in the chemical VOCs that are slowly released into our homes from manmade materials.
My wider interest in gardening embraces the design principles of permaculture; considering how we can best balance our valuable outdoor spaces to restore health to our own patches of soil, boost diversity for plants and wildlife, grow healthy nutritionally-dense food, and embrace outdoor living with style-conscious design that helps us to relax, entertain and improve our overall wellbeing through our relationship with nature.
Writing for Gardeningetc since the start of 2021, I'm a tech expert and passionate about how an outdoor space can complement interior style. In my own time I am creating my own little oasis on my small balcony, or adding yet another houseplant to my extensive (and ever-growing!) collection.
I'm the Appliances Editor for the Ecommerce team at Gardeningetc and look after our barbecue-related content, along with appliance and mattress content across our other Future Homes titles. When I'm is not scouting out the best offers and products for your outside cooking stations, I enjoy growing vegetables, flowers and herbs from seed. Up until recently I had an allotment, too, where I grew a bumper crop of rainbow carrots, sweetcorn and marrows – the crop was so successful in fact, I ended up giving it away to neighbouring gardeners!
I'm the Ecommerce Writer for Gardeningetc and spends my time searching the internet for the next best thing for your garden. When I'm not writing, I would most like to be swimming in the nearest sea/ocean or getting through my neverending pile of novels. I'm a huge fan of houseplants and love identifying new plants and trees on walks too.
Contributing writers
I've been a garden writer for many years and have won awards for my work online, and in books and magazines, on both sides of the Atlantic. I have been the Gardening Correspondent of two national newspapers in Britain, published more than 20 books, and have written for Organic Gardening magazine, The American Gardener, Fine Gardening and Amateur Gardening.
I was the recipient of the 2021 Garden Media Guild Lifetime Achievement Award, and for many years was a judge at the Chelsea Flower Show. I'm also a member of a number of Royal Horticultural Society committees.
I gardened in Pennsylvania in the United States for 20 years, but have recently returned to my native England.
I'm an experienced freelance journalist, editor and columnist writing for national magazines and websites. I now specialise in gardens, and I enjoy finding and writing about all kinds, from the tiniest town plots to impressively designed ones in grand country houses. I'm a firm believer that gardening is for everyone, and it doesn't matter if you have a single window ledge or an acre, there's always peace and joy to be found outside. The small town garden of my Edwardian terraced house is currently a work in progress as we renovate the property, but my goal is always to fill it with flowers, climbers, colour, fragrance – and as many of my treasured vintage finds as I can possibly fit in.
I studied horticulture at Writtle and Wye colleges, before going on to be a Horticultural Advisor at RHS Wisley for 6 years. I developed an interest in writing after compiling small articles for The Garden magazine, and was then recruited as Gardening Editor at Amateur Gardening magazine, then Editor of Grow Your Own magazine, for 4 and 6 years respectively.
I've been Head Gardener on a 100-acre private Essex estate for the past 7 years, but still write regularly for titles such as The Garden, Gardeners' World, The Guardian and Amateur Gardening.
I've also contributed to various RHS books, being sole author of the RHS Step by Step Veg Patch. I've been the guest expert on BBC Essex for 10+ years, and I co-host the Talking Heads gardening podcast with my Head Gardener friend, Saul Walker.
I grew up in North Kent on the outskirts of London and from a young age was fascinated by plants and nature in general. Having trained at Kew, worked in parks department nurseries and as Glasshouse Supervisor at RHS Wisley, I have been a freelance horticulturist since 1986.
The early days were a mixture of small landscaping projects, garden maintenance, writing and presenting alongside Geoff Hamilton on Gardeners' World. Other TV highlights were two series of 'Bloom' for Channel 4 and 'Gardens of The Caribbean'.
I've been a regular panelist on BBC Radio 4's Gardeners' Question Time for 27 years and began writing for Amateur Gardening at the same time as moving from a dry, sandy soil in Surrey to clay with flints in East Devon 23 years ago. A large plot full of wildlife habitats, edible and ornamental plants is my workshop and inspiration.
Several years ago, I dug up the front lawn of my Southern California home and replaced it with drought-tolerant plants, including natives and succulents. I have a B.A. from California Polytechnic State University, Pomona, and a certificate in landscape design. I've written about gardening and outdoor living since 2008 for various websites and magazines, including About.com, TheSpruce, and Laguna Beach Magazine. Hailing from ancestors who were do-it-yourselfers, my family and I spend our spare time restoring our Midcentury Modern home. One of my longtime goals is to have a sustainable vegetable garden like my grandmother did in Texas.