Best hot tubs: 7 buys for relaxation in your backyard
These are the best hot tubs to integrate relaxation into your space, and the best inflatable hot tubs for something short-term...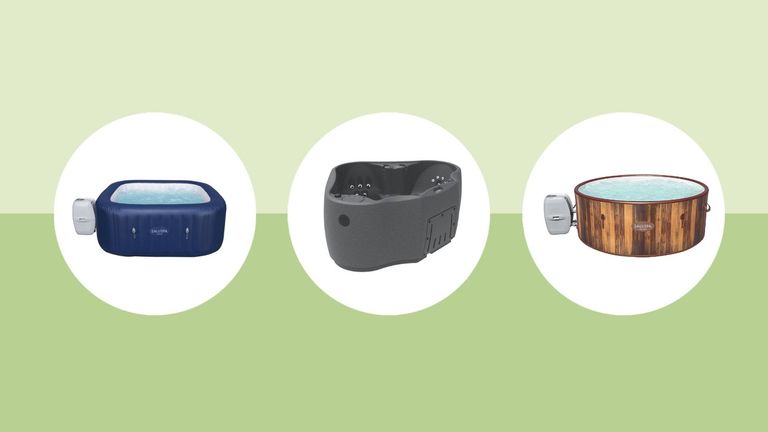 (Image credit: Future)
On the lookout for the best hot tub to buy right now? We have all the models you need to consider, with tubs that are crafted for total relaxation as well as integrating a splash of fun into your backyard. Even a hot tub on a budget can be a way to fix up your backyard into a more spa-like setting, and give you practice with maintenance before you invest in a more permanent tub.
Having one of these tubs in your yard will make you the most popular family member or friend around, but there are plenty of options if you're still deciding how many people you want your tub to cater to. There are private two-person tubs (that still integrate plenty of leg room!) or there are more spacious picks for entertaining your friends too.
As well as relaxation and entertainment, these tubs have been proven to be a way to help you unwind after a long day, with stress-relieving hydrotherapy methods. Studies have also shown a link between better sleep, a stronger immune system, pain relief and cardiovascular health.
Alongside the best outdoor furniture, these tubs are an essential element for turning your backyard into a space you cherish and use for entertainment as well as relaxation, so read on to find the best hot tub for you.
---
The best hot tubs 2022
The best hot tub overall
Specifications
Type: Inflatable
Seats: 4–6
Dimensions: 71" x 71" x 28"
Water capacity: 222 gal
Air jets: 60
LED lights: No
Cover included: Yes
Reasons to buy
+
Affordable and good value
+
Easy to set up
+
Portable and easy to store
+
Massage jets and hydrojets
+
A good size
Reasons to avoid
-
No built-in seating
-
No LED lights
-
Not as durable as hard-shell options
The Bestway SaluSpa Hawaii inflatable hot tub takes the top spot on our best hot tubs round-up for a variety of reasons, ultimately because it's the perfect balance of performance and price.
Equipped with a massage and hydrojet system, the hot tub offers two different relaxation experiences. Firstly, the 'massage' system button pushes air through a series of holes that run along the edge of the inside of the hot tub, creating plenty of bubbles. In our opinion, this doesn't provide a massage as such, but does create the classic jacuzzi experience.
But then there's the hydrojet function. Once you hit this button, it starts the two jets that are placed in each corner of the hot tub. These offer a proper massage on your back, and are a large part of the reason this hot tub takes first place on our list; rivaling hard-shell jet performance at a fraction of the price. Although - unlike many hard-shell options - there isn't an option to adjust these jets. All users we invited into our test hot tub found the pressure just right though.
Performance aside, the appearance is a little kiddie paddling pool like, but the thick inflatable sides felt structurally sturdy when we were inside - the only downside is the lack of built-in seating you'd get with a hard-shell model.
We also liked the fact that this hot tub could be left outside in slightly cooler temperatures than most of its inflatable cousins. Bestway suggests that users shouldn't use the spa if the outside temperature dips to 14˚F, although in the manual it does advise that you should consider packing it away if temperatures fall below 42.8˚F.
For all of the detail on this best-in-class inflatable, make sure to check out our Bestway SaluSpa Hawaii 4-person inflatable hot tub review.
The best 6-person hot tub
Specifications
Type: Inflatable
Seats: 5–7
Dimensions: 71" x 26"
Water capacity: 297 gal
Air jets: 83
LED lights: No
Cover included: Yes
Reasons to buy
+
Thin walls make for one of the most spacious inflatable hot tubs we've come across
+
Stylish design (for an inflatable)
+
Portable and easy to stow away
+
Power saving mode
+
Good value compared to a hard-shell model
Reasons to avoid
-
No hydrojets
-
No built-in seating
-
No LED lights
-
Not as durable as hard-shell options
-
Can't be used in temperatures below 39 degrees Fahrenheit
If you want a little more space than the Bestway SaluSpa Hawaii offers, then the Helsinki is one of the largest inflatable hot tubs we've come across.
It has been cleverly designed with thin, rigid - yet still inflatable - outer walls so that you have more space inside without taking up your whole yard; in fact, there's room for the whole family, although we do think the manufacturer's claim of 7 adults is a bit of a squeeze. And, although not as robust as a hard-shell option, the rigid outer walls do feel durable and sturdy.
This option also offers a point of difference to your usual inflatable hot tub, with the thin outer walls and faux wood-paneling print making it look less kiddie pool and more luxury spa than other blow-up options on the market. Although that does mean it's also one of the most expensive inflatable hot tubs on the market
As it is inflatable, it's also super easy to set up, especially as this model has a built-in digital inflation pump. There's also a power-saving button that lets you set a timer for when you want the spa to heat up, reducing energy wastage when the hot tub isn't in use.
One big drawback is the fact it can't be used in temperatures below 39 degrees Fahrenheit, so doesn't perform quite as well as the Bestway Hawaii model in this regard. It should survive in mild winters, but in the northern states or Canada it would need to be stowed away. Fortunately, that's very easy to do - just deflate and pack away.
The other downside is that although there are a high number of massaging jets - 83, in fact - the Helsinki doesn't have the hydrojets that the Hawaii model offers, which we found to be the most useful jets for delivering a good achey-muscle massage, although theymassage jets do create lots of bubbles!
Get the full lowdown in our Bestway SaluSpa Helsinki AirJet Inflatable Hot Tub Spa review.
3. Canadian Spa Company Saskatoon 12 Jet Plug and Play
The best 4-person hot tub
Specifications
Type: Hard-shell plug-and-play
Seats: 4
Dimensions: 63" x 29"
Water capacity: 185 gal
Air jets: 12
LED lights: Yes
Cover included: Yes
Reasons to buy
+
Plug-and-play hard-shell means no electrician required
+
LED lights
+
Tasteful design
+
Use year-round
+
Ozone water care system uses fewer chemicals
Reasons to avoid
-
350lbs so difficult to move around
-
Slow to heat up
If our number one best hot tub is a little too inflatable for your liking, then the Canadian Spa Company Saskatoon spa is a good medium-sized hard-shell option that is almost as easy to set up.
It has 12 hydrotherapy jets with adjustable pressure and additional directional and rotational controls to suit your massage mood, and it's built with high-density closed-cell spray foam insulation and a heat reclamation system to make it energy-efficient. This means you can save energy, and money on your electricity bill, and also ensures your tub stays warm year-round, even in harsh Canadian winters.
This heating system is pretty impressive considering it runs on a standard 110v plug, so you don't need to hire a professional to wire it in. Many plug-and-play options are not winter-friendly as they can't draw as much power as 220v spas.
It also has an ozone water care system that keeps water clean using fewer chemicals than traditional systems, and it's an aesthetically pleasing hot tub to look at, with wooden paneling on the outer walls and LED lighting in several colors allowing you to customize your spas look.
It is more expensive than the best inflatable hot tubs, but is still good value for a hard-shell hot tub. Plus, this model allows you to wind down and warm up all winter long.
4. Backcountry Recreation Deluxe Wood Fired Hot Tub With Liner
The best wood-burning hot tub
Specifications
Type: Wood-burning
Seats: 5–7
Dimensions: 79" x 40"
Water capacity: 303 gal
Air jets: No
LED lights: No
Cover included: Yes
Reasons to buy
+
Beautiful traditional design
+
Heats up fast
+
Use year-round
+
Comes assembled
+
No electricity required
Reasons to avoid
-
No jets
-
No LED lights
-
No pump
If you're looking to wow your neighbors, then this wood-burning hot tub makes a super elegant statement in your yard.
For the ultimate in flexibility, you can place this hot tub just about anywhere as it doesn't require any electric hook-up at all. The stove in this wood-burning tub creates a vacuum causing the water to circulate and heat up naturally. The stove is also energy efficient and has been designed to reduce wood consumption by 50% compared to traditional wood-burning hot tubs.
It has a relatively easy out-of-box setup as it comes assembled and ready to go. However, it's much heavier than its inflatable siblings and it's not easy to move around.
The built-in seats are comfy and spacious. It also gets to optimal soaking temperature (104˚F) in under 2 hours so you can kick back and relax in next to no time. Although you do have a wood-burning stove to contend with, which requires more maintenance than a simple plug-and-play model. If you're the outdoorsy type this could be a bonus though.
Backcountry makes wood-burning hot tubs in other shapes and sizes too so they should have just the right fit for your space and budget.
5. Aquarest Spas 300 2-Person 20-Jet Plug And Play Hot Tub with LED Waterfall
The best-value hot tub
Specifications
Type: Hard-shell
Seats: 2
Dimensions: 80" x 68" x 31"
Water capacity: 160 gal
Air jets: 20
LED lights: Yes
Cover included: Yes
Reasons to buy
+
LED lights and waterfall
+
Stylish stone-like design
+
Use year-round
+
Easy to set up and move around
+
Individually adjustable jets
+
Cup holders
Don't worry if you only have a small outdoor space, as with this AquaRest Spa your backyard spa dreams can still come true.
This hard-shell oval design creates the perfect intimate hot tub experience for you and your partner or a friend. It may be small, but it has all the same bells and whistles as its bigger brothers, including LED lights and cup holders. It even has a cascading waterfall that changes between nine different colors.
The two-chair design gives both people ample room to relax comfortably whilst receiving a generous ten jet water massage, and the pressure is adjustable to suit each person with dual-side air controls.
The foam insulation and cover are designed to retain heat so you use less energy which saves money on your electricity bill. It also means it can be used year-round, which is impressive on a standard 110v plug. And, it's relatively easy to set up.
The only drawback is that you can't invite all your friends to enjoy it with you. Although if you have a bigger space and like this style, AquaRest do have larger sizes available too.
6. Thermospas 5-Person 57-Jet Hot Tub with Ozonator
The best luxury hot tub
Specifications
Type:: Hard-shell
Seats:: 4–5
Dimensions:: 87" x 79" x 38"
Water capacity: 430 gal
Air jets: 57
LED lights: Yes
Cover included: Yes
Reasons to buy
+
57 jets
+
LED lights
+
Use year-round
+
Ergonomic lounge seats
+
Cup holders
Reasons to avoid
-
Professional installation required (240 volts & 751 lb.)
-
No waterfall feature
-
An investment
This 240v hard-shell hot tub is a good option if you are looking for a little more power, and a little more space. Although that does mean a lot more of an investment.
It's designed to seat 5, although we think it's a much more comfortable fit for 4, and an even more decadent experience for 2, with the lounge seats and sculpted armrests offering ergonomic seating.
The extra power results in 57 jets ready to deliver a full body massage, and the controls are easily accessible so you can effortlessly adjust your massage to the perfect level. There are also LED lights and added cup holders - to ensure you have no need to get out once you've gotten in - and it can be used all year round. Although we're a bit disappointed there isn't waterfall feature considering the price.
The thermal walls, heat recycling system and insulated locking cover make it energy-efficient so your electricity bill won't be too high, and it also has an ozone water care system that keeps water clean using fewer chemicals.
It runs on 240v rather than a standard 110v plug, which makes for a more expensive initial outlay than our other picks as it requires professional installation, and also has higher ongoing energy costs due to the increase in power. The hard-shell tub also weighs 751lb so you're unlikely to be moving this model once it's in position.
7. Intex 28439E Greywood Deluxe 4 Person Outdoor Portable Inflatable Hot Tub
The best inflatable hot tub
Specifications
Type: Inflatable
Seats: 4
Dimensions: 57" x 28"
Water capacity : 210 gallons
Air jets: 140
LED lights: 1
Cover included: Sold separately
Reasons to buy
+
A deluxe number of jets
+
Headrests built in
+
A multi-colored LED for setting the vibe
+
Natural wood pattern to blend into backyard
Reasons to avoid
-
No cover included
-
Seats only 4
An inflatable hot tub is a great way to integrate a water element to your backyard without committing in the long term, and especially good if you want a trial run before investing in a permanent tub model.
This pick from Intex is perfect for shorter-term use, and has so many benefits when it comes to using it that you'll want to get in straightaway. Highlights include 140 massaging jets to mimic the real thing in permanent tubs, and two built-in headrests so that you don't need to buy any add-ons before you get started.
Another crowning feature of this tub is the included LED light, which you can control through a range of different colors to set the mood. Four adults can fit into this model to enjoy the various features, and there's also a built-in hard water treatment at work, which makes the tub better for those with sensitive skin.
---
How to buy the best hot tub for your backyard
Consider budget
There are now many affordable hot tub options available, with the best inflatable hot tubs offering superb value for money. If you have a larger budget then hard-shell options start from around $3,000 up to luxury options with all sorts of added features for around $10,000. The cheapest hot tubs can still offer great value though, proving that having a spa in your backyard is no longer just for the super-rich, there are options to suit any pocket and whatever style of backyard ideas you might have in mind.
Think about power source
Most of our options above are inflatable hot tubs or plug-and-play spas that use a standard 110-volt outlet. These don't require any professional installation so they are nice and easy to set up. They also draw less power which can save energy and reduce your electricity bills. However, this also means they take longer to heat up and they can have difficulty staying warm in cold temperatures.
While 220-volt hot tubs require professional installation, they tend to heat up quicker, stay warm year-round and can handle more features like LED lights, jets or speakers. So if you're looking to commit to a permanent, backyard feature then it's worth considering getting a professional in to install a bona fide 220-volt model.
Alternatively, a wood-burning hot tub can go just about anywhere you have space, so you're not limited to staying within reach of electricity. Of course, you do need to purchase wood but a real wood-burning hot tub will stay warm all winter long.
Is it energy-saving?
As well as the initial outlay involved in purchasing one of the best hot tubs on our list, there are also ongoing energy costs to consider.
All of our top picks above come with a cover included and have intentionally designed insulation to help keep your tub warm using minimal energy. Some of the models listed also have power-saving modes that allow you to set a timer to schedule your hot tub to heat up ready for use - rather than leaving it on all day and night. This saves you money on your electricity bill and it also means your hot tub can be ready to go as soon as you get back from a long day's work or play.
Is it suitable for winter use?
Winter is the prime time to use a hot tub. It allows you to enjoy a warm, relaxing soak in the outdoors even when evenings grow dark and cold. If this sounds enticing, make sure you check that your hot tub is suitable for year-round use. Inflatable options usually cannot be used in temperatures below 39F and some plug-and-play options don't draw enough power to stay warm in winter. Our hot tub winter care tips will give you lots of advice on making the most of your space in the colder weather.
What will the location of your hot tub be?
The type of hot tub you chose will of course depend on the outdoor space you have available. If you have a small backyard then you might not be able to fit an option that seats 7 people. Although if your backyard is super-sized then the hot tub world is your oyster. You might even want to check out our guide to the best above ground pools as a non-heated but spacious alternative.
If you prefer the soothing warmth of a hot tub to an envigorating dunking in cold water though, then you'll also need to consider access to power when locating your hot tub, especially if you're looking at professionally installed 220v options.
According to the British and Irish Spa and Hot Tub Association (opens in new tab), having a portable tub doesn't mean you can't achieve that sought-after in-built look either. Sallie Leslie-Golding told Gardeningetc "Hot tubs are typically installed above ground; however, you can easily achieve an attractive, built-in look by installing your hot tub wholly or partially sunk in a surrounding deck or paving. These self-contained units can be moved and re-installed elsewhere if you want your hot tub in a different location (subject to the base and electrics) or even move to a new property".
The ground you place any model of the hot tub on also needs to be flat, hard and stable so your water doesn't spill out and so it can take the tubs full weight once it's filled to capacity. If your yard is lacking an even surface, you might consider some of our decking ideas to build a platform for your hot tub to sit on.
Consider hot tub maintenance
The experts at the British and Irish Spa and Hot Tub Association (opens in new tab) are clear that even a straight-forward inflatable design will require some hot tub maintenance. Their advice is that "the essential points on upkeep relate to the water's quality and purity and a sound filtration system. All hot tubs and swim spas will come with a warranty, and your dealer will be able to advise you on how to keep high-quality water in the hot tub".
Make sure you read up and know what you're in for before you make a purchase. Things like clearing debris or testing and adjusting your hot tubs' chemistry and PH levels will need to be done weekly and you should completely drain and clean your hot tub about every 3-4 months. We recommend purchasing a hot tub maintenance kit that comes with a guide to help you keep track of maintenance tasks. Our guide on how to clean a hot tub has lots of useful tips too.
Think about when is the best time to buy a hot tub
Generally speaking, the cheapest time to buy anything is out of season. For hot tubs – especially less insulated inflatable and plug-and-play models – that tends to be early winter. So any time from October through to December. Although it can sometimes be harder to find products in stock during this time.
To keep track of all the biggest discounts and out-of-season sales, make sure to check out our guide to the best hot tub deals.
Consider the ways in which you can buy a hot tub
Buying a hot tub is a process that you will probably want to invest some time in, to make sure that you've secured a purchase you're going to get lots of use out of. When it comes to the best way to buy, we would, first of all, recommend taking a look at models in your nearest store. This way you can see exactly how big you want your tub to be, as some estimations can be a little vague (such as being able to fit 4-6 people).
Some hot tub dealers will offer different rates varying from state to state and might push you to make a decision, but we would recommend going online to shop around for the best deal. After all, there are certain times of the year when it might be cheaper to get a certain model, as we've noted above, especially if it's being discontinued.
Buy the best hot tub accessories to ramp up your hot tub
Hot tub accessories add an extra layer of tranquillity, or alternatively fun, into your backyard spa experience. They can range from anything from headrests and LED lights to cup holders and cool boxes. They will really elevate your hot tub experience, and available at a range of different price points.
Where to buy a hot tub?
Should you still be looking for a hot tub to suit your needs, then you can browse plenty more buys from our favorite recommended retailers, just below.
Emily Grant is a British ex-pat living in Squamish, Canada. She has written articles and blogs about all sorts from play equipment to travel and tourism. She has a passion for adventure, the outdoors and horticulture. She loves water, whether it's swimming in a lake or pool, or soaking in a hot tub. She has worked in leisure and events in Canada for many years and is currently working for public health. In addition to Gardeningetc, her work has featured on Real Homes and Homes & Gardens.
Sponsored by