Hot tub deals 2021: the best sales and cheapest prices
For the cheapest hot tub deals and the best outdoor spa sales – including a 4-person hot tub for just £255 at Homebase (saving £200!) – we've got you covered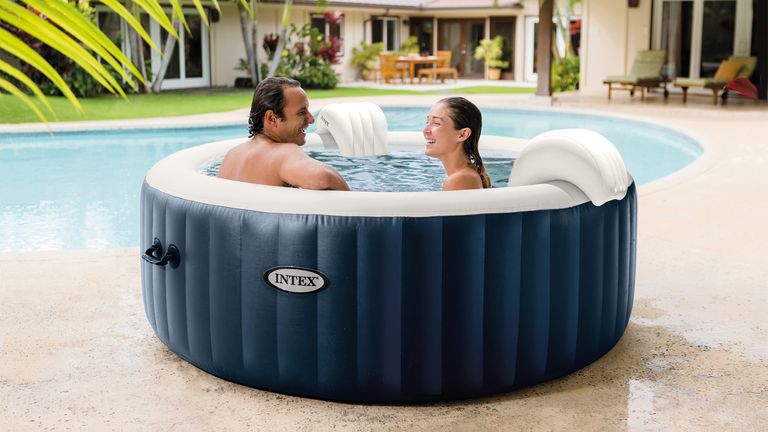 (Image credit: Intex)
By Beth Murton , Amy Lockwood
Looking for the best hot tub deals? We've rounded up the hot tub sales with the biggest savings on offer to help you enjoy a therapeutic spa from your very own garden.
As the temperature outdoors cools, now is the perfect time to extend your enjoyment of the garden with the warm and relaxing waters of a heated hot tub - be that a handy (and affordable) inflatable hot tub or a static spa.
Whether it's a two-, four- or six-seater hot tub you're after, you'll find all of the very best deals below - including the 4-person Wave Atlantic inflatable hot tub for just £255! You could be soaking your cares away in a soothing outdoor jacuzzi for much less than you may have first thought.
Want to understand what you should be looking for when buying a hot tub? Dive into our guide to the best hot tubs around for all of the detail, and then check back here to see if your top pick is on offer.
One word of caution... just like the best garden furniture, this year hot tubs are flying out of stock fast, so if you see a bargain with your name on it, it might be best not to delay!
Hot tub deals: the best buys for 2021
The best hot tub deals now on
By price: Low to high
The best deals on hot tub everyday essentials
Investing in a hot tub isn't just about the initial purchase, there's also the (less exciting) hot tub maintenance to consider.
From hot tub water testing kits to chlorine and pH. adjustment packs, it's worth stocking up on the essentials for everyday running whilst they're on offer - or at least at the best price around.
We've rounded up all the essentials you might need, along with some not-so-necessary additions that just make spa time more fun, below.
Black Friday hot tub deals
Often hailed as the biggest shopping day of the year, Black Friday falls on the last Friday of November, which this year means Black Friday is on Friday 26th November 2021.
The term Black Friday originated in the US to denote the first day following Thanksgiving when retailers would cut prices to draw holidaymakers to shop their store's sales. Driven by global brands, the price-slashing event soon crossed the pond, and now Black Friday - closely followed by Cyber Monday - has become one of the UK's biggest consumer extravaganzas, rivaling traditional Boxing Day sales.
The event has also spread to encompass more than one day, with many retailers starting their 'Black Friday' events earlier and earlier to try to get ahead of the competition, and that can mean good news for hot tub deals!
As with any sale, it's important to keep a level head and not get too swayed by the WAS/NOW stickers. After all, anything you don't actually need isn't really that much of a bargain, however well marketed it may be. But, the event does remain a good opportunity to snap up a potential bargain on a big-ticket item - like a hot tub - that you've had your eye on for a while.
You'll find our guide to all the best buys in our Black Friday deals hub, and we'll be updating this page to bring you all the best Black Friday hot tub deals as they're unveiled, so watch this space! You can also find great savings on other big-ticket outdoor purchases on our garden furniture deals page.
In-stock hot tubs
Hot tubs are selling out fast this year, so if a sale deal has disappeared by the time you click, then browse these real-time best buys to see more great offers in-stock and available today. Simply scroll to the right to see additional options at a gradually increasing price, then click to be taken through to the retailer to shop.
Lay-Z-Spa hot tub deals
If you already know that you want a Lay-Z-Spa hot tub - one of the best-known inflatable hot tub brands - and are trying to score one at the cheapest possible price, then we can help find you one within your budget with the deal finder below.
Where to buy a hot tub
Our go-to retailers to find the best prices on hot tubs and inflatable jacuzzis: