Cheap hot tubs: affordable buys under £600/$750 for April 2021
Find a cheap hot tub with help from the Gardeningetc hot tub sales guide – don't miss these affordable prices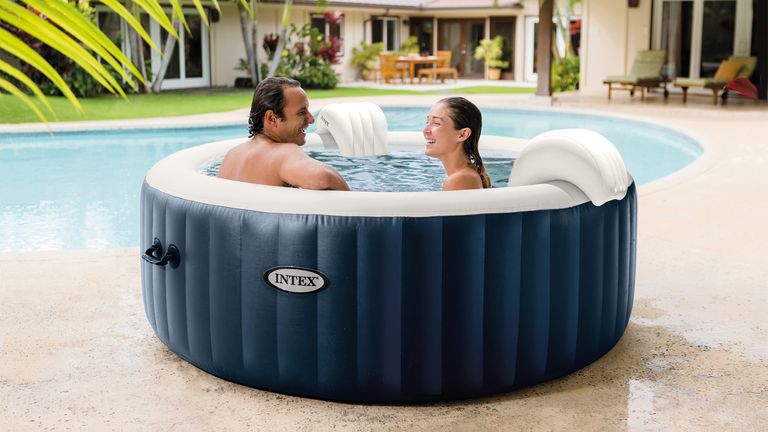 (Image credit: Intex)
By Beth Murton , Annie Collyer
Buying a cheap hot tub for your garden or yard? These are the most affordable – and in-stock – options on the web for April. So that you can buy one of these for outdoor entertaining, even while on a budget. And, just in time for the warmer weather to hopefully make an appearance. We've found hot tubs as cheap as £350 in the UK and $499 in the US. Clearly, having a hot tub in your garden or yard isn't as expensive as we all thought. 
Whether it's a four-seater tub or a six-seater you are after, all of the very best (and cheapest) deals are below. Everywhere from Argos to Amazon and Walmart. You'll have to get in quick, though, as hot tubs are selling fast right now. Everyone who has outdoor space seems to be wanting to buy one in 2021 – and we can hardly blame them when prices are this affordable.
If you're not on a budget, then take a look at our best hot tubs guide for plenty of stylish and feature-packed suggestions.
Click to shop cheap hot tubs in the UK and US:
Want to browse cheap hot tub deals for yourself? Check the quick links to the sale sites below, both US and UK, or scroll on to see our top picks.
Hot tub deals UK:
Hot tub deals US:
UK Hot tub deals
By price: Low to high
US Hot tub deals
By price: Low to high
Cheap hot tubs
Hot tubs have been selling out fast this year, so if you can't wait until your favourite comes in stock, then see these great offers that are available today. 
Lay-Z-Spa hot tubs
If you already know that you want a Lay-Z-Spa hot tub but you are trying to scoree one at the cheapest possible price, then we can help find one that's within your budget using our pricing widget below. This widget shows Lay-Z-Spa hot tubs and their prices, from low to high. Use the buttons either side of the widget to scroll to see more. Click through to shop.
Argos hot tubs
Argos sell lots of hot tubs, from Lay-Z-Spa ones to CleverSpa models. You can see all Argos hot tubs available and in stock now, below. Whether you prefer it to be delivered or you are happy to click and collect...