Do you need to chit potatoes? Find out what the experts say
Learn how to chit potatoes before planting them in the ground and you'll be on your way to getting an earlier and bigger harvest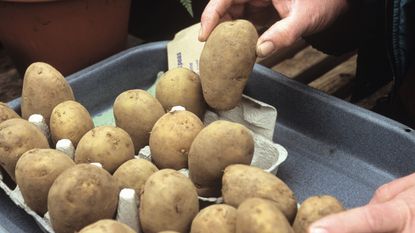 (Image credit: Future)
Wondering whether it's absolutely necessary to chit potatoes before planting them in the ground this year? It is a practice done by millions of gardeners around the world year-after-year and considered as an essential task by many.
The first potato harvest of the year is always a momentous time for the home gardener. It is filled with anticipation as you lift the fork and hold your breath to see what comes up. The digging of the early potatoes normally starts in early summer and it can feel like guesswork about what your harvest will be. You can, however, help put the odds in your favor for a great crop by chitting your potatoes in the weeks before planting them.
Commercial growers do not chit potatoes, it is just something done by home gardeners as they will have heard countless stories about the benefits. If you've read about how to grow potatoes, it will typically recommend chitting them.
Personally, I have grown potatoes for many years, in gardens I worked in, on my allotment, and also in grow bags. I have tended to follow the masses and chit my potatoes, however not always. On one occasion I even simply planted leftover shop-bought potatoes from the back of the cupboard.
Why do gardeners chit potatoes?
Chitting potatoes is a very traditional task of encouraging seed potatoes to grow sprouts indoors before you have even planted them in the ground in your kitchen garden or raised garden beds. This process gives them a good head start when it comes to growing and reduces the amount of time it will take till harvest.
It is also long-regarded that chitting potatoes gives a bigger potato harvest. This is because you are helping give them a very long season by starting them into growth as early as possible. By giving your seed potatoes lots of light and warmth it brings them out of their dormancy period and kick-starts their growing mode.
There are three main types of potatoes to grow and their names correlate to when they are planted and harvested. They are first earlies, second earlies, and maincrop. Suttons claims that gardeners should 'definitely' chit first and second early varieties, adding: 'for maincrop spuds, it's less important, but still a good idea if you have time.'
Monty Don, presenter of TV's Gardeners' World, wrote on his blog: 'When these "chitted" potatoes are planted they are primed to grow away extra quickly. This is especially beneficial for first earlies or maincrop varieties grown where blight is likely.'
Potato blight is a disease that affects a potato plant's foliage and also the tubers and, as the RHS website explains, it causes rotting and is 'most common in warm, wet weather'.
How to chit potatoes at home
Arrange the seed potatoes in egg boxes or seed trays, with the 'eyes' facing upwards and place them somewhere light. Adequate light is important as, without it, the growth of the sprouts will be leggy and very easily damaged when planting out in the garden.
A porch or windowsill is an ideal location but care needs to be taken to make sure they are not affected by high temperatures, such as from central heating or radiators.
John Negus, expert from Amateur Gardening, advises: 'Tubers should be placed rose (bud) end uppermost in seed trays in good light, in a temperature of around 50˚F (10˚C). Sprouts normally appear after three or four weeks.'
The ideal sprouts should be short and stubby, green and almost purple in color. After the first couple of weeks, leave three or four of the largest shoots and rub off the others. The potatoes should be regularly checked and any starting to go moldy need to be thrown out.
When and where to chit potatoes
The exact time for when to chit your potatoes will be dictated by where you live and where you are planning to grow your potatoes.
You can start chitting potatoes from mid-winter onwards and the aim is to give them six weeks to start growing and put out shoots before planting them into the ground. The soil temperature needs to reach between 42.8˚F (6˚C) and 50˚F (10˚C) for the ground to be ready.
Some areas will be prone to late frosts and that will have a knock-on effect to when to start chitting potatoes. A good rule of thumb is to aim to start the process four to six weeks before you want to plant potatoes outdoors.
Potatoes can, of course, be planted undercover and that allows for chitting to be started even earlier. Growing potatoes in containers can be started as early as mid-winter in a heated greenhouse to provide a really early harvest of potatoes.
Is it always better to chit potatoes?
Chitting potatoes does take up time and space, something that maybe not everyone has. A windowsill is the perfect place to chit potatoes and people might not have the space required – especially if they are wanting to grow a good number of potatoes. Tray upon tray of egg boxes can potentially take up lots of space.
If there is a long and cold wet spell that means your chitted potatoes cannot be planted out on time, it can lead to them having long sprouts that can be easily broken. Any damage to them will have a detrimental effect on the yield and mean the chitting could be seen as a waste of time. Also, the earlier the growth, the increased risk of potential frost damage from a particularly late cold spell in spring.
There is a school of thought that chitting is not actually necessary and there have been several trials run to find out if it is. For example, Which? Gardening magazine in the UK trialed chitted and unchitted potatoes – using the varieties 'Maris Piper' and 'Sarpo Mira' – and found that overall 'there wasn't much difference in the yield'.
However, James Wong, gardening expert and writer, wrote in the Guardian newspaper that global studies did show that chitting can increase the potato yield. He cited studies by both the Department for Environment, Food and Rural Affairs, along with other trials in both the UK and Canada.
He wrote: 'If, on the other hand, yield doesn't concern you that much and it is smaller, new spuds you are after in exchange for less work and more windowsill space, ditch the chitting altogether.'
Potatoes will undoubtedly grow whether they have been chitted or not. If you plant them at the right time and give them the conditions in which to grow, then they will grow perfectly. Anyone who has grown potatoes will have experienced that, if you miss a potato at harvest time, it sits in the ground and then grows absolutely fine when the weather gets warm.
If you have the time and space to chit potatoes, then it is a worthwhile task. However, no one needs to feel that it is absolutely vital and they will not get to enjoy the joys of harvesting potatoes without having chitted them.
Growing any vegetable is all about enjoying the process and the satisfaction that comes from eating what you have grown. If you do not have time or space to be able to chit your potatoes, then don't worry. Plant them straight out in the ground and you will still get to enjoy some delicious homegrown potatoes.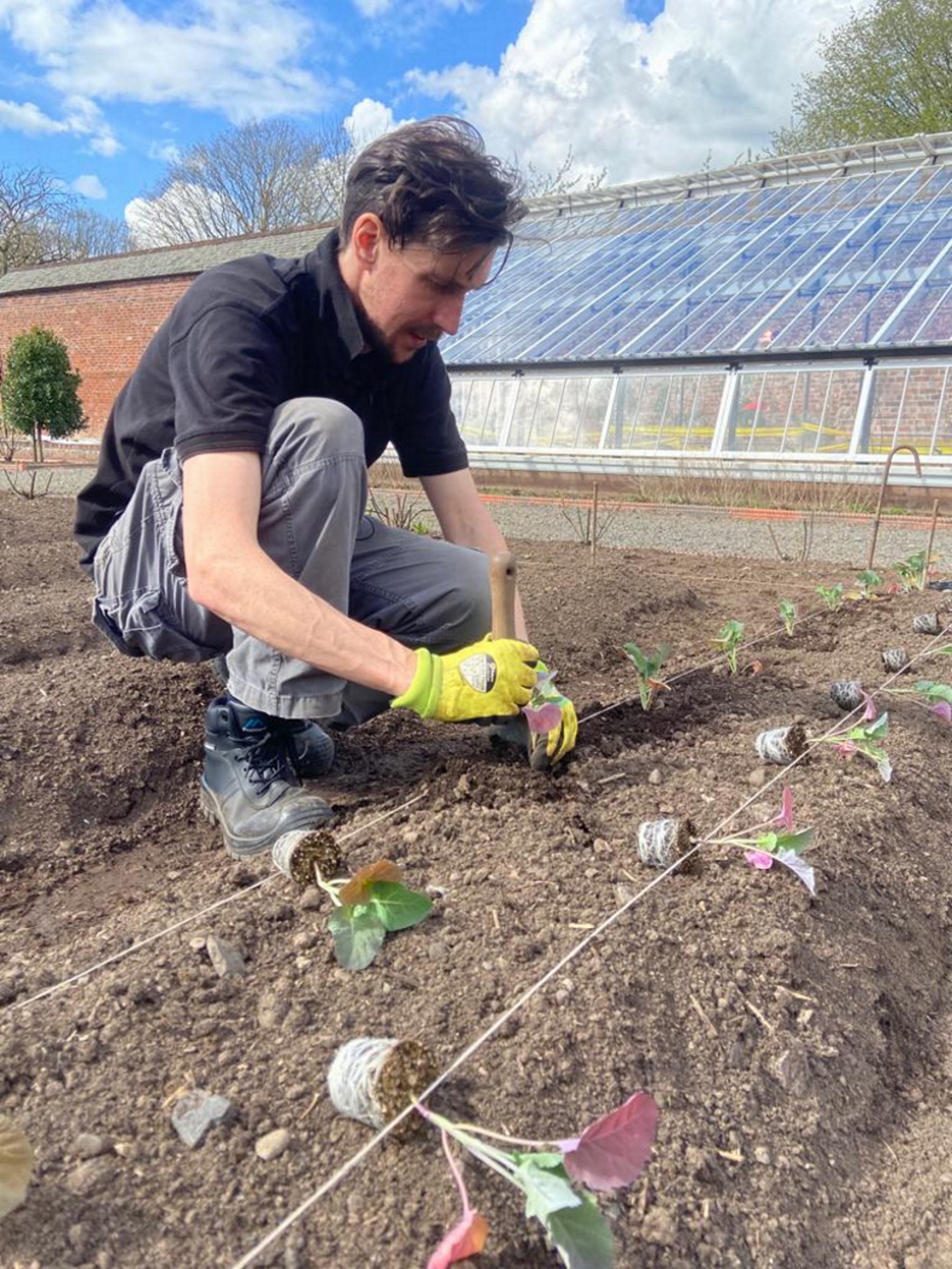 Drew's passion for gardening started with growing vegetables and salad in raised beds in a small urban terrace garden. He has gone on to work as a professional gardener in historic gardens across the UK and also specialise as a kitchen gardener growing vegetables, fruit, herbs, and cut flowers. That passion for growing extends to being an allotmenteer, garden blogger, and producing how-to gardening guides for websites.