Front porch ideas: 13 ways to transform your space
Looking for the latest front porch ideas? Whether you're a fan of rustic style or bohemian flair, there's something for everyone in our inspiring selection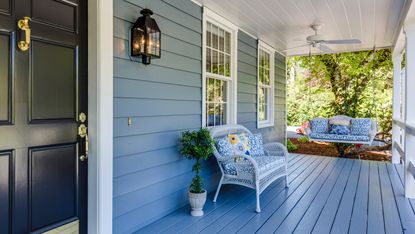 (Image credit: Unsplash/Francesca Tosolini)
The best front porch ideas will not only smarten up the entrance to your home, they'll also give you the perfect sheltered spot to sit and enjoy being outdoors. While many homeowners can often overlook their front porches, it's one of the first parts of your house to make an impression on guests, not to mention provide you with extra living space. It's such a key feature of some of our favorite American homes, that if you're lucky enough to have one you shouldn't let it go to waste.
Whether you're interested in designing a cozy seating area for watching summer storms roll past or a perfect display for all your plants, we've rounded up the best ways you can spice up your front porch to let it shine.
Transforming your outside space? Check out our favorite garden design ideas.
1. Set up a rocking chair
Is there anything better than sitting in a rocking chair on your front porch? Style your set-up with just one chair if you're tight on space, or indulge in a few to accommodate the whole family. Rocking chairs can work well with all sorts of architectural styles, whether your home is a farmhouse, a Craftsman bungalow, or a colonial-type property.
2. Add a bench
Prefer a more stable seat? Add a garden bench to your front porch. While you can simply take a seat, relax, and soak in the view, you can also use a bench more practically, say, to take off your shoes before entering your home. If you already have another seating area on your porch, you can even use a bench like a display, arranging a vignette of plants, ceramic pieces, or anything else you fancy on top of it.
3. Install a simple hanging seat
Another front porch seating classic, a swinging bench is an ideal place to relax all day long, whether you're snuggling up to a loved one or sprawled out reading a book. While you can keep your swing plain and simple, like the one shown here, we love the idea of peppering in some fun pillows and a throw blanket to make things a little cozier – perfect for when there's an extra chill in the air on cooler evenings.
4. Jazz it up with a boho-style hanging pod
If you're into the swinging bench idea but have more flamboyant style, opt for a bohemian-style hanging pod, providing a more unique architectural shape that's sure to make your home the envy of the neighborhood. Use brightly colored cushions and pillows for a bold impact, or keep to neutrals for something a little more subtle.
5. Bring personality to the table through cushions
Outdoor seating is always more comfortable when teamed with cushions, so don't be afraid to load up your front porch's benches and chairs with them. Use the same pattern throughout your porch to unify the look, as shown here, or mix-and-match them to keep things a little more playful. We love how the same color has been used on the walls and floor in this front porch to create a smart finish.
Want more ideas for easy garden updates? Our simple garden ideas feature has plenty to inspire.
6. Add string lights to brighten up a porch in the evening
String lights are a whimsical detail that can create an atmospheric space at night. They pair particularly well with rustic-chic decor – just take a cue from this farmhouse-style front porch. Don't forget to add details like a wooden bench and planters to round out the space.
7. Spruce things up with greenery
If you have plants that prefer indirect sunlight, a covered front porch is an ideal place to home them. Set up a number of small-to-medium-sized plants on a tiered shelf, or go big with some fronds in a giant planter. Opt for ferns or flowers like begonias in the shadiest part of your porch, and leave the sunnier spaces for light lovers like petunias or even potted citrus trees.
8. Use shutters as a design element
Sure, shutters are practical for keeping wind and rain out, but on a big front porch, they can also be used as decorative elements. (Actually, they can pull double duty!) Check out antique stores for more rustic shutters that have developed a patina, or install brand-new shutters for a more polished look. Shutters look best on more traditional homes, but savvy designers can certainly find a way to make them work on modern ones, too.
9. Keep things practical with storage
Front porches don't only have to be for sitting. If you don't have space out back for a garden shed, consider setting up a little gardening space on your porch, like in the space shown here. A flat surface for trimming stems and some hooks to hang tools are a great place to start! You can also use baskets to store everything from umbrellas to firewood.
10. Get extra comfy with indoor-outdoor furniture
Why not put a sofa on your porch to create an outdoor living room? Just make sure the furniture is designed to weather the elements, otherwise it might not last as long as you'd hope! Don't forget to jazz your new outdoor sofa up with accessories like the Siempre Lumbar Pillow from The Citizenry. Check out our outdoor living room feature for more great ideas.
11. Throw a rug down
Add to your front porch's outdoor living room vibes by throwing down an outdoor rug to tie a seating area together. Not only does it add some much needed comfort and warmth underfoot, it also makes for a more comfortable play space for kids – two-legged or four-legged ones! Choose one designed to be used outdoors for added practicality.
12. Add a hanging planter
If you have limited square footage on your front porch for decorating, take things to the walls – or the open air. Install hanging planters to add greenery without cluttering up the floor. Or even if you do have a large porch, save the space for furniture and keep the plants up in the air. Here, blogger Ashley Mann hangs English ivy and a spider plant on her porch.
13. Hang a hammock
If you're not one for camping, but you still love to kick back in a hammock, why not install one on your front porch instead? We're partial to highly stylized models, like this Fringed Macramé Hammock from Anthropologie, which oozes bohemian vibes. Lazy weekends on the front porch, here we come...
More garden ideas: