Simple garden ideas: 10 ways to give your outdoor space a quick and easy update
Transform your outdoor space in a weekend with these simple garden ideas – they're high on impact and low on effort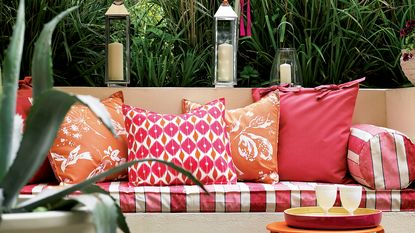 (Image credit: Polly Wreford)
Simple garden ideas are easier to achieve than you might think, proving that it's possible to give your outdoor space an exciting new look in as little as a weekend. Garden makeovers don't have to always be about big hard landscaping projects and lots of spending, as sometimes the best ideas are the simplest and they're things that you can enjoy doing on a warm evening or over a weekend.
These simple garden ideas are perfect for people who perhaps lack some gardening experience and don't have all the DIY expertise. But when it comes to getting creative and trying new things, enthusiasm is all you need!
Here are ten amazing ideas for you to get stuck into and you'll be able to enjoy the results quickly. Once you've tried one you'll want to try them all.
Looking for even more garden ideas? Make sure you head over to our garden design ideas feature for all the inspiration you'll need.
1. Install chic solar lighting
When placed over a seating area, these hanging solar pendant lights from Ella James will give an instant lift. They have a trendy cafe vibe, particularly when combined with relaxed sofa and coffee table outdoor set, but they would also shine in an alfresco dining area. If you don't have outdoor power sockets then don't worry. These are solar powered so there's no need to worry about complicated set ups. Make sure that you hang them in such a way that they don't present a hazard. The last thing you want is to keep bumping your head on them, no matter how good they look.
2. Add a statement low-maintenance planter
Investing in plants that are easy to care for and give interest all year round is a good choice for a low-maintenance garden. Ornamental grasses are essential for a contemporary garden and they are relatively fuss-free. They add movement and texture and grow really well in containers like this Lene Bjerre planter from Sweetpea and Willow – the distressed paint and ornamental texture will really stand out.
3. Make a stunning centrepiece in no time
Creating a pretty centrepiece for your table display can cost next to nothing and can make good use of items that would otherwise have been thrown out. Save glass containers like jars and bottles instead of throwing them out with your recycling, and use salvaged holders like this wooden box and add cut flowers from your garden. For permanent interest you could use fake flowers instead, or even flowers and foliage that maintain their look when they've dried out, like hydrangea heads.
4. Add pebbles to a plain patch of soil
Shingles or pebbles are relatively inexpensive and can give your garden a beach-style makeover. Choosing pale colours will lighten up dark corners, and if you have a bit of a failed flowerbed then give it a layer of pebbles and add a few thriving pot plants for a quick lift. You can also add the pebbles to large pots for a fun finishing touch. The added bonus is that pebbles can help stop plants drying out so quickly and therefore saves on watering.
5. Dress your seating with fabulous textiles
It's time to crack out the sewing machine if you have one and give your outdoor seating a colourful update! Use beautiful textiles for a glamorous look, draping your sofas in vibrant prints, and adding scatter cushions to chairs and benches for an easy lift. Make sure you have somewhere to store these overnight so they can be protected from the elements. If you can't sew or don't have the time, there are plenty of outdoor cushions available online at the likes of Amazon.
6. Turn a pallet into stylish outdoor shelves
Wooden pallets are perfect for outdoor projects because they're so easy to get hold of and are a sturdy structure that, with a little bit of work, can be transformed into cool garden furniture in no time. Add some planks to the under side of a pallet to create shelves and attach to a fence. Sand it down and paint it the same colour so it blends seamlessly for a professional finish. If you're not that handy then just use shop-bought shelves. Add pretty pots of herbs for a miniature kitchen garden.
7. Cosy up an area with a fire pit
Fire pits come in a variety of shapes and sizes, from small fire bowls to larger chimineas, so you should be able to find on that fits in your exact requirements. They are not only a practical source of warmth on a cool evening they can also create a focal point in an outdoor seating area. It's become popular to make a feature of logs too for a cosy Scandinavian feel. Check out fire pits buying guides for all the latest designs.
8. Paint a trellis for a pop of colour
While you're waiting for young climbing plants to grow tall and fully bloom, you can give the spot some help with a quick lick of paint on a trellis. There's a huge amount of colourful exterior wood paint available so you can pick the perfect shade for your plot, but we think this vibrant pink is a great colour as it's such a fun contrast to the green foliage. Make sure the paint is fully dry before exposing it to your plants.
9. Tile your outdoor table
Arrange ceramic tiles to cover a square of cork board, leaving a narrow border around the edge. One at a time, spread tile adhesive onto the back of each tile and stick on to the cork, a few millimetres apart. Leave to dry before using a pre-mixed grout to finish the tiles, pressing into all the gaps and around the edges. Wipe off the excess with a damp cloth and wait until it dries. Use a waterproof grout sealer if desired and it can be used as a stunning centrepiece for your outdoor table.
10. Create a quick and easy seating area
Dig over a patch of ground in your garden and cover with a weed suppressant membrane. Then add bark chipping for low-cost, low-effort seating area. A big bag of bark chipping is much cheaper than installing a decked patio or laying stone paving and it can be done in a weekend. Surround the area with pots to define it and add a small bistro table for an instant patio style space that doesn't cost the earth.
More garden design ideas: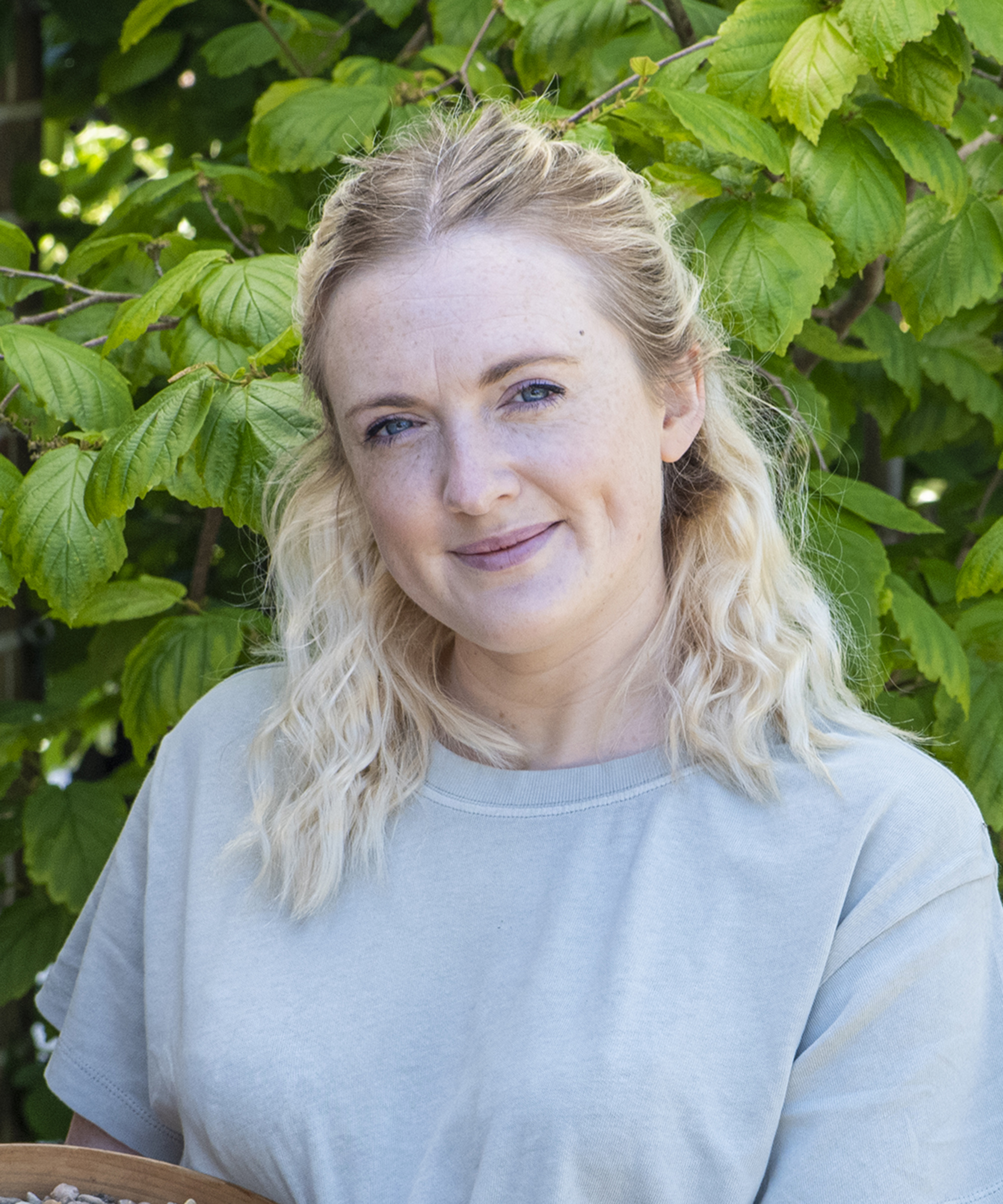 Teresa has worked as an Editor on a number of gardening magazines for three years now. So she is lucky enough to see and write about gardening across all sizes, budgets and abilities. She recently moved into her first home and the garden is a real project! Currently she is relishing planning her own design and planting schemes. What she is most passionate about when it comes to gardening are the positive effects it has on our mental health to grow and care for plants, as well as being great for the environment too and help provide food and shelter for wildlife.