Best hammocks: backyard hammocks for lazy days in the sun
The best hammocks for the backyard; swing into bliss with the best outdoor hammocks with a stand and the most comfortable hammock chairs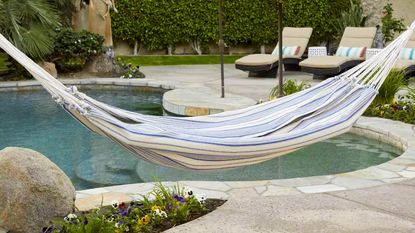 (Image credit: Threshold)
Looking for the best hammocks? When the daily routine begins to grind, the best backyard hammocks will sway you into a state of blissful relaxation.
Whether you opt for a hammock with a stand for stress-free erection, swing a double hammock from the trees, or take things easy in a compact hammock chair, this laidback backyard essential is the ultimate accompaniment to lazy summer days.
In this guide we've rounded up the best hammocks on the Gardeningetc team's radar, offering options in differing size, fabric and weight capabilities. There are also plenty of affordable options – after all a hammock makes a great alternative to the best outdoor furniture if your budget is tight.
So whether you want a hammock chair that can be the centerpiece of a cozy porch, a two-person hammock to create a romantic getaway in your own backyard, or a hammock with a stand for laidback lounging, you'll find the perfect option for you below.
Best hammocks 2021
Why you can trust Gardeningetc Our expert reviewers spend hours testing and comparing products and services so you can choose the best for you. Find out more about how we test.
1. Anyoo Garden Cotton Hammock
Best hammock overall: the best backyard hammock for looks, function and affordability
Specifications
Fabric: 70% Cotton and 30% polyester
Can hold up to : 450 lbs
Colors: Dark gray, gray, white
Reasons to buy
+
Affordable
+
Timeless and simple design
+
Breathable cotton fabric
+
2 carabiners and 2 nylon straps included
Price and style are the best features of our top hammock pick, the Anyoo Garden Cotton Hammock. As the name indicates, the hammock is made of 70 percent cotton and 30 percent polyester, meaning it's a light, soft, and breathable fabric that wicks away moisture and keeps you cool when the days are hot.
On either side of the main part of the hammock, there are thick rope hangers fashioned into hand-knitted fishtail knots. With the two included carabiners and two high-density nylon straps, you can hang the hammock between two trees (or with your own stand that you purchase separately). It has the capability to hold up to 450 lbs.
The only real question you have to ask yourself is which color hammock best fits your backyard: dark grey, grey, or white?
2. Suncreat Double Hammock with Stand
Best hammock with stand: a freestanding two-person quilted hammock
Specifications
Fabric: 100% polyester fabric
Can hold up to : 475 lbs
Colors: Multiple
Reasons to buy
+
Two-layer padded hammock
+
Includes a soft pillow
+
Large enough for two people
+
Stand included
+
Multiple color options
Imagine swaying in a hammock under the stars with your partner or taking a nap in a hammock with your child on a lovely fall afternoon. You can do all this with the Suncreat Double Hammock because it's large enough for two people.
The hammock comes in a wide range of color options and is made of a polyester fabric that's slower to fade when exposed to the sun. The two-layer quilted design and long pillow makes it extremely comfortable. On either end of the hammock is a 55-inch hardwood spreader bar that keeps the hammock spread apart. Countersunk holes in the bar reduce friction between the 18 hammock strings and the wood.
And the best part is that this double hammock comes equipped with a freestanding black powder-coated steel stand, so there's no need for perfectly proportioned trees or DIY wall brackets in order to hang.
3. Highwild Hammock Chair
Best hammock chair: perfectly proportioned and ideal for smaller backyards
Specifications
Fabric: Canvas
Can hold up to: 500 lbs
Colors: Off-white and multicolor stripe
Reasons to buy
+
Compact
+
Includes two comfortable seat cushions
+
Strong and durable design
+
Spreader bar has anti-slip rings
Reasons to avoid
-
You can't lie down, of course
-
Caribiner included, but not the hanging rope or chain
Hammock chairs have become very popular over the years. You've seen them strung up on bar patios and on the branches of large oak trees in a backyard or creating the perfect reading nook on a porch. If you'd like to add a hammock chair to your backyard, consider the Highwild Hammock Chair.
Made with canvas fabric and polyester cotton ropes, this hammock has two comfortable pads for your back and bottom. Anti-slip rings along the spreader bar prevent the rope from slipping off the bar and assists in supporting up to 500 lbs.
A carabiner is including in the packaging so you can hang the chair at least 11.8-15.7 inches off the ground. While we love the beige version of the Highwild Hammock Chair, those who have a flair for color and pattern can choose the more colorful version – a green, yellow, turquoise, and blue-striped hammock chair.
4. Castaway Living Double Traditional Hand Woven Hammock
Best rope hammock: get the castaway look with this loose woven design
Specifications
Fabric: Polyester rope
Holds up to : 450 lbs
Colors : Antique brown, green, natural, navy, or oatmeal
Reasons to buy
+
Fits two people
+
Plenty of airflow so stays nice and cool
+
Woven design in five color options
+
Spreader bars with countersunk holes
Reasons to avoid
-
Expensive
-
The rope design can dig in a bit more than a solid fabric option
The Castaway Living 13 ft. Double Traditional Hand-Woven Hammock has a classic handwoven design that fits perfectly in a rustic or beachy outdoor setting. In addition to being able to fit two people, the hammock comes in four different colors. The three earthy-toned hammocks blend well with neutral-toned patio decor, while the green and navy options are a fun way to add color.
The hammock may appear a bit shorter than advertised the first time you set it up, however, this is normal. The ropes will naturally stretch to the desired specifications after the first few uses, so you might want to hang it a little higher than you first think.
The loose weave design allows for plenty of airflow making this a great option if you're not keen on being encompassed by solid fabric design, although you are more aware of the rope texture than with a finer woven option.
The handwoven hammock is connected to hardwood spreader bars which have countersunk holes. Two zinc-plated chains and two tree hooks are included with the hammock.
5. Fourbaneco Double Hammock
Best colorful hammock: go bold with this playful patterned design
Specifications
Fabric: Polyester
Can hold up to : 500 lbs
Colors: Green leaves, blue leaves, midnight forest, and serene blue
Reasons to buy
+
Four colorful patterns
+
Super useful integrated storage pouch
+
Lightweight and easily transportable
+
Includes tree-friendly straps and carabiners
The Fourbaneco Stylish Double Hammock is the perfect hammock to add a dash of pattern and color to your backyard. Choose from four different options in shades of blue, purple, and green with floral patterns that range from tropical to common tree leaves.
This hammock is the only one on this list with an integrated storage pouch to hold snacks, a book, your phone, or whatever else your heart desires, which we think is a great idea.
It's also lightweight and super easy to set up with a pair of 20-foot-long high-quality tree straps and two heavy-duty carabiners included with your purchase. There's also a carry bag which is brilliant for packing this hammock up to take with you on a hiking or camping trip.
The one downside; although this hammock is technically large enough to fit two people, without a spreader bar you tend to roll towards the centre, and even with just one person the sides roll in to envelop you much more than with a spreader bar that's designed to keep a hammock flat.
---
How to hang a hammock
Tree-friendly straps
Our favorite way to hang a hammock is with tree-friendly straps. These straps can be up to 20 feet long so you don't have to worry about finding two trees close together. Generally, they're designed so that you wrap the straps around a tree and pull the end through a loop. You then hook the carabiner through one of the loops along the strap (20-foot straps can have up to 40 loops) and connect it to the hammock. The strap doesn't slide, break, or hurt the tree.
Hammock stand
If your yard lacks trees, you may want to consider a hammock stand. Made of wood, steel, or iron, hammock stands offer a base and two protruding arms from which you can hang a hammock. You'll need a C-stand for a hammock chair.
Rope
Rope can be used to hang a hammock, but you should make sure to purchase a rope that's sturdy enough to hold your weight. Tying it properly to the hammock and around the tree may come with some practice and Youtube instructional videos.
With hardware
A hammock can be hung indoors or outdoors with the right mounting hardware. Some people choose a type of hardware that is a flat metal piece with a hook that must be mounted to the wall with screws. Screw hooks might work sufficiently, although using them in trees is not advised as it can cause unnecessary damage to the tree.
Using a hammock to style up your backyard
Rivalling the best outdoor rocking chairs when it comes to patio furniture that makes a restful addition to your backyard, hammocks come in all shapes and styles, and there are plenty of options for where you can incorporate one into your outside space.
The best hammock for you is likely to be one that blends with your backyard style; whether that be cool and contemporary, laidback and beachy, or a more classic design. If you're starting your patio space from scratch, then take a look at our backyard ideas for some style inspiration.
And of course, a hammock isn't just for the backyard, if your veranda is wide enough it also makes a great addition to the front of the house, and a hammock chair is a useful seating solution on a smaller porch. Find some styling tips in our front porch ideas.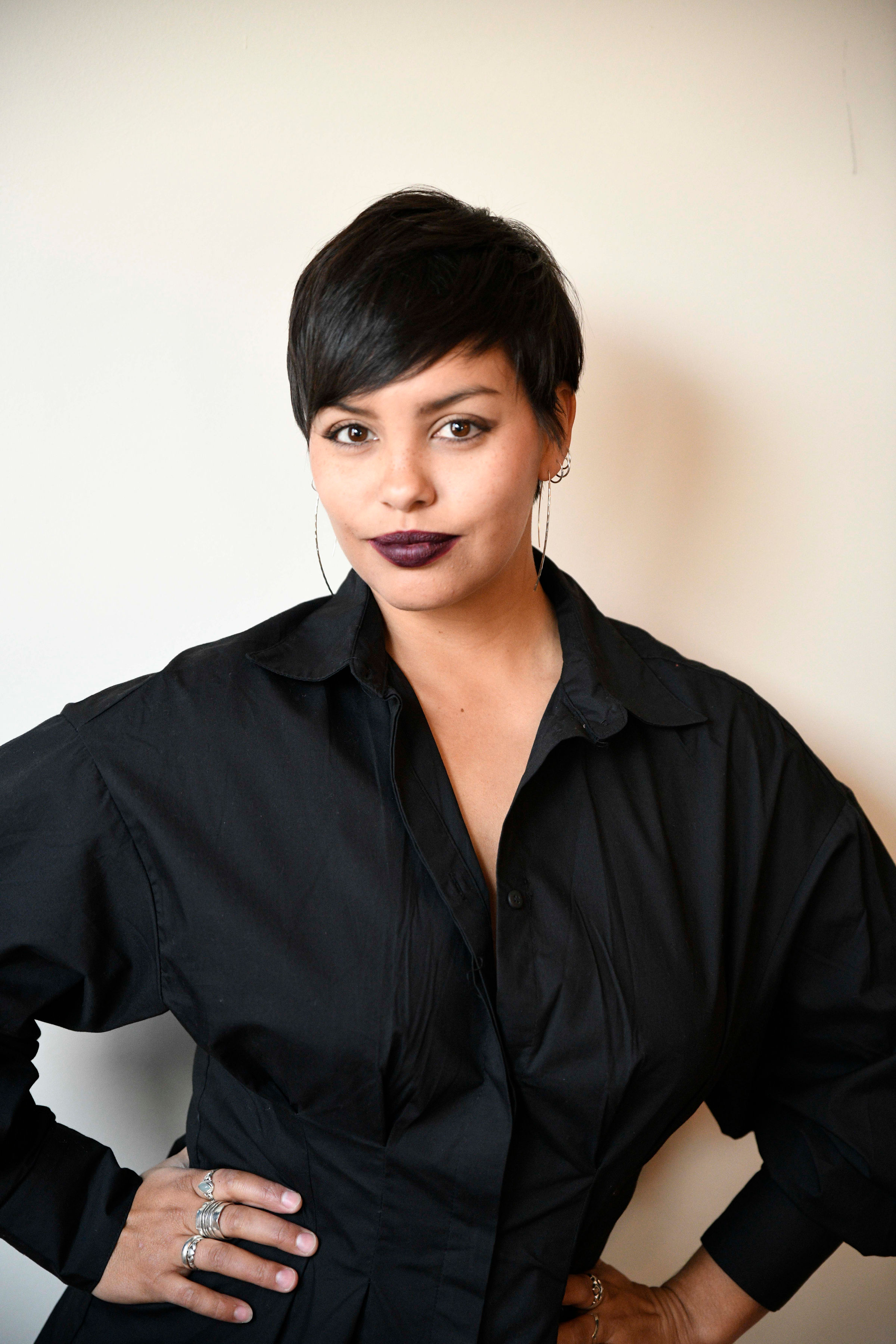 Alex Temblador is a Dallas-based award-winning author and freelance writer that has covered home, design, architecture, and art in publications like Real Homes, Gardeningetc, Home & Gardens, Dwell, Architectural Digest, Artsy, Neighborhoods.com, Culture Trip.