How to mow a lawn – all the tips and tricks you'll need
Our advice on how to mow a lawn will make your patch of grass the very best on the block. Here's what you need to know...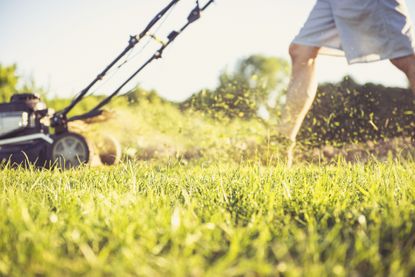 (Image credit: Getty Images)
We've rounded up the tips and tricks on how to mow a lawn to ensure your garden will be the envy of all your neighbours. Because, we all know the importance of having lush, verdant grass in the centre of our plot.
Sure, you could just mindlessly run the mower over every month or so, but if you want the best results, then we've got the insider secrets. Think of it like a hair cut – you could quickly hack it with the kitchen scissors, but it'll look so much better with a little bit of know-how. Give your lawn the TLC treatment and you'll be rewarded with beautiful grass to be proud of.
Of course, before you get started, you'll need the top tools for the job, so take a look at our guide to the best lawn mower. Then, read on to discover our expert lawn mowing advice.
How to mow your lawn
Timing is everything when it comes to mowing your lawn. The best advice is to avoid cutting your lawn between October and 'First Cut Sunday' – usually the first weekend in April (but can also be in early March depending on your region). This is when the soil is warmed and the grass has reawakened from its dormancy.
The time in-between allows the lawn to rest during the winter period, when there's very little growth. It also means you can avoid cutting during wet weather or frosty conditions, which can damage your lawn's roots.
But if winter has passed and you're raring to go, then check out these top tips first:
Make sure your lawn mower has sharp blades and is free from debris. You can remove and sharpen the blades yourself or look for a local company online to do it for you.
Set the height of your mower to the length you want to cut the grass. If you don't know how to do this, check the manufacturer's instructions. There are normally levels on each wheel that allow you to move the body of the mower, and therefore the blades, up or down.
If your lawn has got a bit overgrown, resist the temptation to set your mower to its lowest setting as you'll just 'scalp' the lawn, which damages the blades and can lead to weeds. Instead, follow the rule of thirds and never cut more than a third of the blades off in one go. This will encourage fresh, healthy growth but start to neaten things up.
Move any pots or plants out of the way. That goes for children's toys or games, too (don't forget we have lots of lovely ideas in our garden activities for kids guide).
Mow around the edge of your lawn first and then mow the body of the lawn up and down in straight lines. Don't walk too quickly or you won't get an even cut.
Keep the edges of your lawn looking neat
There's no point getting the main bulk of your lawn trimmed to perfection if messy edges let it down. If the edges are generally uneven, you may need to re-cut them with a half-moon edging iron or, if you don't have one, a sharp spade.
Once you've got a neat shape, use the best strimmer or a pair of sharp, long shears to keep those rogue blades in check. And why not go the extra mile and install some of our modern edging ideas, too? They're the perfect finishing touch to keep a plot looking neat.
How often should you mow your lawn?
During summer, trim your lawn as often as it needs. So, although it might be tempting, don't make mowing every Sunday be a concrete part of your routine. Instead, mow when the grass is long enough for you to need to trim it down by a third. This will usually be once a week.
Always avoid mowing on really hot, dry days as you'll expose the roots of the grass to the sun and cause more damage than good.
Want to make life easier? Consider investing in one of our best robot lawn mowers.
How should I do the first mow of the year?
The first mow of the year is always an exciting one, as it'll instantly make your plot feel smart and summer-ready. But what's the best way to do it? Paul Hicks from STIHL shares his expert tips:
'When cutting your lawn for the first time, it's likely to look a bit unloved and overgrown, so be sure to clear the area of any leaves, sticks and other debris that may interfere with mowing or could damage the mower blade.'
Paul also recommends following the one third rule when cutting for the first time. 'Never cut more than a third of the blade of grass in one go,' he says. This is because cutting it too short, too fast can damage the turf and lead to disease or weed infestation. Over the next few mows, you can gradually reduce the length to your liking.
'All lawns and gardens have different needs, so it is important that you take this into account when choosing a tool for the job,' Paul adds. 'The STIHL RMA 235 is a great choice for homeowners with medium sized gardens up to 300m2. This compact mower, which is part of STIHL's cordless range, is quiet, easy to manoeuvre and gives a brilliant quality cut, time after time.' We've got more top picks in our best cordless lawn mower guide.
How do I cut new grass?
If you're regrowing patches of your lawn from seed, be especially careful not to damage it. First-season grass from seed is especially tender, so wait until it's at least three inches long before trimming. And remember – only take a third off at a time.
Extra lawn mowing tips:
Feeling creative? Try your hand at lawn mowing patterns – even simple stripes look super stylish.
Splash on apple cider vinegar instead of weed killer: it's just as effective and more eco-friendly
Wear your stilettos (yes really!) – the heels will help puncture thick grass and let nutrients penetrate the soil
Put rusty nails in your watering can – grass needs iron to grow, and the nails will release iron into the water
Laura has been writing about homes and gardens for 17 years. She joined Real Homes magazine in 2015 as Deputy Editor and then become Editor before taking on her current position as Content Director for brands including Country Homes & Interiors, 25 Beautiful Homes, Period Living and Style at Home. She's currently redesigning the garden of her 1960s home in Worcestershire and will eventually reinstate the swimming pool that's currently filled with mud! Outside of homes, she's a TV presenter for QVC.