How does a robot lawn mower work?
It's the next best thing to having a gardener, but how does a robot lawn mower work to keep your grass at bay?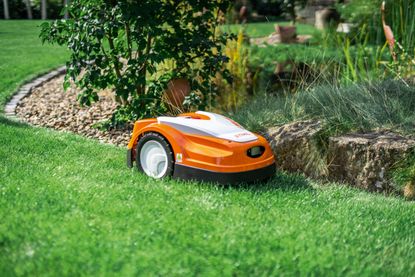 (Image credit: Stihl)
How does a robot lawn mower work to give you the lawn of dreams without you having to lift a finger – apart from the ones you use to programme it? Smart appliances can make our lives easier in all kinds of ways, but a robot mower is one that genuinely does the hard work for you, cropping your grass until it looks like green velvet while you sit sipping a drink on the patio.
They are not the cheapest appliance for keeping your lawn under control, however, it's worth remembering that you are not just paying for the technology but also the physical labour and time that it saves you. So just how does the robot lawn mower work, are they worth the money, and do you really need one?
If you are looking to invest in one of these hi-tech garden helpers, see our buying guide to the best robot lawn mowers for all the latest deals, or if you still want to mow the lawn yourself, head to our best lawn mowers buying guide.
How does a robot lawn mower work?
Before you can let your new appliance loose on your lawn, you need to make sure that it will stay within its parameters. Laying a perimeter wire will help it detect its boundaries (via a signal sent round the wire) and not run over, chopping the heads off all your bedding plants as it goes. This wire will also help guide it back to the charging dock – its home when it needs to boost power or is not in use.
The laying is a painstaking initial process but the wires are robust and quite inconspicuous. The charging dock needs to be connected to mains power so position it close enough to reach a supply. Some manufacturers will install the wire and charging dock for you.
You must leave the wire to bed in for some time before use, so the mower blades don't cut through it, or have the blades at a setting to pass over the wire until the grass has grown long enough to cover it. The best and safest option is probably laying the wire underground. It is protected and nothing sullies your grass's perfection.
How easy is a robot lawn mower to use?
Programme the mower for how often you want it to cut the grass, setting the date and time. You can also connect it to an app on your smartphone to use if you feel the grass needs a little extra trim in between its regular mows.
There is no need to worry about removing lawn furniture or ornaments, or to put a perimeter wire round, as these mowers have been developed to navigate round them. You should pick up toys and tools that might have been dropped, however. It's route might appear haphazard at times, but it is making sure all the grass is cut evenly.
Can a robot lawn mower deal with a large lawn?
There are robot mowers that are suitable for small lawns and others that can cover gardens so large they would normally require a ride-on lawnmower. The area will be measured in square metres. The bigger gardens will need mowers with larger batteries. Don't buy one suitable for a compact garden with the idea of mowing a bigger space in two goes. Invest in one that can cover the distance you require, and that comes with enough perimeter wire to go round it.
If your lawn has a steep incline, look for a mower with plenty of power and wheels that grip. Most can easily cope with slopes of up to 20°. A multizone function might be necessary if your lawn is interrupted by lots of pathways or fences. But it could need charging between sections.
Any other key features?
It is worth checking if the mower has pivoting blades or fixed. The former can move if they spin across hard objects. Fixed blades don't so might get stuck. If your lawn looks like an obstacle course for a mower, pivoting might be a better choice than fixed. The beauty of this robot device is that it's hands off. But if there are young kids running around, a child guard can prevent them from trying to interfere with it.
Are robot lawn mowers worth the money?
Although robot lawn mowers can seem expensive compared to ordinary mowers, they can be cheaper to run and cost less in maintenance. There is also the time saved – leaving you free to do something fun as it manicures your grass. If you typically pay for someone to mow your lawn, you can soon find your initial investment is recouped. Plus these mowers can operate in the rain, which even the keenest of gardeners probably wouldn't do.
Robot mowers can actually be good for your grass; aiding the health of your lawn by finely mulching the clippings and returning them to the soil to add nutrients (so no more raking up all the stray bits that dry and go brown). Because they cut the grass so often, it makes it harder for weeds to establish themselves. And it will aways look freshly trimmed with no uneven growth.
From a safety perspective, there are no cords to trip over and risk injury. The blades can stop automatically if someone tries to lift it while it's working. And it's eco-friendly with no emissions and low energy consumption.
Do you really need a robot lawn mower?
If you want to keep an immaculately maintained lawn with relatively little exertion on your part, yes. This is an advancement in garden appliances that genuinely takes some of the hard graft out of cultivating your outside space and creating an alfresco sanctuary
It's neat, does its job in all but the most extreme weathers, gives you back those hours spent trying to tame the threatening jungle into something that resembles a bowling green, and puts itself away at the end of the task. That's all time you can spend with the family or doing other chores that you don't have a robot helper for.
More to read:
Alison is Assistant Editor on Real Homes magazine. She previously worked on national newspapers, in later years as a film critic and has also written on property, fashion and lifestyle. Having recently purchased a Victorian property in severe need of some updating, she is currently chipping away at a back garden covered in crazy paving, ready to landscape it with a lawn and fruit and veg patch to sow and grow her own.