Gardens are not just for summer: everything you need for year round entertaining
You've been relaxing and socialising in your garden all summer long. So just because the weather's cooling doesn't mean you can't continue to make the most of your outdoor space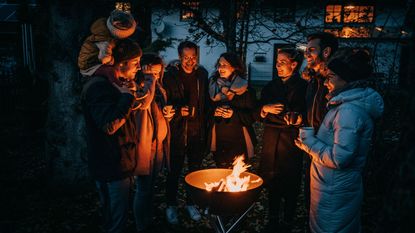 (Image credit: Höfats)
Gardening Etc Newsletter
The Home Of Outdoor Living
Thank you for signing up to . You will receive a verification email shortly.
There was a problem. Please refresh the page and try again.
If you love entertaining in your garden there's no need to stop just because summer's over. It could be time for an upgrade though to bring things up to scratch for year-round socialising.
Whether it's celebrating the new season with a full-on barbecued roast or your own fireworks party, or simply star gazing while snuggled under blankets with a warming mug of hot chocolate while toasting marshmallows over a fire pit, there are lots of ways to continue enjoying your garden right round to next summer.
But with so much out there how do you choose the best buys? If you want the latest expert info and looks for barbecues, fire pits, chimineas, spas, lighting and furniture to keep you warm and toasty throughout autumn and winter LOFA (opens in new tab) (Leisure & Outdoor Furniture Association) can point you in the right direction. They represent the best brands in the outdoor living industry so really know a thing or two about what to choose for your outdoor space. What's more, you'll find all the info you need in one handy place.
You can access 70 companies through LOFA (opens in new tab), and their products are widely available in garden centres and specialist stores across the UK and Ireland. They also work in partnership with Planet First (opens in new tab) to reduce their carbon footprint, something we all care about. What's not to like?
There are plenty of fun and exciting ways you can give your garden an upgrade this season and fully embrace autumn outdoor living with family and friends.
Get fired up
Setting up an enclosed seating area around a fire pit, log burning brazier, chiminea or modern outdoor fireplace is a tried and tested way of ramping up the cosy factor.
It creates a natural gathering place. After all, who doesn't love the atmospheric pop and crackle of a good fire. As well as warmth the fire will add extra light and can be used for seasonal treats such as toasting marshmallows and chestnuts or warming mulled cider.
Add a warming glow
A good selection of lighting adds that all-important glow at dusk and creates a welcoming ambience for when you're entertaining outdoors.
The evening garden needs lots of lights to get the right effect. For the best results add layers of lighting at different heights, starting with low level recessed uplighters and battery powered lanterns to light paths and steps, as well as make porches welcoming.
Then add tealights in glass jars and hurricane lights at table height, finishing with wall-hung lights and festoon lighting looped through the branches of shrubs and pergolas to add extra sparkle.
Comfort is key
Upgrade your furniture with some armchair style seating that's comfortable, weather resistant and durable for cosy cocooning.
Try synthetic resin styles as they can be left outside and there's a huge choice of sofas and armchairs to pick from, which usually come with deep cushions for added comfort. There are also table options with integrated fire pits.
Furniture with a powder-coated aluminium frame is another good choice as it's rustproof. Cocoon style egg chairs are super snug for chilly evenings, especially if you add a furry fleece or two.
All furniture supplied by LOFA members is safe, durable and well-built without sacrificing comfort or style. The collection offers something for all budgets too.
Get cooking
Just because there's a chill in the air doesn't mean your alfresco cooking options are over for another year. An autumn or winter roast in the garden is just the thing for celebrating the season in style with a friends and family gathering.
Now's your chance to elevate your craft with one of the latest grills with set-it and forget-it options so you can enjoy socialising while your food cooks away. Pizza ovens are another option to consider for fast and professional results.
Create an all-weather outdoor dining area for enjoying the food by adding a pergola and plenty of patio heaters. With the right lighting and accessories your alfresco dining space will feel cosy and intimate, perfect for hosting friends.
LOFA can help you find the best designs for outdoor cooking as well as the must-have accessories to go with them.
Embrace Scandi-style hot tubbing
The sky is dark, the stars are out, the air is crisp, and you are one step away from pure steamy bliss. It may be chilly outside but winter is a wonderful time to use a luxe hot tub as practiced by the Scandinavians. We don't expect you to jump in the snow afterwards though.
There's no place like your own spa to soothe away the troubles of the day, relax with family and friends, or raise a glass of fizz to celebrate special occasions like Christmas and New Year. Why not add festoons of fairy lights to your gazebo, a floating spa bar with drinks and snacks, and big fluffy bathrobes for wrapping up warm in afterwards.
For the latest news and updates, follow LOFA on Facebook (opens in new tab), Twitter (opens in new tab) and Instagram (opens in new tab)