Planning a garden makeover? If so, you'll need this handy app
If you're doing work on your garden you'll need an easy and reliable solution for shifting the pile of rubble and rubbish that's an inevitable part of any renovation. The latest must-have new app is the answer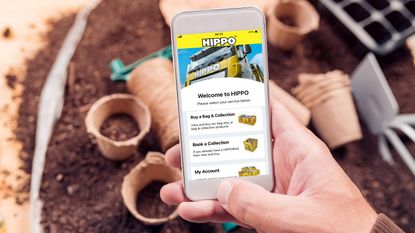 (Image credit: HIPPO)
A garden makeover or redesign usually means a fair amount of rubble, soil and other waste building up while you work. This might involve taking down sheds, disposing of old topsoil, or digging up patios and paths, all in a tight space. Sacks of garden refuse start to build up which are too heavy to take to the tip, and in the meantime they get in everyone's way.
So if you're looking for a fast, convenient and cost-effective way to dispose of it, get organised with HIPPO. Its range of HIPPOBAGs means there's always an option that will work for you. And now with the launch of its new app, it's even easier to locate and book what you need.
How the HIPPO app works
This easy option for waste clearance is just the thing for busy DIY enthusiasts and garden designers alike, especially if you prefer to purchase and manage things through your mobile phone (and who doesn't).
You can download the new HIPPO app either for immediate use now or for later on in your renovation when you'll need it most. Designed with speed and convenience in mind, the app allows you to select and purchase the right size of HIPPOBAG required for your project and to easily book a collection just as soon as you've finished filling it.
The app also allows you to store contact information for future reference and to save order details to take away the hassle when you want to check back in. Available to download from your usual app store now, the HIPPO app puts rubbish clearance in the palm of your hand. It's all about making life easier for you!
The stress-free clearance option
Rated 'Excellent' on Trustpilot, the innovative HIPPOBAG is available in three sizes (MIDI, MEGA and SKIP). With the new app, the HIPPOBAG service is available at the click of a button, making rubbish clearance stress-free and multiple trips to the local dump a thing of the past.
Cost-effective and flexible, they come flat-packed so that they don't take up valuable space until you're ready to use them. Better still, there's no waiting in for your HIPPOBAG to be collected, as it can be taken away from your garden without you even having to be there.
Prices start at £12.49 for the MIDIBAG only or £144.99 for the MIDIBAG with collection.
For more information, please visit the HIPPO website or call 0333 999 0 999.
And there's more good news
As an eco-conscious waste removal company, HIPPO also ensures that all waste collected is taken to one of over 250 accredited waste transfer stations where more than 95% is diverted from landfill and the remaining is disposed of in a responsible way. HIPPOBAGs are 100% recyclable, making the HIPPOBAG service as eco-friendly as possible too.
Head over to HIPPO's Facebook page for more details.