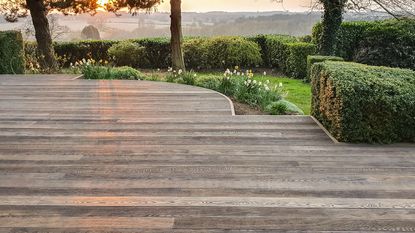 (Image credit: Millboard)
Choosing the right decking is key to good garden design and if it's done well will add a seamless link between indoor and outdoor living, creating the perfect space for relaxing, alfresco dining and entertaining.
Every garden needs a stylish and beautiful deck whatever size it is. Decks are ideal for enhancing patios and courtyards as well as larger family gardens. As with any other landscaping feature, the longevity of decking materials has much to do with their quality, as well as being installed correctly. Naturally you will want the best, and to choose something that's built to last.
Decking boards should also complement the architectural style of your house, adding harmonious continuity to bring together your design smoothly. But with so much on the market how can you be sure you choose a quality product that will last and also fits your design aesthetic? Don't worry, the search is over. Millboard decking offers you all of this, and more...
Choose natural oak-look decking
Innovative and beautiful Millboard decking is designed and developed to have the look of natural timber, while out-performing it in every way. It comes in a range of styles and benefits from detailing that adds an organic wood-grain appearance.
Enhanced Grain Decking replicates the beauty of prime oak. There are lots of designs to choose from, so we've put together a handy list to make it easier to pick one for your space:
Antique Oak has natural, warm hues that channels attractively aged flooring for an organic feel.
Coppered Oak helps to create a look reminiscent of high-quality hardwoods such as ipe or teak.
Golden Oak has the appealing look of newly sawn, natural oak timber, with a light golden hue that retains its stylish appearance over time.
Smoked Oak is a cool, elegant grey that's ideal for contemporary and coastal settings.
Limed Oak looks like beautifully sun-drenched timber with a pale, washed appearance which is the perfect complement to outdoor spaces in sunnier locations.
You can also choose options for a weathered oak-look with Vintage, Driftwood and Embered designs.
Go for a contemporary look
You can also make a dramatic statement with the smooth charred tones of Burnt Cedar, go for a deep, burnt-sienna hue for a tropical look inspired by the timber of the native Australian Eucalyptus tree with Jarrah, or opt for contemporary Brushed Basalt for an authentic painted-wood-look decking board that's great for the transition between indoor-outdoor spaces.
Where to use Millboard decking
Millboard decking is extremely versatile and can be used in practically every outdoor space. Use it to create decks, cladding, boardwalks, bridges, seating, steps, planters – whatever you desire.
Opt for decking boards that are made to last
Millboard decking is solid, rather than hollow like so many other designs on the market. This makes it strong and means it won't warp, rot or create an environment for insects to thrive in like real timber does.
The unique design reduces weight while maintaining strength. The structural core is a blend of natural minerals bonded in a polymer resin with renewable biopolymers and fibre reinforcement for added strength and durability.
Each length is hand-moulded using specially selected timber masters for an unrivalled organic wood-grain appearance.
Millboard decking is tough and durable too, more resistant to scratches and stains than timber, and designed to better withstand demanding outdoor environments. It's also wood-free and non-porous which, in comparison to timber, means good resistance to algae growth and excellent slip-resistant properties.
Unlike timber, it's a low-maintenance option as no oiling or staining is required.
Order a sample today
If you love these inspirational looks order a sample from Millboard now to get your decking project started. You can choose up to three free samples of Millboard decking or cladding. All sample packs are delivered free of charge with a complimentary Millboard brochure.
For more information
Millboard's helpful guides provide all the information you need to install and maintain your decking, including a handy decking calculator to work out how much you need. You might also like to visit their Outdoor Design Hub which is packed with useful information for landscape professionals and design enthusiasts alike.
For the latest news and updates, follow Millboard on Facebook, Instagram and Twitter.