How to grow asparagus
Learn how to grow asparagus successfully in your garden with our handy step-by-step guide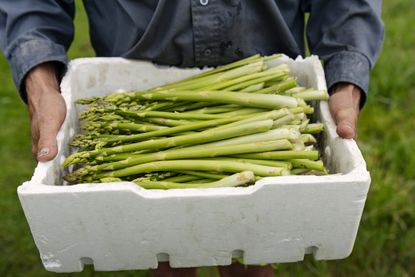 (Image credit: Getty Images)
Want to learn how to grow asparagus in your garden? Delicious British-grown asparagus is only available in the supermarkets for a short period every year, but grow your own and you'll have a bumper crop from the start of April through to end of June every year. There's nothing better than fresh asparagus spears griddled with butter and a little garlic, or chopped and popped into a creamy risotto. Yum.
The good news is that asparagus is easy to grow and needs minimal upkeep. It can be grown from seeds but we'd recommend using one-year-old dormant plants, which are known as crowns, as they're easier to grow. You'll find that asparagus grows best in an open, sunny site and prefers well-drained soil
Here's our step-by-step guide to growing asparagus, how long it takes, and how to avoid common problems.
Where to buy asparagus crowns online
Step-by-step guide to growing asparagus
1. Add manure or compost to your bed in late winter and then apply a general fertiliser in early spring. Plant your asparagus crowns in March or April.
2. Dig a trench 30cm wide and 20cm deep and add well-rotted manure to the bottom, topped with 5cm of the soil you've just dug up.
3. Make a 10cm-high ridge of soil along the middle of the trench.
4. Plant the asparagus crowns 30cm apart along the centre of the ridge, leaving just the tip visible. Leave 45cm between rows.
5. Water and add well-rotted manure.
6. Keep the bed weed free, being careful not to damage the shallow roots.
7. Every winter, allow the foliage to turn yellow before cutting off.
How long does asparagus take to grow?
You'll need a bit of patience if you're growing asparagus. You should plant your asparagus crowns in March or April but then leave them two years before you harvest. This helps the plants to become established.
In the third year, you can harvest the spears from the middle of April for six weeks. And in following years, you'll be able to harvest for eight weeks.
To harvest asparagus, use a sharp knife and cut 2.5cm below the soil when they are no more than 18cm tall. Harvest every two to three days for the best-quality spears.
Common problems when growing asparagus
The biggest threats to asparagus plants are slugs and snails. To repel slugs, add some grit to your mulch, ring fence the plants with copper banding, or lay down slug pellets. Slugs also hate lavender and rosemary, so plant them nearby as a deterrent.
More grow your own advice:
Laura has been writing about homes and gardens for 17 years. She joined Real Homes magazine in 2015 as Deputy Editor and then become Editor before taking on her current position as Content Director for brands including Country Homes & Interiors, 25 Beautiful Homes, Period Living and Style at Home. She's currently redesigning the garden of her 1960s home in Worcestershire and will eventually reinstate the swimming pool that's currently filled with mud! Outside of homes, she's a TV presenter for QVC.