How to grow Brussels sprouts
Discover how to grow Brussels sprouts in your garden for the ultimate Christmas dinner bragging rights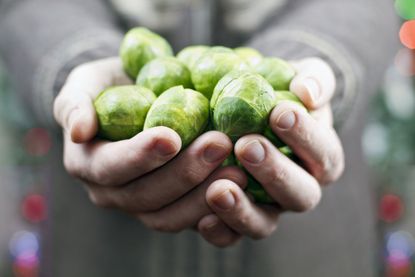 (Image credit: Getty Images)
Learning how to grow Brussels sprouts at home means you'll have sweet, nutty homegrown sprouts to enjoy with your Christmas dinner. But Brussels sprouts aren't just for Christmas! They're healthy and delicious, so try them roasted in olive oil, pan-fried for extra crunch, or even strip the leaves off and toss them through winter salads.
Sprouts will grow in almost any soil but they need a sunny spot that's sheltered to protect them from strong winds. If you sow them from early March through to the start of April, you'll have a delicious crop to enjoy all winter long. There are also early varieties of sprouts you can plant in February, so make sure you check the label before sowing your seeds.
Keep reading for our step-by-step guide to growing sprouts, from the perfect conditions and how long they'll take to grow, to the common problems and how to avoid them. And if you want to try growing another veg too, head over to our guide to how to grow garlic for expert tips.
Step-by-step guide to growing Brussels sprouts
Method:
1. If you're planting early varieties, sow in small pots or cell trays covered in glass during February.
2. For all other varieties, sow your sprout seeds in cloches or underneath fleece in a seed bed. Sow the seeds 1.3cm deep in rows that are 15cm apart from early March to the start of April.
3. Add well-rotted manure to the beds where your sprouts will be planted and dig through before adding general purpose fertiliser.
4. When the plants are about 15cm high and have seven leaves, move them to their final growing position. This is normally mid-May to early June.
5. Plant your sprouts 60cm apart and with 75cm between rows.
6. Water every two weeks during dry weather and add dried chicken manure pellets to the soil during July.
TIP: You'll need to mound soil up around the base of the plants as they grow to support them.
The best places to buy sprout seeds online
How long do sprouts take to grow?
The variety of Brussels sprouts you grow will dictate when they're ready to harvest. Very early varieties, such as those planted in February, will be ready to harvest from August. Sprouts become sweeter when they've been touched by frost, so try to leave later varieties until frosts arrive. To harvest, snap off the lowest sprouts by tugging downwards.
The best varieties of sprouts to grow
Chronos – mid-season sprout with good crop
Revenge AGM – late variety with a nutty taste
Bosworth AGM – another late variety which will retain its flavour through to February
Common problems when growing sprouts
According to the RHS, the main issue when growing sprouts is the risk of clubroot, which makes roots become swollen and deformed, causing leaves to turn pale and wilt. Make sure your soil has good drainage and add lime to make soil more alkaline to prevent clubroot. And don't plant sprouts in the same area again if your crop is affected.
Birds are another big threat to sprout plants, so invest in netting or pop up a scarecrow or two.
More grow your own ideas:
Laura has been writing about homes and gardens for 14 years. She started out as a newspaper reporter, then was editor of a regional magazine, and editorial manager for a travel company. She started at Real Homes magazine in 2015 as Deputy Editor and then become Editor before taking on her current position, which focuses on video and events.