How to grow cherries: now is the perfect time to plant your first cherry tree
Learn how to grow cherries in your garden for delicious summer fruits in just a few years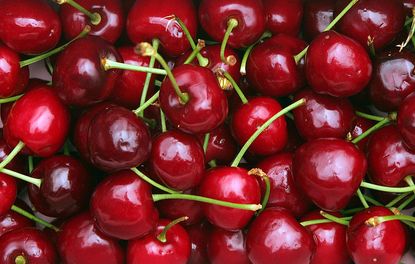 (Image credit: Getty Images)
Learning how to grow cherries in your garden can be hugely rewarding. After all, who doesn't want a steady supply of juicy cherries during the summer months? Cherry trees take two to three years to start producing fruit, so this isn't a quick win – you'll need to have patience to reap the rewards.
There are two main types of cherry – sweet cherries, which are grown as small trees or fanned out against walls or fences; and acid cherries, which are self-fertile and grown fanned-out against north-facing walls or fences. As the names suggest, sweet cherries are perfect for eating fresh, while acid cherries have a sharper taste and need cooking to be enjoyed.
Some sweet cherries need pollination partners planted next to them, others are self fertile, producing fruit on a single tree, so check the variety you buy. All acid cherries are self-fertile.
Keep reading for our full guide to growing and caring for cherry trees. If you'd like to try your hand at growing other fruit and veg, then check out our step-by-step guide on how to grow garlic, and don't forget to take a look at our grow your own hub.
How to grow cherries
Method:
1. Cherries prefer deep, fertile, well-drained soils with a pH of around 6.5. Find out how to check the pH level of your soil in our guide to soil types.
2. Plant cherry trees from November to March, choosing a sunny spot.
3. Sweet cherry trees are usually grafted onto 'Colt' rootstocks, which limit the size of the tree to about 6-8m, or 'Gisela 5' and 'Tabel' rootstocks, which limit growth to 3-4m, and are perfect for dwarf or container varieties.
For acid cherries, use a 'Colt' rootstock and expect a maximum height of 3.5m.
A fruit tree rootstock is the stump of a related species which already has an established, healthy root system, and to which a separate fruit tree is joined by grafting or budding, says Thompson & Morgan. The resulting fruit tree will be stronger and quicker to establish.
4. If you are fanning your cherry tree against a wall, make sure you construct the supports before planting. Dig a hole and place the rootstock into it, leaving the graft between the rootstock and the cherry tree about 5cm above the soil. Cover with soil.
5. Mulch cherries with well-rotted organic matter, in late February. Feed with a general-purpose fertiliser in mid-spring. You'll find all the info you need on how to do this in our ultimate guide to mulching.
6. Cherries flower early, so if frost is forecast, protect the blossom with horticultural fleece, removing it during the day to allow access to pollinating insects.
You can also buy and grow bare root cherry trees, which are placed into a hole large enough to let the existing roots fan out and watered regularly. Head over to our guide to planting bare root trees for all the advice you'll need on how to do this successfully.
When are cherries ready to pick?
Cherry trees will usually start producing fruit after two years and will reach full cropping between four and five years. Once mature, the trees will be ready to harvest from June to August,
Always pick cherries using the stalks as the fruit bruises easily. The fruit will keep fresh in your fridge for up to a week.
Where to buy cherry trees online
Varieties of cherry to try
Acid cherry 'Morello' AGM – a self-fertile acid variety perfect for jams and tarts.
Lapins – self-fertile, black, glossy fruits for picking in late summer.
Acid cherry Nabella – another self-fertile variety for picking in late summer.
Common problems when growing cherries
If your cherry tree sheds its flower buds early and produces immature fruit, it could be caused by too much or too little water or low temperatures. You can adjust watering accordingly and protect your plants with horticultural fleece in cold weather.
Spotted wing drosophila can be another problem, laying maggots, which cause the cherries to rot. You can use traps or fine mesh to protect your developing fruit.
The final pest that will threaten your crop is cherry blackfly, which distorts shoots and leaves. Attract natural predators, such as blue tits, to get rid of them.
Check out these related articles:
Laura has been writing about homes and gardens for 17 years. She joined Real Homes magazine in 2015 as Deputy Editor and then become Editor before taking on her current position as Content Director for brands including Country Homes & Interiors, 25 Beautiful Homes, Period Living and Style at Home. She's currently redesigning the garden of her 1960s home in Worcestershire and will eventually reinstate the swimming pool that's currently filled with mud! Outside of homes, she's a TV presenter for QVC.