How to grow chillies
Discover how to grow chillies – including the best varieties to plant in the UK – and add a spicy kick to your cooking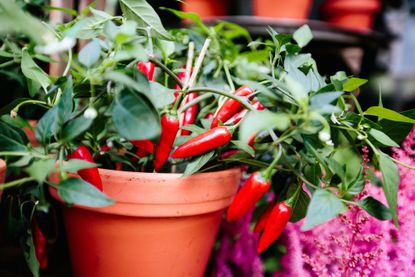 (Image credit: Getty Images)
Learn how to grow chillies in your garden and you'll never cook a dull dish again. There are hundreds of varieties of chillies, from sweet, mild fruits right through to knock-your-socks-off spicy types. And yep, you read that right, chillies count as a fruit thanks to their edible seeds...you learn something new every day.
The good news is that chillies are easy to grow and don't need much space. In fact, they're best grown in pots, so are the perfect fruit for nurturing in small gardens or even window boxes. They're also a great crop to grow if you hate waste, as chillies can easily be dried out at home and then stored for months.
They key thing to remember is that chillies love heat and sunlight, so always grow them in the sunniest and most sheltered spot in your garden or on a sunny window sill.
Here's our step-by-step guide to growing chillies, how long it'll take, and how to avoid common problems. And if you want to know how to grow other tasty fruit and veg, head to our grow your own hub for more great advice
Where to buy chilli seeds online
What are the best varieties of chilli to grow in the UK?
According to the RHS, some of the best varieties of chilli to plant in your garden in the UK are:
Etna AGM: Very hot, tiny red peppers held in upright bunches.
Meek & Mild: Large, mild, heart-shaped green chillies.
Cayenne: Fiery, slender red peppers.
Aji Crystal: Medium-hot fruit with a citrus kick. Pick when yellow.
Step-by-step guide to growing chillies
1. You can plant your chilli seeds indoors from late winter until the middle of spring. Fill a 10cm pot with compost, level and then sow a few seeds on top. Most will germinate, so you don't need to sow loads of extras.
2. Cover your seeds with a layer of vermiculite insulation and pop in a heated propagator if you want your seeds to germinate quickly. If you don't have/want a propagator, just pop a clear plastic freezer bag over the pot and secure.
3. Once germinated, take the pot out of the bag or propagator and place on a sunny window ledge or in a greenhouse.
4. When the plants reach 2.5cm tall, move each seedling into its own 10cm pot, making sure the roots are covered and leaves just above the soil. NB. You can buy seedlings at this stage from garden centres in late spring.
5. As your chilli plants grow, move to larger pots and stake with pea sticks for support.
6. When the plants are about 30cm tall, pinch off the tops of the main stems to encourage lots of branches.
7. You can take your plants outdoors in late May when there's no chance of frost. Either plant 45cm apart in the ground or transfer to 22cm pots. Cover with fleece or cloches to protect.
8. Water your chilli plants regularly and feed with a general purpose liquid fertiliser every couple of weeks from when the first flowers show to the last fruit has been harvested.
When are chillies ready to harvest?
You can start cutting chillies off your plant from July onwards. Picking the chillies regularly will encourage the plant to grow more. However, the most flavoursome chillies are those left to ripen to a deep colour on the plant, so it's a bit of a balancing act between getting the best flavour and the most chillies.
You'll be able to harvest most chilli plants from July right through to October. Surplus chillies can be dried at home and stored for use during the winter and spring.
Common problems when growing chillies
The biggest threats to chilli plants are greenfly (also known as aphids), whitefly and grey mould. Remove any affected areas immediately and, if growing in a greenhouse, use a bug and fungus spray to protect your chillies.
More grow your own advice:
Laura has been writing about homes and gardens for 14 years. She started out as a newspaper reporter, then was editor of a regional magazine, and editorial manager for a travel company. She started at Real Homes magazine in 2015 as Deputy Editor and then become Editor before taking on her current position, which focuses on video and events.