How to grow courgettes
Discover how to grow courgettes in your garden using our handy step-by-step guide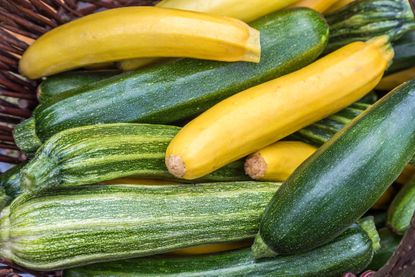 (Image credit: Getty Images)
Learn how to grow courgettes in your garden and you'll have the perfect addition to all kinds of salads, sauces and pasta dishes. You can even eat the yellow courgette flowers – they're delicious dipped in batter and fried.
The good news is that courgettes are easy to grow from seeds and don't require much space or upkeep. You can plant courgettes in beds, pots, containers or grow bags – you just need to make sure your plant has 50cm of soil around it. They do require plenty of watering but that's a small price to pay for a bumper harvest. You should get three of four courgettes a week from June to October, so you better get your spiraliser at the ready!
Here's our step-by-step guide to growing courgettes, how long it'll take, and how to avoid common problems. And if you want to know how to grow other tasty fruit and veg, head to our grow your own hub for more great advice
Where to buy courgette seeds online
Step-by-step guide to growing courgettes
1. For best results, sow your courgette seeds inside in April or May using a seedling tray. Two weeks after they've germinated – or shoots have sprouted – harden them off by taking them outside during the day and bringing back indoors at night for another two weeks. Then they're ready to plant outdoors.
2. Dig a mixture of compost and well-rotted manure through your soil outside.
3. Move your seedlings outside in early June. Plant them 2.5cm deep and 30cm apart.
4. Cover the seedlings with a cloche or plastic bag for two weeks to encourage growth and protect them.
5. Water regularly, making sure the water gets to the roots, not the leaves.
6. Once buds begin to appear, feed every couple of weeks with a high potash liquid fertiliser.
When are courgettes ready to harvest?
You can pick your courgettes when they reach 10cm long. The more often you pick them, the more courgettes you'll get.
By the second year, your courgette plants should provide a reliable harvest between June and October.
Common problems when growing courgettes
According to the RHS, the biggest threats to courgette plants are powdery mildew and grey mould. To avoid these issues, keep your plants well watered, avoid overcrowding and carefully remove any leaves that have mould or mildew on them.
More grow your own advice:
Laura has been writing about homes and gardens for 14 years. She started out as a newspaper reporter, then was editor of a regional magazine, and editorial manager for a travel company. She started at Real Homes magazine in 2015 as Deputy Editor and then become Editor before taking on her current position, which focuses on video and events.