How to grow onions – a step-by-step guide
Find out how to grow onions in your garden and you can take this staple ingredient off your shopping list forever more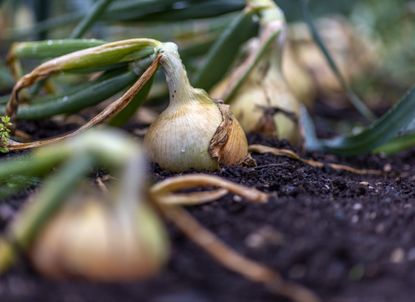 (Image credit: Getty Images)
Thinking of learning how to grow onions in your garden? The good news is they're really easy to grow and need minimal upkeep. So if onions are always on your weekly shopping list, then it makes sense to have a go at growing them yourself.
Onions can be grown from seed, sets (which are small onions) or leftover onions, and will grow happily indoors or out. Sets are the easiest to grow and can be planted straight outside, making them a great choice for beginners.
If you're growing onions from seed, you'll need a seedling tray located indoors, good-quality peat-free seedling compost, and something to replant them into – either larger pots and compost, or a bed in your garden. Leftover onions need to be started indoors using a jar of water and then transferred to a pot or bed.
Here's our step-by-step guide to growing onions from both seeds, sets and leftovers, how long they'll take to grow and how to avoid common problems.
Where to buy onion seeds and sets online
Step-by-step guide to growing onions from sets
1. Sets can be planted in either autumn or spring and placed straight into your garden.
2. Weed your soil and work through compost and a general-purpose fertiliser.
3. Plant the sets with the pointy section facing up and locate them about 10-15cm apart
4. Keep the area weed free and water them during dry periods.
5. You can harvest the onions when they're big enough to eat or the leaves have turned brown and started to wither. This normally takes about five months.
Step-by-step guide to growing onions from seeds
Method:
1. Take a seedling tray and fill two-thirds full with compost. Then carefully plant your seeds about a centimetre apart.
2. Lightly cover the seeds with compost and soak the tray with water in the sink so that the soil absorbs as much water as possible.
3. Pop down a plastic bag and place the seedling tray on top and locate on a sunny windowsill. If you want the seeds to germinate quicker, try putting them somewhere warm, like the top of your fridge.
4. Water regularly and the seeds should start to germinate – or grow – in seven to 10 days. If the seedlings grow in loops, snip them to encourage them to grow.
5. When the seedlings have three shoots each and are about 2cm tall, you can replant them outside following the steps above. They should be ready to harvest in five months.
Step-by-step guide to growing onions from an onion
1. Peel an onion and cut off the bottom 2.5cm section, with the roots. You can eat the rest.
2. Leave the onion out to dry for about 24 hours until it feels dry to touch.
3, Place four toothpicks into the sides of your onion, so they look like a cross from above. Then balance the onion, roots down, over a glass or jar filled to the top with water,
4. Place in a sunny spot and you'll see new roots sprouting after about three days. When the roots are about an inch long, it's ready to be planted.
5. Follow the steps above for planting, making sure that the roots are facing downwards.
6. Water regularly and keep the soil free from weeds.
7. Onions grown this way can be ready a little earlier, so check after three months.
How long do onions take to grow?
Once they're outside, onions will normally take about five months to be ready to harvest. You can carefully dig your hand down into the soil to feel how big they are.
A telltale sign that they're ready just as the leaves start to wither and turn brown. Place your onions on a rack in full sunshine or in a well-ventilated greenhouse for a couple of weeks to ripen.
Common problems when growing onions
Birds are the biggest issue when growing onions, especially from sets, so you might want to cover your plants with netting or pop scare devices nearby.
The most common disease is onion white rot, a fungus in the soil that will cause the leaves to yellow and wilt, which rotting the onion beneath. The best way to avoid this is the plant in fresh soil every year.
Laura has been writing about homes and gardens for 17 years. She joined Real Homes magazine in 2015 as Deputy Editor and then become Editor before taking on her current position as Content Director for brands including Country Homes & Interiors, 25 Beautiful Homes, Period Living and Style at Home. She's currently redesigning the garden of her 1960s home in Worcestershire and will eventually reinstate the swimming pool that's currently filled with mud! Outside of homes, she's a TV presenter for QVC.