How to grow pumpkins
Discover how to grow pumpkins for delicious autumnal dishes – and your own pumpkin patch come Halloween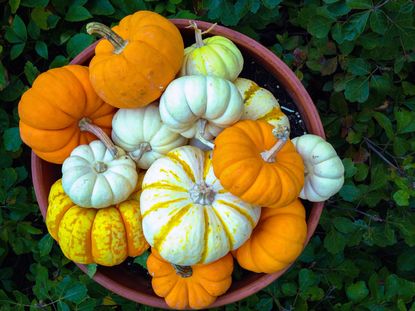 (Image credit: Getty Images)
Learning how to grow pumpkins in your garden makes sense. They're easy to care for, nutritious when eaten, and will give you a head start with when it comes to decorating your home every Halloween. Whether blitzed into soup or roasted in olive oil, pumpkins are a great base for all kinds of delicious dishes. And if you've got kids, they'll love seeing how big their pumpkins can get!
Pumpkins need a sunny spot, moist soil and shelter from the wind. Most varieties of pumpkin need quite a lot of room, but some can be grown in large grow bags. It's always best to grow pumpkins from seeds indoors, but you can plant directly outside if you wait until later in the year when any chance of frost has passed. You can also buy small seedlings from garden centres if you don't want the hassle of waiting for seeds to germinate.
Here's our step-by-step guide to growing pumpkins, including how long it'll take, and how to avoid common problems. And if you want to know how to grow other fruit and veg, head to our grow your own hub for more great advice
Where to buy pumpkin seeds online
Step-by-step guide to growing pumpkins
1. Sow your seeds indoors during April and May. Place the seeds on their sides in 7.5cm pots and cover the seeds in 1cm of compost. Water regularly until they germinate.
2. In late May, start to harden off your indoor-raised young plants, which means acclimatising them to the outside. Do this by moving the plants outdoors during the day, then bringing them in at night for a week. The following week, leave them outside in their pots 24/7. If you have a coldframe, you can place your pumpkin plants straight into this and leave them outside.
3. Two weeks before you plan to plant them into the ground, create pockets 1.8m apart that are as wide and deep as the head of a spade. Fill each pocket with compost.
4. Plant your seedlings into your planting pockets in early June.
5. Pumpkins need lots of water directly to their roots. You can make sure the water gets where it needs to go by planting a 15cm pot with holes in next to the plant and watering into this.
6. Once the fruits start to swell, feed your pumpkin plants every two weeks with a high-potash liquid fertiliser.
7. Keep your pumpkins off the soil using a piece of tile.
When are pumpkins ready to harvest?
You should let your pumpkins mature on the plant before harvesting in late September and October. After you've picked your pumpkins, allow their skins to harden off in the sunlight to help prolong storage.
What are the best varieties of pumpkin to grow in the UK?
According to the RHS, some of the best varieties of pumpkin to plant in your garden in the UK are:
Atlantic Giant – a large pumpkin with orange skin. Great for pies.
Jack Be Little – smaller pumpkins that fit in your hand.
Becky – classic, orange mid-sized pumpkin. Perfect for carving.
Common problems when growing pumpkins
The biggest threats to pumpkin plants are powdery mildew and grey mould. Mildew looks like white powder on the surface of the leaves. It's normally caused by early summer being cooler than normal and will improve as the weather does. Grey mould looks like fuzzy patches on the plant and needs removing as soon as possible. It's normally caused by too much humidity, if in a greenhouse, or overcrowding outside.
More grow your own advice:
Laura has been writing about homes and gardens for 14 years. She started out as a newspaper reporter, then was editor of a regional magazine, and editorial manager for a travel company. She started at Real Homes magazine in 2015 as Deputy Editor and then become Editor before taking on her current position, which focuses on video and events.