How to grow sweet potatoes: get started with our expert tips
Discover how to grow sweet potatoes indoors or outdoors with our handy, step-by-step guide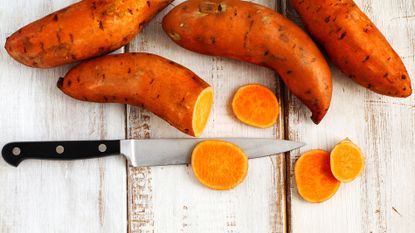 (Image credit: Getty Images)
Follow our step-by-step guide and you'll know how to grow sweet potatoes in no time. This colourful, versatile veg is packed full of nutrients and is delicious roasted, fried, mashed or even spiralised. And it freezes really well, so your home-grown crop will never go to waste.
Sweet potatoes are traditionally grown in sunnier climes but hardy varieties have been developed, which mean it's possible to grow them here, too. You can grow them indoors or out. In colder areas, sweet potatoes are best planted in a greenhouse, poly tunnel or under a cloche, but in milder areas they are well worth trying outdoors in a sheltered, sunny spot, planted through black plastic sheeting to help warm the soil.
Sweet potatoes are slightly different to most veg in that they're normally grown from cuttings known as slips, rather than from seeds. Slips are long shoots removed from tubers that don't yet have any roots. They can look wilted but you pop them in a glass of water overnight to revive them and then plant one slip per small pot of compost. They're not very hardy at this stage, so you'll need to keep them in warm, humid conditions for around three weeks until the roots are well established.
You can buy slips online and from garden centres, or you grow your own from leftover sweet potatoes if you want to. We've included a step-by-step guide below if you want to give it a try.
Keep reading for our simple guide to growing sweet potatoes, from how long it'll take to grow them, to the common problems and how to avoid them. If you fancy learning how to grow your garlic to accompany your sweet potato wedges, then check out our step-by-step guide.
Step-by-step guide to growing sweet potatoes
Method:
1. Sweet potato slips are normally available from late April. When you get them home, place them in water for 12 hours and then plant into small pots filled with compost. Make sure you cover all of the stem, right up to the leaves.
2. Cover with a plastic bag and locate in a bright, frost-free spot, or place in an unheated propagator until they have roots.
3. You'll need to move your plants into large pots or growing bags as necessary until late May or early June, when they can be moved outdoors, if you wish.
4. If you're moving your sweet potato plants outside, prepare the ground by laying black polythene sheeting over the soil. This will help warm the soil and minimise any weeds.
5. You'll need to harden your plants off before moving them outdoors. This means taking them outside during daylight hours for a week, then leaving them outside in their existing pots for another week before transplanting them to the beds.
6. Make holes in the polythene and dig 15cm deep. Place one plant in each hole, leaving at least 30-45cm between plants. Cover with cloches or fleece to help keep the plants warm.
7. If growing in a greenhouse, you'll need to train the foliage up string or trellis and keep the space well ventilated. The foliage can be left growing along the ground outdoors but pinch it off once it reaches 60cm long.
8. Water regularly and feed greenhouse plants every other week with a high-potassium liquid feed.
9. During very frosty spells, you'll need to add an extra layer of fleece to plants grown outdoors or overwinter them in large pots indoors – a garage will work if you don't have a greenhouse.
How to grow sweet potatoes from scraps
1. Take half a sweet potato, insert some toothpicks and suspend the cut side so it is touching the surface of a shallow bowl of water. An old plastic bottle or a jam jar is perfect for this.
2. Within a few days, roots will begin to grow from the bottom while stems will appear on the top. Once these stems have reached about four inches in length, twist them off and set them in a shallow bowl of water. These are you slips.
3. Roots will begin growing and once these have reached about an inch long, you can plant them into compost, leaving just the leaves above the soil.
The best places to buy sweet potato slips
When are sweet potatoes ready to pick?
Sweet potatoes are ready to harvest between August and October. They're normally ready when the leaves turn yellow and die back. Lift them from the ground carefully to avoid bruising.
Varieties of sweet potato to try
Georgia Jet – deep orange, tasty variety that works well in the UK
Beauregard Improved – sweet, well-flavoured potatoes similar to those seem in supermarkets
Common problems when growing sweet potatoes
According to the RHS, Glasshouse red spiders and two-spotted mites are the biggest threats to sweet potato plants. Leaves can become pale, mottled and covered in webbing. Both pests thrive in dry conditions so mist your plants regularly and use biological control in a greenhouse. Whitefly are another threat that can also be controlled with insect repellent.
More grow your own ideas:
Laura has been writing about homes and gardens for 14 years. She started out as a newspaper reporter, then was editor of a regional magazine, and editorial manager for a travel company. She started at Real Homes magazine in 2015 as Deputy Editor and then become Editor before taking on her current position, which focuses on video and events.