6 Easter egg hunt must-haves for your garden – for an egg-stravagant celebration in 2021
The Gardeningetc guide on what to buy for a grand Easter egg hunt in the garden – from directional signs to light up bunting and Easter wreaths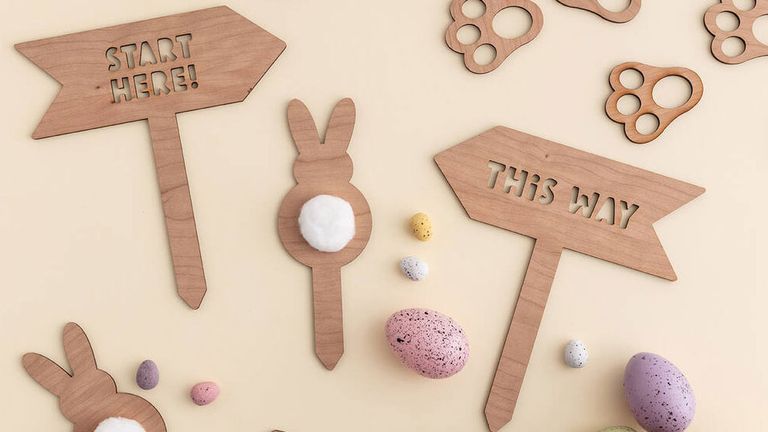 (Image credit: Postbox party)
Bringing the Easter celebrations outside this year? Weather permitting, this is a great idea. If you are searching for some outdoor Easter egg hunt inspiration, and you want to buy a few things to make this day extra special for the kids, then see our shopping edit below. You'll find everything from light up bunting to ceramic bunny bowls, please stop here signs and more – basically, everything you should buy for an egg-stravagant celebration.
Looking to buy some new furniture to lounge outdoors come Easter weekend too? See our best garden furniture guide for SS21's most stylish recommendations.
1. Please stop here signs – to guide the Easter bunny to your home
We love this please stop here sign for Easter, and we think the kids would too. Unlike other signs, this one isn't brightly coloured or plastic, and you can use it for years to come. It's made of oak and engraved to read 'Easter Bunny please stop here!' and it's shaped like an Easter egg.
You can also engrave a message on the back to personalise it for your little one. A lovely buy for a first Easter, whether you're planning on using it indoors hung on their bedroom door handle, or outdoors on a tree – we prefer the latter, obviously.
Here's to us Easter Bunny Please Stop Here Sign | £11.95 at Not on the High Street
This sweet wooden sign has a hole at the top with a ribbon through it for hanging on your front or back door.
2. A ceramic Easter Bunny to hold and hide one (or more) eggs
If you are searching for innovative ways to hide eggs this year, other than just in flower beds and behind trees, then this ceramic bunny dish can definitely serve this purpose. It's technically for indoor use, on your dining table, but you could definitely use it outdoors in the morning – for your egg hunt – and then bring it indoors for your dinner. It's made of ceramic and could fit a fair few small eggs.
Argos Home Ceramic Bunny Dish | £8 at Argos
An Easter-related item we would happily have in our garden year-round, this bunny dish would make a lovely birdbath after your egg hunt is over and done with. They are selling fast on Argos for good reason...
3. Buy an Easter wreath for your front or back door
Every added garden decoration will make this Easter feel more special, so we definitely think an Easter wreath – specifically, this one from Lights4Fun – would be a lovely addition to your outside space. It's wrapped with foliage and dotted with faux daisies, and it lights up! Pop it on a door, hang it on a brick wall or use it on their playhouse.
43cm Flower Spring Wreath Micro Light Bundle | £32.99 at Lights4Fun
Complete with warm LEDs and measuring 43cm in diameter, this lovely wreath isn't just for use on Easter Sunday. It also has a timer function to make your life easier.
4. Hide some of these eco-friendly plantable eggs in your garden for them to find
Because they definitely can have too much chocolate in one day, and these Easter eggs give back – they are plantable so will help feed the bees once they've grown. Hide some of these around your garden, as well as some actual eggs, and get the kids to find them and bring them back. Then, you can all spend time together actually planting them indoors, and when the time comes you can replant them outside. A lovely idea!
Ruby & Ro 'Egg Hunt' Plantable Seed Paper Eggs | £5 at Not on the High Street
This seed paper comes in a six pack, 12 pack or 24 pack and inside the paper lives 24 varieties of native British wildflowers, all in seed form, of course, all of which are classified as 'perfect for pollinators' by the Royal Horticultural Society. For an eco-friendly Easter...
5. Don't forget to buy directional arrows to help them find the chocolate
Stick these wooden arrows into your grass to help direct the kids to the chocolate, and use the wooden paw-shaped prints on the floor to help them find their way, too. The signs read 'Start here!' 'This way' and 'Hop hooray'. Also included are two bunny-shaped signs that go into the floor, both of which have fluffy tails. Set the route and hide those eggs...
Postbox Party Wooden Easter Egg Hunt | £25 at Not on the High Street
Made from cherry veneer wood, these egg hunt decorations vary in size and they are great for outside use. We particularly love the paw prints...
6. What is a celebration without bunting? Especially ones that double as lighting come dark
A little bit of bunting will be sure to brighten up your garden, ready for the Easter bunny to do his job. This bunting is white, green, blue and grey – so very fitting! – and it doubles as lighting featuring 20 bulbs. They are solar powered, too, and you can use them year-round, not just for Easter.
Habitat 20 Warm White Bunting LED Solar String Lights | £15 at Argos
This plastic bunting is more than decorative but practical too since it lights up. Not just for daytime enjoyment...
Annie is our Deputy Ecommerce Editor at Gardeningetc. With her shopping expertise influencing readers across the titles of Real Homes, Ideal Home, Homes & Gardens, Livingetc, and Woman & Home, Annie is always in the know of everything you need to buy for your outdoor space. She's on hand to inform avid gardeners when to buy whatever they are after — and from where. Annie's team cover shopping edits, buying guides, and gift guides on Gardeningetc, from striking outdoor lighting to pretty and practical bird feeders, or even a gift for a friend or family member who loves to garden — they cover it all. When she's at home, Annie is forever brainstorming ways to maximize space out on her delightfully private, yet teeny-tiny, London terrace. With her Pug, Doug, to entertain outdoors and a penchant for sitting outside and catching the sun, this job is proving itself to be never-ending. She's changed her mind many times when it comes to decorating this space, having made her own pallet garden furniture but now, settling for a gorgeous bamboo set from Argos. This year, she's hoping to entice bees and other insects into her garden by filling the sizeable walled planter that stretches from one end of her terrace to the other, with wildflowers and more. Otherwise, next on her to-buy list is a luxury fire pit for keeping warm in the guaranteed British summertime breeze.
You can find Annie's home Instagram account at @athome.withannie.