How to grow strawberries
Learn how to grow strawberries in your garden for an endless supply of sweet, juicy fruit. Just add cream!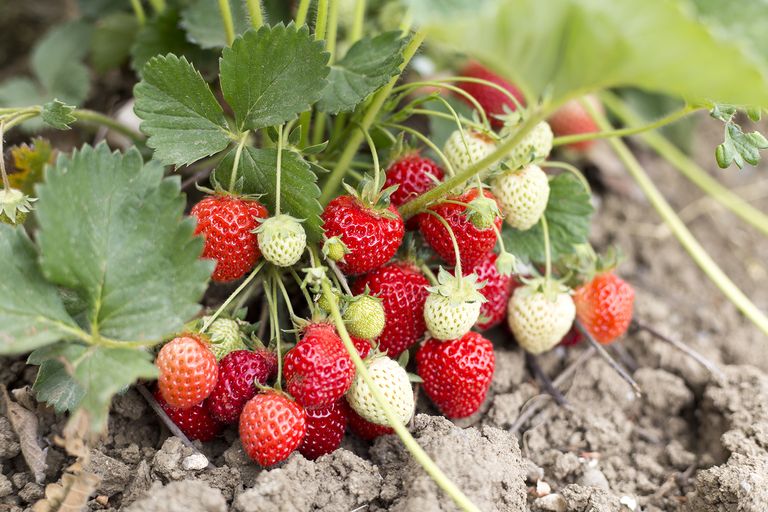 (Image credit: Getty Images)
By Laura Crombie published
Learning how to grow strawberries in your outside space is so worthwhile. After all, who doesn't want a steady supply of sweet, juicy strawberries during the summer months? This staple summer pudding will delight you all summer long given the right environment to thrive in.
Strawberries do best somewhere with sun, shelter, fertile soil and good drainage. So if you have clay or water-logged soil, you'll need to use raised beds or grow bags. And don't worry if you don't have a garden big enough for a fruit and vegetable plot – you can successfully grow strawberries in containers or even hanging baskets.
Preparation is the key to growing strawberries. From late February, start digging manure or fertiliser into your soil to prepare it for planting. The month you plant will depend on the variety, so check when you buy. Most strawberries are grown from small potted plants or bare-root runners, rather than seeds, which will take much longer to produce fruit.
Bare-root runners need to be planted in early spring or late autumn. The start of March is a good time to plant them, but wait until the frost is over. Cold-stored runners can be planted at the end of spring or even as late as June. Potted strawberry plants are usually available at the spring and these can be planted when you buy them, usually in April or May.
How to grow strawberries
Method:
1. Prepare the ground by turning plenty of compost through the soil.
2. Plant your strawberry plants or runners so the roots are just below the surface, but not too close to the next plant. Strawberries like to spread out, so keep them at least a foot apart.
3. Water them lots as they're growing, and if they're in planters make sure the planter drains well.
4. If they're in beds, add straw around the base of the plants, as this will help them steer clear of slugs and snails.
5. The plants will flower, and eventually those flowers will bear fruit within 60 days.
6. Wait until the berries are fully red before harvesting. Simply pinch through the stalks with your finger and thumb to avoid bruising the fruit.
7. Cut off the old foliage to about 10cm above the crown after cropping has finished, to allow the new leaves to come through
Common problems with growing strawberries
Strawberries are easy to grow, but are also prone to several pests and diseases. Slugs and birds are the most common pests that affects strawberries. To repel slugs, add grit to your mulch, plant lavender or rosemary nearby, or, if all else fails, try slug pellets. To deter birds, who love the juicy fruit as much as we do, try flash tape, which reflects the light, cover your plants with a net, or hang olds CDs from string on canes.
To prevent diseases, such as strawberry virus and black eye, the RHS recommends you destroy and replace plants as soon as yields start to fall, which is usually after two or three years.
Check out these related articles:
Laura has been writing about homes and gardens for 14 years. She started out as a newspaper reporter, then was editor of a regional magazine, and editorial manager for a travel company (who doesn't love a free holiday?). She started at Real Homes magazine in 2015 as Deputy Editor and then become Editor before taking on her current position, which focuses on video and events (you may have seen her presenting Real Homes TV). She loves spending time in the garden with her toddler and has a bizarre passion for moving lawns!