How to clean decking: follow our step-by-step advice to get your space looking spick and span
Discover how to clean decking with our simple guide – we've got all the tips you need to get yours looking its best for summer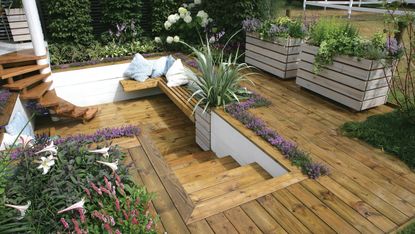 (Image credit: Sadolin)
Looking for simple tips on how to clean decking? Whilst a quick hoover or mop is generally enough to clean indoor floors, your deck often calls for a more robust approach.
If you've already discovered our decking ideas, you'll know how much a deck can bring to a plot. A space to adorn with comfy outdoor furniture, soft lighting, and maybe a pergola, they can easily become the stylish epicentre of your garden. But a decking covered in grime doesn't have quite the same effect, so it pays to get it looking pristine for summer.
It's not just for looks, either. As the experts at Jacksons Fencing says, 'Decking should be periodically cleaned from a safety perspective, as a build up of moss and lichen can cause it to become slippery and dangerous.'
So to get yours into shipshape (and to avoid any accidents), keep reading. You'll know exactly how to clean decking in no time.
How to clean decking with a deck cleaner
Clear the decks, literally. Move away any plant pots, your best BBQ, and any nearby garden furniture ideas that have spent the winter gathering debris around their bases.
Sweep your deck using a long handled deck brush, and clear out all of nature's detritus that might have blown or dropped into cracks.
Then, wearing protective gloves and goggles, tackle the grime by applying a deck cleaner. Follow the manufacturer's instructions on the label as products can vary. Generally, you'll need to either spray diluted solution on (or pour it on with a watering can), and scrub the surface with a brush. Then, leave it for the time specified, whilst it works its magic on the mildew and algae. You normally then need to rinse it off with clean water.
How to clean decking with soapy water
For a gentler approach, Jacksons Fencing recommends washing decking with slightly soapy water and a sponge, to remove dirt and cobwebs.
Simply use a mix of washing-up liquid in warm water.
If you're wary about damaging the look of your decking (especially if it's made of a softer timber), then take a careful approach. A sponge or very light abrasive such as a nylon kitchen scourer can be used along the grain, says Jacksons Fencing. Avoid rubbing against the grain, they add, as it can leave marks.
For tougher grime (and tougher decking) give the boards a more thorough scrub using a special brush, such as the Tough Deck scrubber brushfrom Amazon, before rinsing down with water.
How to use soda crystals to clean decking
Create a paste by stirring two to three tablespoons of laundry starch into 500ml of lukewarm water. Keep stirring until all the lumps have gone.
Pour this starch mixture into a large pan containing five litres of lukewarm water, then add 100g of soda crystals (sodium carbonate) and boil until the liquid starts to thicken.
Apply it to the wooden boards of your deck and spread it evenly with a brush, then leave the paste to work for a few hours.
Rinse the home-made cleaning paste off of the decking with water.
Making a homemade deck cleaner is a great solution if you're looking for something more affordable than a pressure washer, or aren't keen on the strong chemicals of most off-the-shelf deck cleaners.
If you're looking for more money-saving tips for your plot, head over to our budget garden ideas.
How to clean decking with a pressure washer
The experts at Jacksons Fencing says that using the best pressure washer can be used to clean decking, providing it is done so lightly or at a distance. But do take care not to damage the surface of the timber.
Use cold water, and avoid directing the jet straight at the decking – the pressure could wash away wood adhesive and make the material become brittle.
Remember that rotary pencil jet nozzles are not suitable for wooden surfaces, as advices the team at Homebase.
Spray the decking section by section, as evenly as possible. You could even get a wash brush attachment for a pressure washer to help do the job.
If you plan to stain or treat the deck after, make sure you let it dry thoroughly first. If you don't, the decking stain can trap moisture, which can lead to the wood rotting.
Other points to consider when cleaning your deck
STIHL recommends that you find out what kind of wood your decking is made from before choosing the best method for cleaning.
Class 1 and 2 hardwoods
These include tropical timbers such as bangkirai and teak, but also robinia and oak. Highly durable, robust and hard-wearing, these woods can be cleaned using a pressure washer with wash brush attachment.
Class 3 and 4 woods
This includes softer woods such as beech, spruce and pine. These woods are a little less durable and they are best cleaned manually with a stiff broom and scrubbing brush, or softer scourer or sponge.
Head over to our best decking buying guide for a variety of stunning designs.
How do I clean composite decking?
Avoid using bleach when cleaning composite decking, as this can discolour the surface. Instead, opt for a dedicated composite decking cleaner or the simple warm soapy water method.
If your composite decking is of the uncapped variety, don't be tempted to use a pressure washer as it can damage the surface. A pressure washer can be used on capped composite decking, but remember to do so gently, as with cleaning timber decks.
Check out our best composite decking to discover our top picks.
When is the best time to clean decking?
The best time to clean decking is in spring. By this point, your decking is probably looking a little worse-for-wear after winter. It's lovely to get it back to its former glory in time for warmer weather, along with our other spring garden ideas.
Try to clean your deck at least once a year to keep it in tip-top condition, followed by giving it a coat of protective oil or stain. If you do it twice annually, even better – autumn is the other good time to do so.
Alison is Assistant Editor on Real Homes magazine. She previously worked on national newspapers, in later years as a film critic and has also written on property, fashion and lifestyle. Having recently purchased a Victorian property in severe need of some updating, she is currently chipping away at a back garden covered in crazy paving, ready to landscape it with a lawn and fruit and veg patch to sow and grow her own.