How to grow basil: top tips for growing this fragrant herb indoors and out
Discover how to grow basil for a tasty accompaniment to pizza, pasta and salads, or to make your own pesto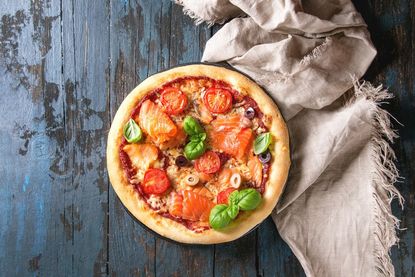 (Image credit: Getty Images)
Learn how to grow basil and this fragrant herb will always be at hand when you want to put the finishing touch to your pizza, pasta or salad. Basil is a staple of Italian cooking and works best picked fresh and torn onto the top of freshly cooked dishes so that it retains its flavour. It's also the key ingredient in homemade pesto.
Basil can be grown indoors or out, although it likes warm, sheltered conditions, so you'll probably have the most success if you grow it indoors in the UK. The plants also grow quickly, so you'll have to move them up to bigger pots a couple of times a year if you choose to grow your basil in containers.
You should grow basil seeds a few at a time from February through to July for a steady crop of leaves during the summer months. When temperatures start to dip in autumn, bring plants back indoors and you'll have leaves during the winter, too.
Keep reading for our step-by-step guide to growing basil, from how long it'll take to grow, to the common problems and how to avoid them. And if you fancy learning how to grow an avocado or any other type of veg, you'll find plenty of advice in our dedicated grow your own hub.
Step-by-step guide to growing basil
Method:
1. Sow your seeds 0.5cm deep in small pots of peat-free compost. Place on a warm windowsill inside clear freezer bags, or pop into a propagator, if you have one.
2. When the seedlings are big enough, move into individual pots filled with soil-based compost and place on a warm windowsill.
3. You can continue to grow your basil indoors on a windowsill – repotting as they grow – or move the plants outside to beds or containers in early summer once there's no chance of frost.
4. You'll need to harden off – or acclimatise – your plants if you want to move them outside. Do this by leaving them outside during the day and bringing them back in at night for two weeks.
5. Plant them 30cm apart in a sunny, sheltered location with well-draining soil.
6. Be careful not to over-water your basil plants and don't wet the leaves, as this can cause powdery mildew to form.
Basil is the perfect topping for homemade pizza too – take a look at our guide to the best pizza ovens to find one you'll love for your garden.
How to grow basil from leftovers
1. Basil is relatively easy to regrow from supermarket sprigs. Place a stem that's about 10cm long in a glass of water with any leaves well above the water line.
2. Leave the glass sitting in a bright area but not direct sunlight.
3. Roots should begin to form in a few days and when those roots reach 5cm long, you can transplant to soil and then follow the steps above, depending on whether you want to grow your plants indoors or outdoors.
The best places to buy basil seeds online
When is basil ready to pick?
Your basil plants will be ready to harvest from June to September. Pick the leaves individually, rather than cutting off half the plant, as this will encourage the leaves to regrow, giving you a longer harvest period.
Make sure you don't wash the leaves until you are ready to add them to your dishes or they will turn slimy.
Varieties of basil to grow
Napoletano – large leaves that work well in pesto
Greek – small leaves with a strong clove flavour
Siam Queen – oval leaves that are perfect in Thai cooking
Common problems when growing basil
If you're growing your basil plants outside, then slugs and snails are the biggest threat. Add some sharp grit to your soil, ring fence the basil plants with copper banding, or lay down slug pellets. Slugs also hate lavender and rosemary, so plant them next to your basil as a deterrent.
More grow your own ideas:
Laura has been writing about homes and gardens for 14 years. She started out as a newspaper reporter, then was editor of a regional magazine, and editorial manager for a travel company. She started at Real Homes magazine in 2015 as Deputy Editor and then become Editor before taking on her current position, which focuses on video and events.