How to grow butternut squash
Learn how to grow butternut squash in your garden for a delicious supply for soups and roasting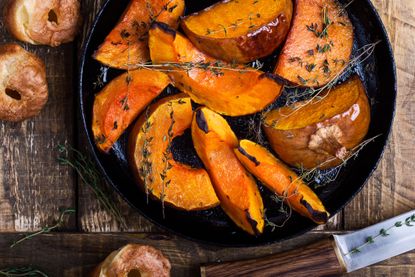 (Image credit: Getty Images)
Learn how to grow butternut squash in your garden and you'll have an endless supply of fruit for roasting, soups and risottos. Yep, you read that right – butternut squash are actually counted as fruit, even though we treat them as veg for cooking purposes. They're easy to grow from seeds or seedlings, and you'll get four to five squash per plant, per year. Butternut squash also keep really well, so you'll have a ready supply all through the colder months. Oh, and they're low in carbs and high in vitamins, so a healthy choice, too.
Here's our step-by-step guide to growing butternut squash, including how long it'll take for your squash to be ready to harvest, and how to avoid common problems. And if you want to know how to grow other fruit and veg, head to our grow your own hub for more great advice
Where to buy butternut squash seeds online
Step-by-step guide to growing butternut squash
1. Sow your seeds indoors during early April. Place the seeds in 7.5cm pots and cover in 1cm of compost. Water regularly until they germinate.
2. Move your seedlings to larger pots when they're big enough to handle.
3. Harden your plants off in late May. Do this by moving the plants outdoors during the day, then bringing them in at night for a week. The following week, leave them outside in their pots full time.
4. Prepare the soil by digging through well-rotted organic matter.
5. Once hardened off, transfer the seedlings to the soil, making sure they're 1.5m apart. Make sure to protect from slugs and snails (see below).
6. Water regularly and apply a high-potash liquid fertiliser weekly when the plants begin to flower.
7. As the fruit grow and ripen, remove any leaves covering them and place a tile beneath to keep them off the soil.
NB. If you want to plant your seeds directly outdoors, wait until late May.
When are butternut squash ready to harvest?
You should let your butternut squash mature on the plant before harvesting between August and October. Make sure you've picked all of the fruit before the first frost. Your butternut squash will keep for up to three months if they're kept in a cool, dry place.
Best varieties of butternut squash to grow
Winter Hercules – a compact plant with large fruit. Holds an RHS Award of Garden Merit
Winter Hunter – another with an RHS Award of Garden Merit, this was bred especially for the UK
Butterscotch – compact plant producing mini squashes, which are sweet
Common problems when growing butternut squash
You'll need to protect your young plants from slugs and snails. You could add some sharp grit to your mulch, ring-fence your plants with copper banding or lay down slug pellets. Slugs also hate lavender and rosemary, so plant them next to your squash as a deterrent.
As your plants mature, keep an eye out for powdery mildew, which causes a white dusty coating on the leaves, stems and flowers. Prune off infected shoots and make sure water is getting to the roots of the plant, rather than the leaves. Adding mulch to your soil will aid moisture retention.
More grow your own advice:
Laura has been writing about homes and gardens for 14 years. She started out as a newspaper reporter, then was editor of a regional magazine, and editorial manager for a travel company. She started at Real Homes magazine in 2015 as Deputy Editor and then become Editor before taking on her current position, which focuses on video and events.