How to grow cabbage
Learn how to grow cabbage in your garden and enjoy this versatile veg throughout the year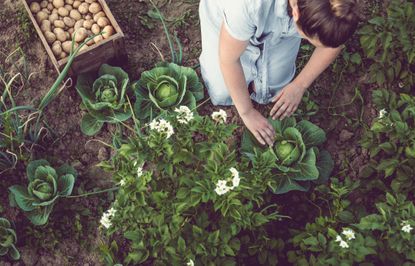 (Image credit: Getty Images)
Once you know how to grow cabbage, you'll never look back. Cabbages come in all shapes and sizes, and there are varieties that are ready to harvest throughout the year. Gone are the days when cabbage was boiled up as an accompaniment to bland roast dinners, these days it's used in everything from fresh stir fries and creamy coleslaw to hearty soups.
Cabbages are grouped into spring, summer, autumn and winter varieties, depending on when they're ready to harvest. Spring cabbages are sown in later summer and have loose leaves. Summer varieties are sown in early spring and have large, round heads. Autumn cabbages are also large and round, but are sown in late spring. And finally, winter cabbages, which are also sown in spring, include crinkly varieties. Check your seed packet to find out when to sow your cabbages.
Whichever type you grow, cabbages need a sunny site and firm, moist soil. Due to their size, they're best grown in beds or very large, deep containers.
Here's our step-by-step guide to growing cabbages, including how long it'll take for your veg to be ready, and how to avoid common problems. And if you want to know how to grow other fruit and veg, head to our grow your own hub for more great advice
Where to buy cabbage seeds online
Step-by-step guide to growing cabbage
1. Sow your seeds indoors in 2cm pots or trays. Place on a sunny window sill and water regularly.
2. Prepare the soil outside by digging through well-rotted manure or compost. Then firm down the soil by shuffling along with boots on and raking flat.
3. Move your cabbages outside after about five weeks, or when they have about five leaves.
4. Space spring cabbages 25cm apart, summer cabbages 38cm apart, autumn cabbages 25cm apart and winter cabbages 45cm apart, covering to the lowest leaves with soil. You'll need to leave 30cm between rows for spring and summer varieties; 45cm for autumn varieties, and 60cm for winter.
5. Place your seedlings under insect-proof mesh or horticultural fleece to protect them.
6. Water well and make sure the soil never grows out. Feed summer and winter varieties with a nitrogen-rich fertiliser before they get too big.
7. You can't grow cabbages or other brassicas in the same soil you used the previous year, so you'll need to rotate them.
When are cabbages ready to harvest?
Most cabbages take about 20 weeks to grow to full maturity. You harvest them by cutting through the stem with a sharp knife. If you leave a 10cm stem on spring and summer varieties and cut a 1cm-deep cross in it, they'll often grow a second crop of smaller cabbages.
Best varieties of cabbage to grow
Kilaxy – tasty summer cabbage with a firm, compact head
Savoy King – a hardy cabbage that matures in winter
Langedijk – another winter variety with tender heads and a white heart
Common problems when growing cabbages
Those juicy cabbage leaves act like a magnet for slugs, snails, caterpillars and birds, so you'll need to use deterrents. There are lots of options, from copper tape and insect mesh to sawdust barriers, or you can use slug pellets if nothing else works.
You'll also need to keep an eye out for cabbage root fly – white larvae that feed on the roots just below the soil, causing the plants to wilt and die. To prevent this, place your seedlings under insect-proof mesh or horticultural fleece.
More grow your own advice:
Laura has been writing about homes and gardens for 14 years. She started out as a newspaper reporter, then was editor of a regional magazine, and editorial manager for a travel company. She started at Real Homes magazine in 2015 as Deputy Editor and then become Editor before taking on her current position, which focuses on video and events.