How to grow kale: get a plentiful supply of this nutritious green vegetable with our top tips
Discover how to grow kale in your vegetable plot with our step-by-step guide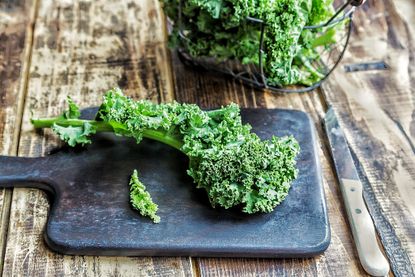 (Image credit: Getty Images)
Learn how to grow kale at home and you'll never be short of one of your five-a-day again. This nutritious green veg comes in lots of varieties and can be frozen for use throughout the year. As well as being great in soups, boiled, pan fried or roasted, it can be thrown into smoothies raw for a vitamin and mineral boost.
Kale is a brassica, like broccoli and cabbage, and is also known as borecole (useful pub quiz fact). It's a great choice for UK veg plots as it doesn't mind the cold, isn't affected by diseases, and can grow in partially-shaded areas.
Popular varieties include the Italian Cavolo Nero, with its long leaves, and curly kale, with its crinkly strands. All of them are pick-and-come-again plants, meaning you can keep harvesting the leaves for two to three months.
Keep reading for our step-by-step guide to growing kale, from how long it'll take to grow, to the common problems and how to avoid them. If you fancy growing more winter veg, take a look at our guides to growing sprouts.
Step-by-step guide to growing kale
Method:
1. Sow your kale seeds from March to June, placing them 1cm deep and in rows 15cm apart. You can plant indoors or wait until the weather warms up and sow outdoors in seed beds.
2. Thin the seedlings so they're 7.5cm apart as they grow. After 6-8 weeks, or when they have five or six leaves, they're ready to move outdoors.
3. Before moving your seedlings to their final growing position, dig through mulch and weed the patch thoroughly.
4. Water the ground well the day before transplanting. Position plants 45cm apart and add more water.
5. Water well in dry weather and continue to add mulch to the soil when needed. Feed your kale plants in spring to encourage growth.
The best places to buy kale seeds online
When is kale ready to harvest?
Kale is a winter veg and will be ready to harvest between October and December. You can start by picking tender young leaves in October. Leaves will become more mature the later you pick them and will need cooking.
Side shoots will be formed after the main crown has been harvested and these can be used from February to May when the shoots are about 15cm long.
Varieties of kale to try
Cavolo Nero – long, plume-like leaves
Nero di Toscana – crinkled leaves
Scarlet Curled – leaves turn violet after frost
Common problems when growing kale
The good news is, most diseases or pests don't bother with kale. In fact, your biggest problem will be hungry birds. Protect your plants by covering them with netting or fleece, or invest in some other bird-scaring devices. DIY scarecrow, anyone?
More grow your own ideas:
Laura has been writing about homes and gardens for 17 years. She joined Real Homes magazine in 2015 as Deputy Editor and then become Editor before taking on her current position as Content Director for brands including Country Homes & Interiors, 25 Beautiful Homes, Period Living and Style at Home. She's currently redesigning the garden of her 1960s home in Worcestershire and will eventually reinstate the swimming pool that's currently filled with mud! Outside of homes, she's a TV presenter for QVC.