How to grow mushrooms: top tips for growing outdoors and in
Thinking of learning how to grow mushrooms seems a little bit complicated? Just follow our step-by-step guide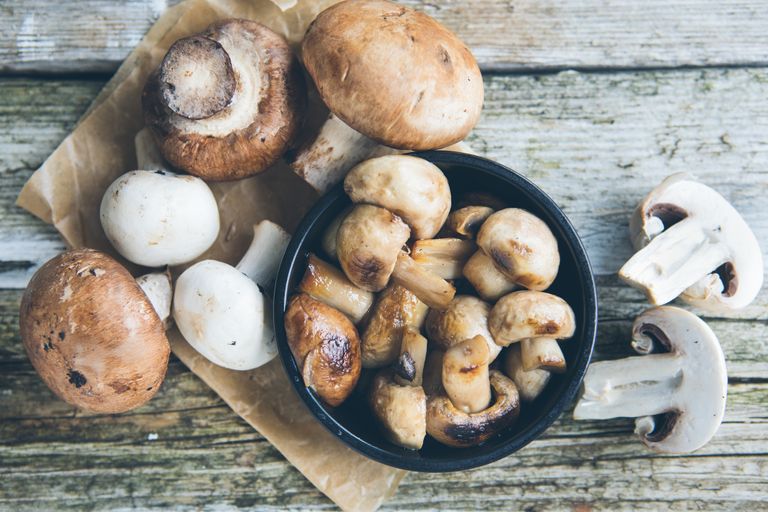 (Image credit: Getty Images)
Learning how to grow mushrooms can be a little bit daunting. Do you grow them from dowels, spores or spawn? Should you grow them indoors or outdoors? The good news is that there's a type of mushroom for every gardener, whether you've got a sprawling grow-your-own patch or a spare bedroom (yep, you read that right).
Mushroom growing at home requires a cool, dark, damp place, which can be anywhere from a cellar to beneath a large tree. Oyster mushrooms are some of the easiest to grow, so we'd recommend going for those if you're a novice funghi grower. You can also buy mushroom-growing kits, which take the hassle out of the process and are great if you're short on space and time.
Think of mushroom spawn as seedlings, which will be easier to grow, and spores as seeds. Each type of mushroom is grown in a different medium, from on logs, to in sawdust or straw, so check the best conditions for the variety you're growing.
Keep reading for our step-by-step guide to growing mushrooms at home. But if you fancy something a little bit simpler to grow this winter, take a look at our guide on how to grow garlic.
Step-by-step guide to growing mushrooms indoors
1. Mushroom beds and boxes need to be 25cm deep and can be established anywhere from a spare bedroom to a cellar or shed. Make sure your chosen location has a temperature between 10C and 20C.
2. Pack your bed or box with compost prepared from horse manure and scatter a bag of mushroom spawn across the surface, mixing it to 7cm deep before covering with damp newspaper.
3. After three weeks the compost will be colonised with what looks like white threads. Remove the newspaper and cover with a layer of casing made of half garden soil, half peat and a few handfuls of lime mixed together.
4. Keep your casing layer most using a mister of watering can with a fine rose head. Mushrooms will develop three to five weeks later.
Step-by-step guide to growing mushrooms outdoors
1. Mushrooms can be grown outdoors beneath a lawn in soil that is rich in organic matter.
2. Cut out a square about 25cm across and 4cm deep and loosen the soil beneath with a fork.
3. Spread mushroom spawn on the surface and rake to 1cm deep.
4. Replace the turf square and keep the soil moist.
5. How long your mushrooms take to grow outdoors will depend on how warm and humid it is.
Step-by-step guide to growing mushrooms in straw
1. This is how Monty Don grows oyster mushrooms. Soak straw in water overnight then drain and mix with a pack of mushroom spawn.
2. Place into a bin liner, seal and leave in a damp, sheltered spot, such as near your compost heap. Ideally it should be between 20 and 25ºC.
3. After six weeks, the spores will have colonised and you should move the bags into a warm, moist place, like your greenhouse. Cut slits into the bin bag so the mushrooms can grow through.
4. Check the bag for mushrooms after two weeks. The straw should continuing producing mushrooms for another two weeks.
Step-by-step guide to growing mushrooms on logs
1. You can grow mushrooms on freshly chopped logs and the log will produce mushrooms for four to six years. You do this using dowels or plugs, which are impregnated with mushroom spawn ready to 'plant' into a log. They have to be kept in a fridge or cool, dark place until you're ready to use them.
2. Logs should be cut during winter and early spring and dowels planted within six weeks. Hard wood logs are best and need a diameter of about 10cm to 15cm. About 50cm is the ideal length.
3. Drill holes every 15cm along the log. Insert your dowels and tap in so they're flush with the log's surface. Seal the holes with wax.
4. Place the log in a shaded area or warp in a bin bag and bury.
5. It'll take six to 18 weeks for the mushroom spawn to colonise the log, depending on the weather. Once this happens, you can move the log to a warm, moist location, like a greenhouse or woodland. Always keep one end of the log off the floor by resting on another log or brick.
Grow-your-own mushroom kits
When are mushrooms ready to harvest?
The weather will dictate how long it takes your mushrooms to grow. They're ready to pick when the cap has fully opened and separated from the stem.
To harvest your mushrooms, grasp them at the base of the stem and twist.

Varieties of mushroom to try
Brown cap mushrooms – have a firm texture and nutty flavour
Shiitake mushrooms – grown in Japan for more than a thousand years and popular in Oriental cooking
Oyster mushrooms – have a meaty texture, perfect as a main course for veggies and vegans
Common problems when growing mushrooms
The weather will play a big part in when your mushrooms are ready if you grow them outside. Flies are the main threat to your crop as they love the warm, moist growing conditions. Invest in insect repellent or killer, depending on whether your mushrooms have an infestation or not.
More grow your own ideas:
Laura has been writing about homes and gardens for 14 years. She started out as a newspaper reporter, then was editor of a regional magazine, and editorial manager for a travel company (who doesn't love a free holiday?). She started at Real Homes magazine in 2015 as Deputy Editor and then become Editor before taking on her current position, which focuses on video and events (you may have seen her presenting Real Homes TV). She loves spending time in the garden with her toddler and has a bizarre passion for moving lawns!
Sponsored by