Small vegetable garden ideas: how to grow fruit and veg in any space
Even in a pocket-sized plot, these small vegetable garden ideas will help you create a plentiful patch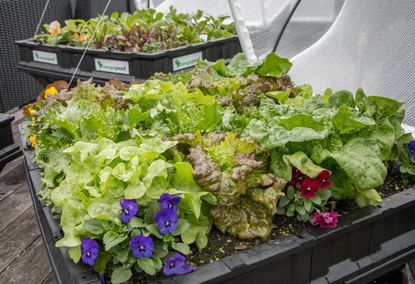 (Image credit: Vegepod)
If you're looking for small vegetable garden ideas and want to join the grow your own movement from your small city garden, patio or even balcony, then we've got a whole host of ideas to help you on your way.
Space, or lack of it, doesn't mean you can't grow a bumper crop of veg to enjoy at home. Everything from beetroot and potatoes to salad and herbs can be grown in a small garden, and finding creative ways to do it is easier than you night think.
7 creative small vegetable garden ideas
You can enjoy growing your own fruit and veg in any sized-space thanks to these clever small vegetable garden ideas.
1. Build your own raised beds
Raised garden beds are great solution for growing vegetables, particularly in small gardens. It doesn't matter if your garden is pebbled or paved, you can use raised beds as they are built on the ground rather than below, and contain all the soil you need for your garden to flourish.
You can grow anything in a raised bed, from root veg to leafy greens. Plus since the soil in raised beds warms up earlier in the spring than ground soil you can get a head start on the growing season.
There are lots of raised bed kits, available from Amazon, but if you want to try making your own from scratch then our step-by-step guide on how to build a raised bed will give you all the know-how you need.
2. Buy a ready-made veg planter
If you only have a balcony garden or small courtyard garden and therefore don't have the space to build a raised bed, a raised planter will allow you to grow a range of veg and introduce a splash of greenery to your outdoor space.
Pick a spot that gets plenty of sunshine and make sure you keep it well watered during the summer months. Opt for an inexpensive plain wooden design and you can introduce even more interest by painting the exterior in a vibrant color of your choice using one of the best exterior wood paints.
3. Grow vegetables in a vertical garden
Make the most of every available space in your garden, from the ground up, by building a living wall. Creating a stunning display which also conceals unattractive walls or garden fences, they are surprisingly easy to create using one of the many pocket systems available.
Simply fill the pockets with soil, then add your plants. Leafy veg like salads and chard work particularly well as they have shallow roots and will keep producing throughout the whole of summer. Soft fruit like strawberries and edible flowers will create a stunning display.
4. Limited outdoor space? Try a veg bag
If space is really at a premium in your garden, portable growing bags are a brilliant idea for balconies and patios. Vegepod's signature mesh vegebag provides the perfect solution. Simply fill the bottom section with compost and plant your veg. Available in two sizes it is ideal for mint, tomatoes and cucumbers.
Its unique zippered design protects your plants from pets, pests and harsh weather, while still being easily accessible. Plus its collapsible design is perfect for storing away when not in use.
5. Grow your own veg in a window box
Window boxes are a great solution to gardening in small urban spaces. Easy to grow they're also a beautiful addition to your home. You can, of course, opt for pretty perennials or blousy blooms but they can also be used for small vegetables and herbs.
Herbs are a particularly good choice for a kitchen windowsill, saving you money since you don't have to buy the plants from the supermarket each time you need a handful of basil. Most herbs can be easily raised from seed, and only take a few months to flourish into bushy shrubs.
Head over to our guide on how to create a herb garden for useful tips and tricks.
6. Grow your own potatoes
Potatoes are one of the easiest vegetables to grow and also take up a relatively small amount of space – you can even grow them in a black rubbish bin or a heavy duty bin bag. Simply quarter fill with soil, plant your tubers and then cover with soil. Make sure to leave half the bin or bag empty as you will have to keep covering the leaves when they appear.
Alternatively, there are purpose-built potato fabric bags and plastic bins that feature a little window, letting you harvest potatoes gradually rather than all at once. Plus they can be reused for many years so you'll always have a bumper crop of spuds.
Get more advice on how to grow potatoes in our guide.
7. Use a pot stand to maximise space
If you've got a small garden, then pots are usually the way forward no matter what you choose to grow. You can actually grow a lot of vegetables in pots too, from beetroot and beans to peppers and tomatoes. Make the most of space by layering your pots on a plant theatre, stand or ladder.