How to make a living wall: create vertical planting to maximise your space
Once you've discovered how to make a living wall, you'll add a whole new layer of interest to a garden. Here's how to create one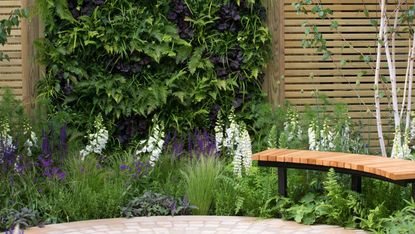 (Image credit: Leigh Clapp)
If you've never considered finding out how to make a living wall, then now is the time to think again. Living walls might have been the stuff of high-end landscape design a few years ago, but did you know they're growing in popularity?
As well as being a great way to fill a gap in an otherwise plain fence or wall, they're also ideal for small gardens as they give you more vertical space to fill with plants.
A living wall can look any way you want it to look. It could involve simply attaching wall planters to a bare fence or wall and filling them with trailing plants, or it might include a fully kitted-out system with an automated water feature. Use it across a whole wall for a dramatic feature, or create one on a section of wall to create an area that's full of cascading colour and lush planting from the ground up.
Want to make one of your own to add interest to your garden design ideas? Read on to find out how.
What you need to create a living wall
What you need to create a living wall depends on how hi-tech you want it to be. Technically, you can create a living wall by installing a trellis and training climbing plants to grow up it, but for the purposes of this piece, we'll focus on the two other types: living walls created with vertical growbags, and living walls made using specially-built products, some of which even include irrigation systems.
You can buy hanging planter bags (try Amazon) with multiple pockets that can be attached to a wall or fence for an easy living wall. Looking for something more complex? A living wall planter is specially designed for a thriving vertical garden – many have an automatic dripping system that feeds water from the top of the plant down, saving you from watering as regularly.
You'll also need some compost and a selection of plants – see below for our picks.
How to make a living wall: step-by-step guide
First, you need to find a space that needs greening up. A living wall is one of the best small garden ideas as it makes the most of what would otherwise be unused vertical space. You can build a living wall on any solid wall or garden fence. They can also be attached to the side of your house or even a sturdy shed.
Decide on your planting system. Buy an off-the-shelf hanging pocket planter system or module kit. These usually consist of a rows of small pots or troughs that root into a mat behind, and can be scaled up or down to suit your space. You can also make your own version using old palettes backed with heavy duty polythene (if you're handy at DIY that is).
Once you've chosen a structurally sound wall or fence simply attach the planters according to the kit instructions. Some systems require a framework of battens or similar attached to the fence or wall.
Attach the plastic planters or modules to the wall, clicking and locking them into place so that you build up your design.
Next it's time to green up your wall by adding the plants to your chosen planting system. The best living wall plants add texture, shape, form and colour. Use multi-purpose peat-free compost containing a slow release fertiliser to fill the pockets, then start adding a mix of plants of your choice. First decide what arrangement looks best by laying out the plants on the ground and moving them around until you hit on a winning formula, then add them to your planters and water well.
What plants should I use in a living wall?
The plants you choose for your living wall depend on the effect you want to achieve and where you're placing it. Spring is a good time to begin, as young plants will quickly get established and start to fill the space. They should be relatively compact or be able to take regular pruning so nothing dominates.
Always include some plants with year round interest too. Here are some suggestions for great plants for a living wall:
Herbs Place your vertical wall close to your kitchen for easy access and herbs will provide ample fresh produce for zinging up your menu, as well as a beautiful scent, while using up little space. The best herbs to try are thyme, chives, oregano and majoram, which will all thrive in a sunny spot. There's more tips on how to create a herb garden in our guide.
Fruit and vegetables Lettuce and cut-and-come-again salad leaves such as rocket, mizuna and baby spinach are always a good choice. Find out how to grow strawberries and you'll see they look great too, especially a wild variety like 'Mara des Bois' which crops all summer. Trailing tomatoes and chilli peppers do well vertically, while the base of the wall will form a heat trap where crops like cucumbers and aubergines thrive.
Sun and shade tolerant perennials Hardy perennials will do well in shade and sun, as long as they have enough water if things really start heating up. Try Bergenia, Epimedium, Boston ferns, hostas and Lysimachia nummularia 'Aurea', otherwise known as 'golden creeping Jenny'.
Summer colour Choose a mix of plants such as campanula, lobelia, fuchsia, trailing pelargoniums, Heuchera 'Purple Petticoats, vinca minor (also known as lesser periwinkle), ajuga and Begonia 'Million Kisses' to add pops of pretty colour to your living wall.
Grasses Varieties such as Carex oshimensis 'Evergold' (sedge) and succulents like sedum are great for providing year-round interest and texture to fill out your living wall. Grasses also add a tactile quality - you won't be able to pass by without stroking them. Our guide on how to grow ornamental grasses has lots more advice.
How to water a living wall
Many kits come with an inbuilt irrigation system containing a reservoir designed to keep plants watered for up to two weeks.
If you're not using an irrigation system, starting at the top water your wall with the best garden hose or watering can regularly and make sure the water is flowing down so that all plants benefit from it.
Maintaining a living wall
As your living wall grows, trim it back regularly to encourage growth (leave succulents alone though). Pick off dead leaves and replace tired plants as needed.
Trim back larger plants, especially those that may be smothering smaller ones. Check for pests and disease.
Also keep an eye on the irrigation system as plants can suffer quickly if this fails, particularly in hot weather.
Head over to our garden wall ideas for more ways to add interest to your garden boundaries.
After a stint writing for true life titles, Ellen made her venture into the world of interiors magazines in 2017 on Real Homes magazine where she is now deputy editor. She's a fan of clever tips and tricks for renters, and has a special interest in sustainability in the home. While she's waiting for a garden to call her own, Ellen keeps herself busy with her collection of houseplants – 28 at the time of writing, but ever-growing. She also enjoys helping out at her grandad's allotment and has made friends with the local cat along the way.