How to grow ornamental grasses – add drama with these low-maintenance plants
Find out how to grow ornamental grasses to divide up your space and extend the garden season right through winter too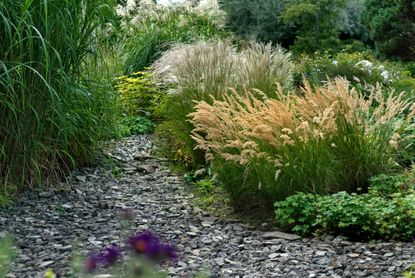 (Image credit: Alamy)
Looking for ways to add year-round interest to your garden? Learning how to grow ornamental grasses is a great place to start. They thrive all year round but ornamental grasses are centre stage right now in a blaze of bright foliage, plumed flowers and interesting seed heads that glow in the autumn light. Rhythmic planting of airy grasses adds a cool style to your garden that's right on trend. Forget dusty clumps of old-fashioned pampas. We're talking about adding hazy drifts with a romantic touch to soften the edges of hard landscaping. What's more, now is a great time to plant them.
Easy and adaptable, ornamental grasses create texture and interest all year round, as well as having practical uses such as helping to zone your space. They're super low maintenance, and don't need watering, feeding, pruning or deadheading. They're resilient and take a battering in wind and rain. Evergreen grasses can be left to get on with it all year round, with just an occasional stripping out of any faded stems. Varieties that die back at the end of summer just need cutting back once a year.
Many grasses also develop into ground-hugging hummocks, making them great weed suppressants. Consider replacing a tatty lawn in a small front garden, for example, with a no-mow carpet of shorter ornamental grass. Evergreen varieties give year-round cover and little room for the unwanted plant invaders to squeeze through. Ornamental grasses not only add movement but also bring a pleasing musical note to the garden as they rustle in the wind. Grasses can also be divided easily, providing an affordable way to help fill spaces.
If you're interested in the trend of dry-gardening, drought-tolerant miscanthus and pennisetums make excellent specimens and have stunning architectural foliage. Want to know more? Read on for more advice, then head to our guide to the best evergreen plants for more ways to introduce year-round colour to your space.
How to grow ornamental grasses
Spring is the season to sow grasses from seed. They can be sown direct in open ground where they are to flower and they will perform best in an open, sunny position. In order to rejuvenate grasses it's a good idea to divide them, but it's important to do this at the right time of year – see below for more details.
If you're buying plants directly from garden centres and online try getting them around spring so they can be planted directly into the ground. Autumn is also a good time to plant them out so that they can adapt to the conditions before the worst of the winter weather arrives.
Different types of ornamental grasses
A few of the ornamental grasses we grow are annuals or biennials and will self-sow appealingly among other plants, creating attractive combinations. However, most are dependably hardy perennials, suited to situations varying from hot and dry to cool and moist, from full sun to shade.
Ornamental grasses include not only some of the best specimen plants – there's nothing quite so dramatic as a pampas grass in full flower – but also some of the most appealing foliage and flowering plants for containers.
TOP TIPS FOR GROWING ORNAMENTAL GRASSES
The majority of ornamental grasses prefer a warm, sunny spot with free-draining soil, although there are exceptions. Hakonechloa, chasmanthium and molinia are tolerant of light to fairly deep shade. Panicum, milium, luzula, acorus, carex and several other species are happiest in dappled shade with their feet in consistently moist soil.
Compact grasses make perfect specimens for patio pots. Set plants that remain under 90cm in 30cm pots, using a mixture of multi-purpose compost and soil-based John Innes, with a little extra grit to keep the compost mix open.
HOW TO CARE FOR ORNAMENTAL GRASSES
The great thing about ornamental grasses is that they're super easy to look after! Evergreen grasses don't really need pruning to keep them in shape, but deciduous species need tough treatment. Cut back the entire plant to just above ground level in early March, avoiding any emerging growth. Follow this with a 7cm of mulch of garden compost or leafmould.
After four or five years, some grasses will have formed large, congested stands that run out of steam. At this stage, the clumps may contain dead portions and become shy to flower. If this happens, it's worth dividing them to rejuvenate them, just make sure you do it at the right time of the year. Carex, deschampsia, stipa and others that come into growth early in the year can be divided between late winter and early spring. Miscanthus, panicum, pennisetum and those that flower later should be left until late spring, when they start to show growth.
Easy ways to use ornamental grasses in your garden
Use ornamental grasses for zoning
To differentiate between different areas or levels in your garden, create a layered effect using ornamental grasses. Use large troughs, planters or raised beds filled with grasses to divide up a space according to how you want to use it. Our go-to is Mexican feather grass (Stipa tenuissima). It has arching leaves with fluffy plumes of flowers and is a graceful addition to the garden that looks very contemporary.
Create privacy
If your garden is overlooked, pots of wavy grasses allow you to create a more secluded feel. Add a 'boundary' by arranging a row of tall containers and plant with densely tufted blue-grey Festuca glauca to add height. Planters can be moved around to change the mood (especially if you choose ones on wheels) or put where you most need them to add to a sense of seclusion.
Green up a wall
Create a lush green screen near the house to introduce some natural landscaping. Create a living wall with a kit and fill the pouches with plenty of cascading grass such as Carex morrowii 'Ice Dance'. Its bright green and white striped leaves will add a light and airy touch. This type of ornamental grass is pretty indestructible too, so a good choice for a living wall where you will need to buy lots of plants to fill it up.
Edge a path with ornamental grasses
Using low mounds of ornamental grass to edge a pathway creates a pretty feature and adds a professional-looking landscaping touch. If you want a modern look keep it simple by choosing just one grass. If your paths are pale stone try creating some drama by planting contrasting black mondo grass (Ophiopogon planiscapus 'Nigrescens'). This compact clump forming grass is great for edging paths. Looking for more garden path ideas? There's plenty to inspire in our gallery.
Add some drama
Make a statement with a spectacular ornamental grass such as silk-tasselled Miscanthus sinensis 'Gracillimus', also known as Chinese silver grass. As well as making an eye-catching addition to beds and border it also works well in a supersized container on the patio to create a focal point. Try uplighting it to add a magical touch you can also see from the house at night time. Head over to our patio gardening ideas for more ways to update your outdoor space.
Plant round a tree
Double the wow-factor by underplanting a small tree or row of pleached beech or hornbeam with ornamental grasses to create a sculptural effect. Knee-high Hakonechloa macra Aureola (also known as Japanese forest grass) with its fresh lime green foliage is good for soft landscaping in urban gardens and works really well planted round the base of small clipped trees such as olives too.
BEAUTIFUL ORNAMENTAL GRASSES FOR YOUR GARDEN
There are an array of colours, textures and sizes which are all easy to grow in pots and beds. Here are some of our favourites for you to choose from.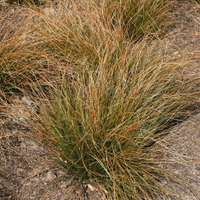 The foliage of evergreen Carex testacea turns a beautiful coppery orange in the autumn, a perfect match for bright orange violas. This combination will provide long-lasting impact.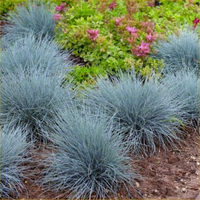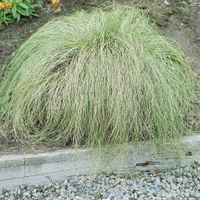 Carex comans 'Frosted Curls' at Crocus
You can rely on this shimmering grassy-leaved sedge to make bare soil shine all year round. It loves sun or partial shade and has no particular soil preference.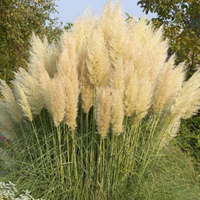 Dwarf Pampas Grass at Gardening Express
Fat, densely feathery, cone-shaped silvery yellow plumes are carried over very narrow leaves in summer and autumn. Many pampas grasses are too tall for most gardens but the dwarf varieties will work perfectly in smaller gardens.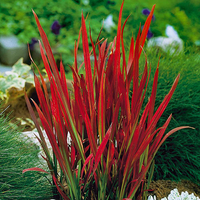 Imperata 'Red Baron' at You Garden
This is a real showstopper for your garden with bold red leaves in summer and autumn. You can plant this in the ground at any time of year so put it in a pot as soon as you get it home.
More plant advice: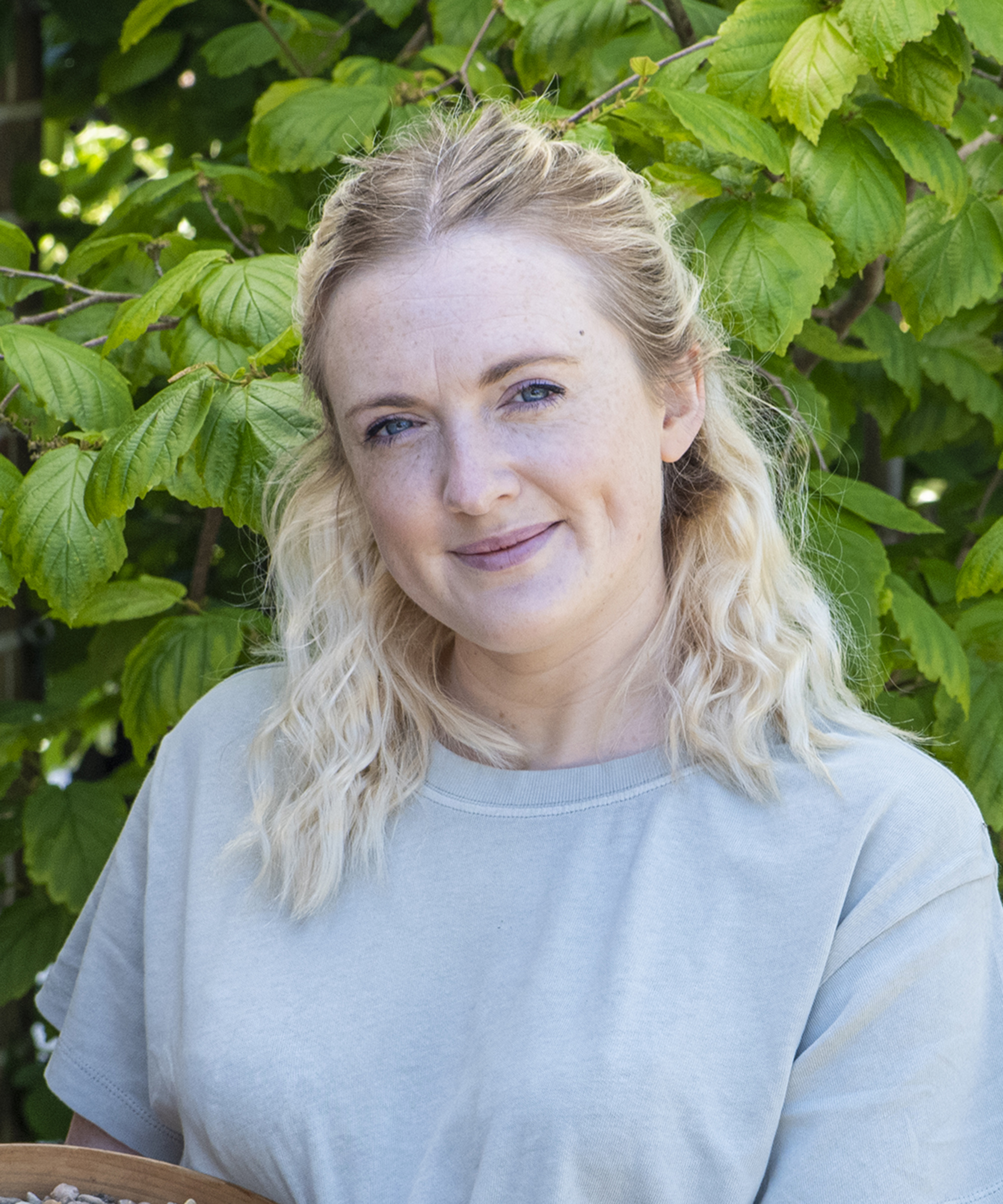 Teresa has worked as an Editor on a number of gardening magazines for three years now. So she is lucky enough to see and write about gardening across all sizes, budgets and abilities. She recently moved into her first home and the garden is a real project! Currently she is relishing planning her own design and planting schemes. What she is most passionate about when it comes to gardening are the positive effects it has on our mental health to grow and care for plants, as well as being great for the environment too and help provide food and shelter for wildlife.