Garden fence ideas – 14 ways to update with panels, trellis, paint and more
These stylish garden fence ideas will instantly update your plot, or create useful boundaries for stunning outdoor rooms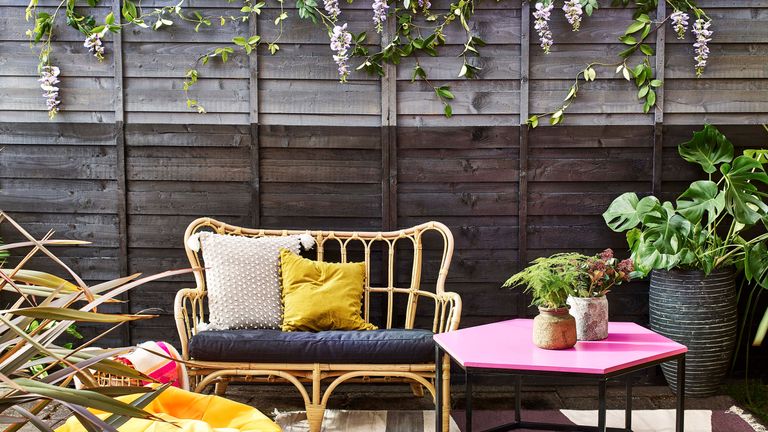 (Image credit: Cuprinol)
Check out these garden fence ideas for designs that are both stylish and practical. Handy for marking boundaries around your garden or maybe even a pool, fences can also create different zones to explore. Used this way, they can make your plot look more interesting. They can even make a garden seem larger than it really is, as you get glimpses of other spaces without seeing the whole plot in one go.
But, their practicality doesn't mean to say they can't double up as a chic design feature! From rustic charm to contemporary styles, there's a fence to suit you.
So, if your fences are looking dated, dull or dilapidated, or if you like the idea of letting more light in without compromising privacy, read on. There's plenty more inspiration for your plot in our landscaping ideas too.
1. Utilise for storage
Not only can fences be used to make outdoor rooms, they can also come in handy for storage. Just like a wall in your home, you can add hooks, or even shelves, so that everything you need is within arm's reach.

A great space-saving solution for outdoor kitchen ideas, for example. Try it out for your next BBQ!
2. Contrast with accessories
It's easy to update a tired looking fence with a smart coat of the best exterior wood paint. But, it doesn't always have to steal the limelight. Allow it to become a chic backdrop instead, to make your garden furniture and planting really pop.
Go light and bright to make your plants stand out, whilst grey or other muted shades are a strong choice, for a sophisticated, urban look.
3. Create cohesion
Match your fencing to your decking ideas, and even your seating, for a pleasantly harmonious vibe. Pair with a complementary colour palette for extra wow, and add accessories to match, such as outdoor cushions or rugs. A contemporary look which will instantly elevate your space.
4. Go vertical for a modern update
Many traditional garden fences are a series of uprights, but if you want a contemporary look to suit more modern garden ideas, swap to a design that majors in horizontal lines.
Not only will it give your plot an instant update, but it can also create the illusion of a wider or longer space as the eye is drawn along the horizontals so it's a great idea for small gardens. These are from Wickes.
5. Make it decorative
Growing plants up a fence takes time, but adding organic pattern as part of the structure can create an instant and durable feature.
This fence would work on a boundary or between different areas of the garden with the decorative panel allowing glimpses through for a new view of planting beyond the fence without surrendering privacy.
6. Try a fence of lights
Fences don't have to be solid – particularly if they're garden dividers rather than there to stop the dog getting out and the neighbours encroaching on your turf.
Follow the lead of this design which combines shepherd's hooks that you put into the ground with festoon lights, both Lights4fun.
They're ideal alongside a path, as here, but would look just as good as a divider for an alfresco dining area, creating a magical ambience as night slowly falls.
Find more solutions for outdoor lights in our garden lighting ideas feature.
7. Swap to metal fencing
Wrought iron railings can complement an older property, but there are less period style metal designs available, too.
These panels from Permafence are made from Plastisol coated zinc for a coloured finish that will last. Pick from black, white, dark oak and buttermilk cream, as well as goosewing grey, merlin grey and olive green.
If you want to let more light into your plot, take a lead from this garden and incorporate lattice panels into your fence design.
8. Create intimacy with a dark shade
If you're going to use an area of your garden for entertaining after dark, why not paint the fence in a dark hue? It'll make the zone far more intimate and cocooning – just like a snug inside your house.
Stick to furniture in a lighter finish, though, so it stands out against your dark backdrop. This fence is finished in Fence Life Plus in Charcoal Grey from Ronseal.
9. Work with colour
Fences don't have to be a single colour, and painting one in blocks of different hues in the same way you might treat a wall indoors can add interest to your garden's vertical surfaces.
Here, toning shades of Superdec in (from top) Bleached Rose, Gingerbread, and Sandbank, all from Sadolin have been used to create the horizontal blocks. The look's eye-catching, but they're earthy tones and complement the outdoor situation beautifully. You could get the same smart but organic effect with shades of green, too
10. Screen with pattern
Whether it's to divide different outdoor rooms, obscure a less than lovely feature, or even for a boundary of the garden that isn't overlooked by a neighbour, a screen is a top fencing idea.
You'll find both abstract patterns and naturally themed designs on offer, but we like the way this foliage design draws the eye upward. The Leaf Panel screens are laser cut from aluminium for lasting good looks, Harrod Horticultural.
11. Boost privacy
If there's too much on show between you and next door, reed screening can provide the concealment you need in a hurry. You can use it as a cover for chain link fencing or attach it to fence uprights with ties or staples.
It can be a great solution for patios with too much direct sun, too, providing welcome shade. This reed garden screening is from Wickes.
12. Divide with trellis
Choose trellis and you can design the level of privacy to suit. Trellis will add an attractive divider if you leave it as it is, and let light through from one area to another. Alternatively, you can maximise its potential as a screen by growing a climber from top to bottom.
Using planters to add greenery to half height so you're not on show to the neighbours when you're sitting at a table or on a lounger is another option. We love this Versatile Lounger & Corner Set from Cox & Cox.
13. Introduce curves
Think about bringing in different lines with your fencing. A curved finish can look softer than a design that's straight across the top, and can look sympathetic to a country-style garden.
This design, from Homebase, has a lattice finish to let in a little more light through the top, too, and is made from FSC certified wood.
14. Mix your materials for a bespoke look
Try materials and shapes that break from the norm for a screen for a seating or dining zone to add decorative interest to the garden.
This one features glass panels, which bring in texture but still permit light to come through as well as snapshotting the views. If you're a keen entertainer, meanwhile, you could think about putting up a shelf-style structure using timber or sleepers instead.
That way, it can be used as surface to set down glasses while people are socialising, or for plants in pots.
What can I put up instead of a fence?
If you're still not sold on installing a fence, there are other options for marking boundaries. How about a living fence, for starters? Use box for neatly clipped hedges, or perhaps laurel or beech are more your style. You can also use bamboo!
If you're not strictly after height, lavender is a lovely choice for a fragranced zone divider. You can find out how to plant a lavender hedge in our guide.
You could also consider a stone wall. Plant alpines into nooks and crannies for extra interest.
What is the cheapest type of fence to put up?
Chain link fences are generally cheap, and are practical options for large gardens with animals.
Simple wooden fences are also affordable options, if you're after something a little more stylish.
You could also build your own fence using recycled pallets – often local businesses will be willing to give them away for free.
How do you secure a fence to the ground?
Installing a fence is relatively straight-forward, but somewhat laborious. This is mostly because of the holes needed to be dug for the fence posts. Add gravel to the bottoms, for extra support and to assist with draining.
Once your posts are in the holes, add concrete, or a no-mix, fast drying postcrete, to just above ground level. Finish with a mounded shape, to allow rain water to run off freely.
Check out more landscaping ideas: