Garden divider ideas: 10 stylish ways to zone up your outdoor space
Discover our garden divider ideas – from half walls and large planters to show-stopping water features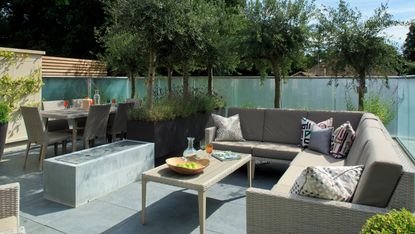 (Image credit: Jason Harris/Woodhouse and Law)
Are you in need of some garden divider ideas? They're the perfect solution to break up your plot and can add an extra dose of style, too.
Maybe you'd like to transform a lacklustre, square-shaped garden into a series of different 'rooms' – specific areas for your outdoor activities. Think a chic seating-area for entertaining alfresco, a secluded retreat for relaxing, or a place for the kids to let loose. Dividing up your garden can add to the feeling of space and transform how you and your guests use it. And there are tons of ways to do so, from bold features that make an impact, to subtle details that blend into the surroundings.
Garden dividers are a great addition to any of our garden design ideas, and we've rounded up our favourites for you to peruse. So get scrolling – you'll be inspired in no time.
1. Divide with water
Water is a wonderful addition to any plot, helping to boost the sensory impact of a space. But as demonstrated in this gorgeous design by Tom Howard Garden Design, it can also be used to separate areas.
A stepping stone pathway adds a touch of playfulness too, making a fabulous addition to our garden path ideas. And, we love how a bed of nearby Agapanthus complements the soothing vibe with its blue tones.
2. Go for meadow-style beds
Contrasting wilder-styled planting with clean lines and harder materials sets a well-balanced tone. And as this example shows, a wide, meadow-style bed can be a stunning divider for your garden's different zones.
Plant one species en masse for a modern look, or mix it up with all your favourites for a view that will fit right in with any cottage garden ideas. Plus, pollinators will love it just as much as you will.
3. Add a stylish trellis
Of course, a fence is a classic way to create boundaries within or around a space. And a timeless trellis is no exception.
However, trellises offer benefits that not every fence can. For starters, it's easy for climbing plants to be trained up them, to create a living wall. Opt for sweetly-scented honeysuckle, jasmine, or roses and you've got a beautiful backdrop for any seating area.
What's more, the open-detailed nature of a trellis means that light and air can filter through, offering privacy without being imposing. To take things up a notch, you could even paint it in a complementary hue – take a look at our best exterior wood paint to get started.
4. Opt for giant planters
As Nick Woodhouse, director of Woodhouse and Law says, dividing up a space into different 'rooms' can make your garden feel bigger, offer a greater sense of depth, and install a sense of intrigue. And as this design shows, even small, urban spaces can benefit from the effect.
A statement planter is a fantastic way to divide a plot, and when filled with small olive trees and lavender as seen above, it adds a Mediterranean feel. On one side is a chic seating area, perfect for lounging, whilst on the other, a more formal spot for dining outdoors.
Want to recreate the look in your own garden? Head over to our garden planter ideas feature for more inspiration.
5. Make the most of levels
Fabulous sloping garden ideas can be difficult to come by (although our feature is a great place to start). However, as this example demonstrates, you can use levels to your advantage to divide stunning zones.
Here, a structural archway defines the boundaries between a modern, raised space and the staircase. Then, an array of natural textures – stone, wood, and water – are used to create an enticing, multi-levelled scene. Large vessels create contemporary focal points, whilst a floating step leads away from the zone into the next – a lush lawn.
The result is a contemporary, architectural space that feels distinct from the rest of the plot, yet adds a great deal to the overall design. If you are wondering how to make a garden feel modern, then this is a perfect example.
6. Go for statement structures
Archways, arbours and pergola ideas offer so much atmosphere to a garden, and as seen here, can also be used to create striking divides between zones.
This gorgeous example by Tom Howard Garden Design creates an enticing entrance to a second 'room' in the garden, which can be used as a more secluded space for relaxation. The climbing foliage not only softens the look but offers a subtle screen, upping the sense of privacy.
Don't forget we've got tons of garden privacy ideas in our guide, if you're looking for more ways to make your garden feel more exclusive.
7. Define spaces with vibrant columns
Sometimes a garden calls for a big, bold statement to bring it to life. And here, symmetrical columns and giant planters do just that, whilst also defining the boundaries of a covered space.
Painted in show-stopping hues, they feel fresh and vibrant, adding a summery feel to the plot. And if you love the look, why not take it one step further with our gorgeous colourful garden furniture ideas?
8. Use corten steel and tall grasses for a rustic feel
Corten steel is totally on-trend right now, and makes a contemporary yet rustic statement for any plot. With its deep rust patina it warms up a space and makes a stunning choice for modern edging ideas.
It can also be used as part of your garden divider ideas. Here, it's used to border a lush bed bursting with tall ornamental grasses, Verbena bonariensis and other architectural foliage, making the seating area feel extra special. It also obscures the view from the house, creating a peaceful and intimate atmosphere.
9. Zone a seating space with a small stone wall
If you love a country-classic style, then a mid-height stone wall is the perfect solution for your garden divider ideas. Using pale materials softens the look and gives it a rustic, natural edge – a lovely accompaniment to light-coloured gravel and rattan garden furniture ideas.
Plant up borders behind for added interest and height. Tall varieties such as hollyhocks, lupins, foxgloves and Verbena will all make pretty choices and add shelter to a seating area, especially if it's overlooking a large lawn.
10. Create a tucked-away retreat with contemporary edging
Modern garden ideas call for clean lines and fuss-free materials. This grey-hued edging around a verdant lawn is a perfect example.
Maintaining its sleek appearance, the edging then cuts into the plot, defining a secondary zone. Here, a shed and contemporary seating spot are tucked away, with a small tree positioned to add a partial screen. Positioning the cosy zone at the bottom of the plot also adds a sense of depth – great for urban spaces.
How do you zone a garden?
Before you think about garden dividers, you need to decide on the zones for your garden, and these all depend on how you wish to use your space.
It's a crucial step of any garden design process, and Lynsey Abbott, Outdoor Living Buyer at Dobbies, shares her advice. She says that whether you want to use your plot as an extra entertaining space, play area for younger members of the family, or a practical place for growing your own, thinking about the end use will prioritise what's most important. This will help you to decide on furniture sizes, lighting, outdoor heating, and accessories, Lynsey says.
But also, it will help you think about how to create specific areas for different uses. From here, you can start to think about garden divider ideas and the varieties that work best.
How do you divide a long narrow garden?
Dividing a long, narrow plot is important to avoid the uninviting 'corridor' effect. Breaking it up with horizontal lines – think fences, hedges, planters, and borders that cut across the space – will make it appear wider. Create different 'rooms' that flow into one another as you journey from the front to the back of your garden, perhaps by using archways or gaps in a hedge.
Adding a seating area at the bottom of the plot will provide a cool retreat to escape the daily hubbub. And, if you screen it off from the house using lots of greenery, it will add to the sense of intrigue.
Our ideas for awkward shaped plots are full of further inspiration for making the most of tricky spaces.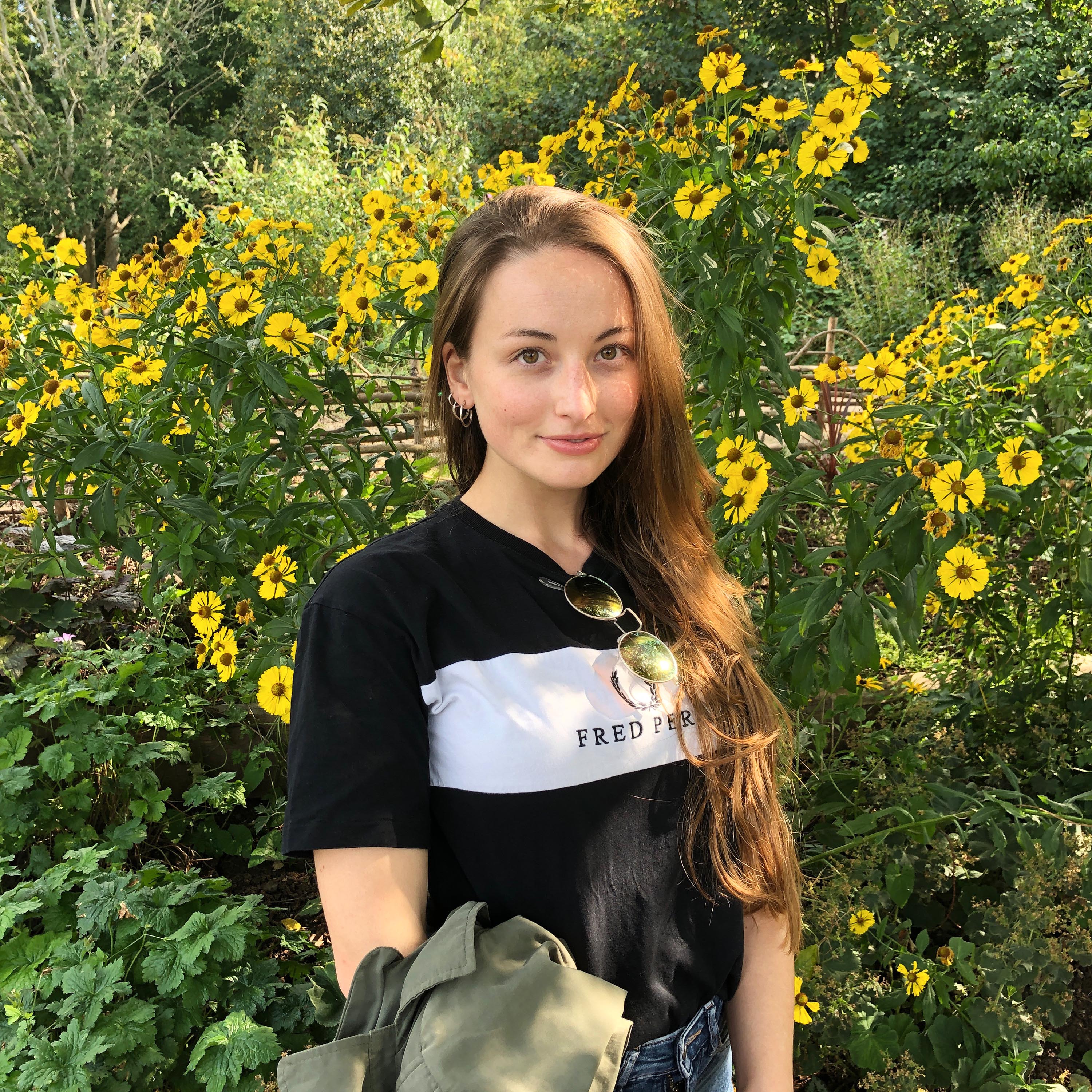 The garden was always a big part of Holly's life growing up, as was the surrounding New Forest where she lived. Her appreciation for the great outdoors has only grown since then. She's been an allotment keeper, a professional gardener, and a botanical illustrator – plants are her passion.