How to make a garden feel modern: 11 on-trend tips to refresh your plot's planting, layout and style
If you're wondering how to make a garden feel modern, we've got all the tips you need to know – from outdoor fireplaces and minimalistic features to creative canopies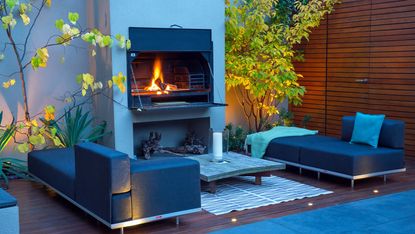 (Image credit: My Landscapes)
Are you wondering how to make a garden feel modern? Then we're here to help. For even the smallest courtyard can be given a stunning update with a few styling know-hows.
Our modern garden ideas may have you ready for a fresh new look for your plot. Or, perhaps you've just moved to a new home and it needs a serious makeover. Either way, your current view from the back door may feel less contemporary-chic and more drab and dated. But, by getting creative with materials, and adding functional yet aesthetically-pleasing features, it's relatively simple to transform even the dullest patio into an on-trend space.
It doesn't have to be super minimal, either – there are plenty of ways to make your garden feel in vogue. So, read on to discover our suggestions. From outdoor ovens to living walls and show-stopping colour, you'll be sure to find something you love.
1. Make a statement with patterns
This garden by My Landscapes is truly a work of art, blending organic elements with harder lines and urban colours for an ultra-on trend look.
We love how the bold pattern of stone tiles blends from floor to wall in tones of grey – it provides the perfect backdrop for the delicate flowering Japanese cherry. What's more, it allows the tree's shadows to offer a feature of interest too, adding extra depth to the scene.
So, when it comes to making your garden feel modern, why not create your own geometric display? If you love this look, you might like to check out our small Japanese garden ideas, too.
2. Pair a living wall with an outdoor fireplace
Amir Schlezinger, Director of My Landscapes, explains that this modern courtyard was designed after a basement extension, which had reduced the plot's size.
But, even a small space can have masses of greenery with the use of a totally on-trend living wall. This 5m version includes strip lighting which not only elevates the feature further, it also helps to illuminate the plot without taking up floorspace. The tile motif inserts add an extra contemporary vibe.
The bespoke fireplace with its sleek lines boosts the ambience, making it an ideal place to relax even on chillier days.
It goes to show that you can make your garden feel modern, even if it's miniature!
3. Embrace minimalism
Sometimes the easiest way to make a garden feel modern is to think minimal. It's a fuss-free approach, but often leads to show-stopping results.
So pare back your planting and instead, pay attention to materials. By mixing natural textures such as wood and stone in a neutral palette, you can create all-year interest that evokes a zen-like mood.
The addition of simple-shaped furniture will provide somewhere comfy yet stylish to sit and take in the view. And, if it suits your style, you can accent the look with pops of colour, as seen above.
4. Create an indoor-outdoor feel
This courtyard was designed for the ultimate outdoor lifestyle for a young couple, explains Amir Schlezinger, Director of My Landscapes. It includes a stunning hardwood deck, outdoor oven, and architectural planting that is uplit for a dramatic look.
Recreate the vibe by investing in outdoor furniture that wouldn't look out of place in your living room – think coffee table, sofas, one of these best outdoor rugs, the lot. Your garden will instantly feel modern and totally tempting to enjoy as an extension of your home.
Take a look at our outdoor living space ideas for more inspiration.
5. Balance soft planting with hard lines
If you're a true plant lover but want to make your garden feel more modern, you don't need to ditch the greenery.
This sumptuous mound of planting zings with colour and life. With the likes of Geranium, Euphorbia, rosemary and ornamental grass, it's layered with contrasting textures.
However, by using a pared-back palette of predominantly green tones with the odd burst of white or purple, the look feels modern and considered, rather than wild. And the way that it contrasts with the surrounding lines and harder materials only adds to the contemporary look.
If you're tempted by this scene, why not take a look at our guide on how to grow ornamental grasses? They're the ultimate choice for low-maintenance yet dramatic planting.
6. Go bold with colour
For a modern garden, you really can go bold. It's all about being fuss-free and confident in your decisions. So, why not take a leaf out of Woodhouse and Law's book and paint a feature wall in a shocking pink (or whatever other colour you fancy?).
It will instantly lift your plot and add a wow-factor. Pair with peppy furniture in a contrasting colour to finish the scene – take a look at our best bistro sets for ideas.
7. Get creative with canopies
You can find all sorts of over-heard canopies available, from parasols and shade sails to gazebos or one of our pergola ideas.
But to make your garden feel modern, consider your choice carefully. It's a great time to get creative and add a feature that not only provides shelter and privacy, but also a sculptural statement.
This design above is exactly that. With it's industrial aesthetic and angular lines, it wouldn't look out of place in an art gallery – but we bet it's super weather resistant too. You'd most likely need to commission one to be built bespoke, but if it looks like the example above, we reckon it would be worth the investment.
8. Cosy up your courtyard
A modern, stripped-back courtyard needn't feel unwelcoming. For even urban materials and pared-back decking can be cosied up with one of the best fire pits and the addition of a potted plant or two.
Opt for a minimal design and you've got yourself a stunning modern space to relax and entertain in.
9. Add a statement water feature
If you think a water feature can feel stuffy, then it's time to reconsider. Water in a garden will only add to the overall sensory experience and can look stunning when done in a contemporary way.
Amir Schlezinger, Director of My Landscapes, explains how the tiered, stainless steel waterfall in this small walled courtyard completes the lush planting, which is made up of ferns, bamboo and New Zealand flax. We love its clean lines and modern look.
Take a look at our water feature ideas for more inspiration.
10. Or add a narrow pond
If your plot is on the larger side, a great way to make it feel modern is to add a long strip of water, as shown above. Not only is it a contemporary way to divide the space into separate rooms, it will also be a beautiful feature in itself.
Keep its surrounding surfaces fuss-free with straight lines and soft planting. It will add a calming presence to any contemporary garden.
11. Don't forget the lighting
'We like to use soft (preferably dimmable), warm lighting to create atmosphere in our contemporary gardens,' says garden designer Jonathan Martin of Living Gardens. 'We often use underlit floating hardwood benches, which draw your eye to the seating area.'
'We prefer the subtlety of spiked uplighters in the planting, which can be used to illuminate a beautiful specimen, modern sculpture or small tree. We also use downlighting for wall lights to create ambience,' Jonathan adds.
'Lighting can be carefully positioned to lead to a focal fire feature or gathering area, creating a journey of light on temperate evenings.'
Don't forget to check out our garden lighting ideas for more inspiration.
What materials can I use for a modern garden?
There's a wide selection of materials you can use to make your garden feel modern:
Go for straight lines, geometric patterns, and natural textures such as stone and wood.
Metal can also be used. For instance, Corten steel is a popular choice amongst many garden designers for edging borders and paths (take a look at our modern edging ideas to see why).
Paving also offers a fuss-free, sturdy ground cover and looks stunning in natural sandstone or jumbo-porcelain tiles – we have lots more advice on our modern paving ideas guide.
Decking is a great way to separate a seating area from the rest of the plot. We have plenty of decking ideas to get you inspired.
When it comes to planting, think structural. Ornamental trees in pots, soft grasses, evergreen shrubs clipped into globes, bright purple alliums, hosta with its wonderful foliage for shady spots, and Echinacea are all good choices. Jonathan Martin from Living Gardens also suggests potted succulents – they look particularly good in concrete and stone planters. You can find out how to grow succulents in our guide.
How can I make my garden feel modern on a budget?
Garden designer Jonathan Martin of Living Gardens has the following advice on how to make a garden feel modern on a budget: 'Render and painting is a great option to achieve a bright smooth finish on old walls, as long as they are in sound condition.' He suggests to sand and oil hardwood decks and benches for another way to quickly bring your garden up to date.
'Subtle colour changes are very effective for this, for example, recent trends have moved away from beige-based to greyer whites. Introducing a bold colour that speaks to you and your emerging tastes can also give your garden an instant refresh,' Jonathan adds.
'Affordable elements like painted small square trellis can also be used to introduce new colours and shapes to your design.'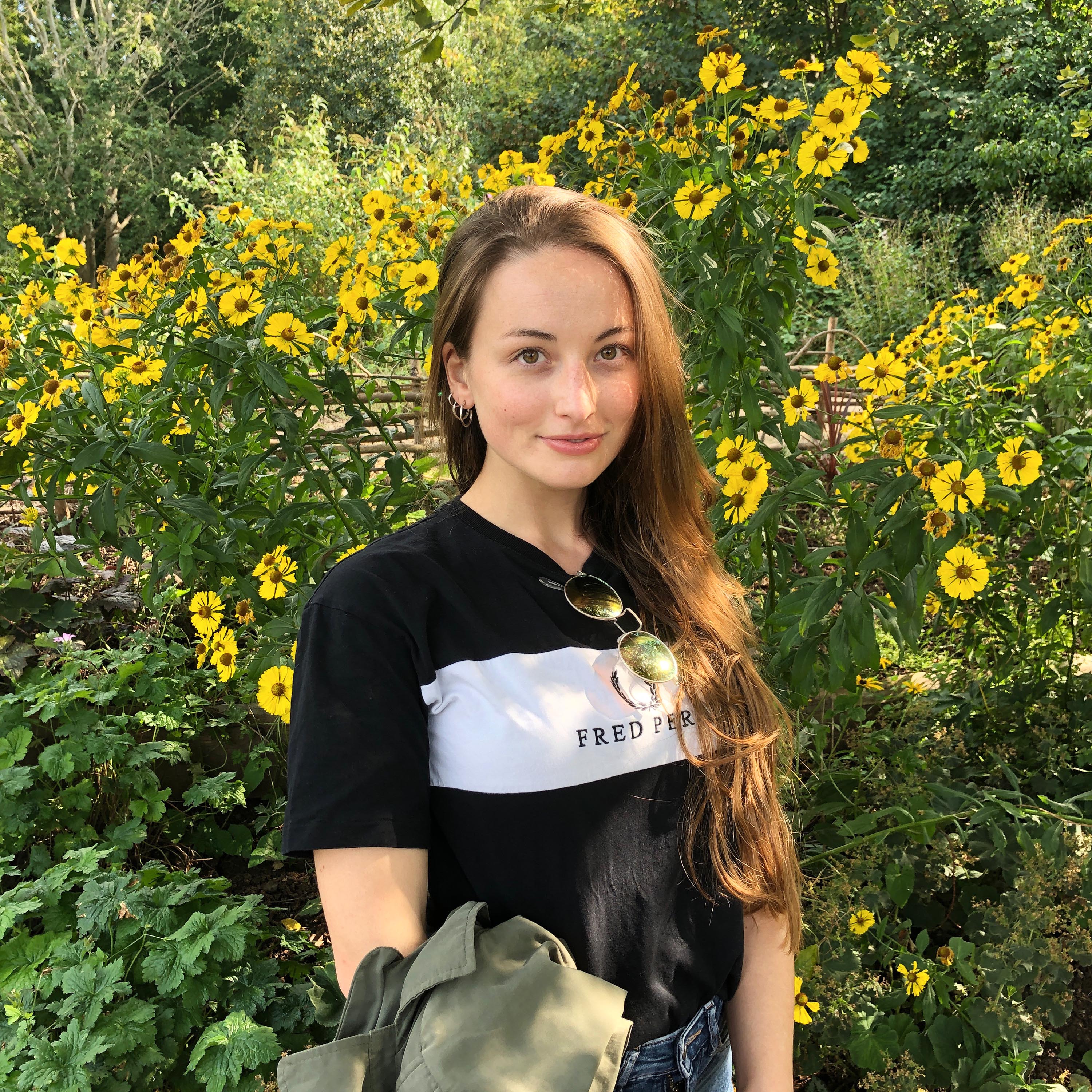 The garden was always a big part of Holly's life growing up, as was the surrounding New Forest where she lived. Her appreciation for the great outdoors has only grown since then. She's been an allotment keeper, a professional gardener, and a botanical illustrator – plants are her passion.