Water feature ideas: 10 ways to add wow factor to your garden
The latest water feature ideas will add a contemporary touch to your garden as well as the soothing sound of trickling water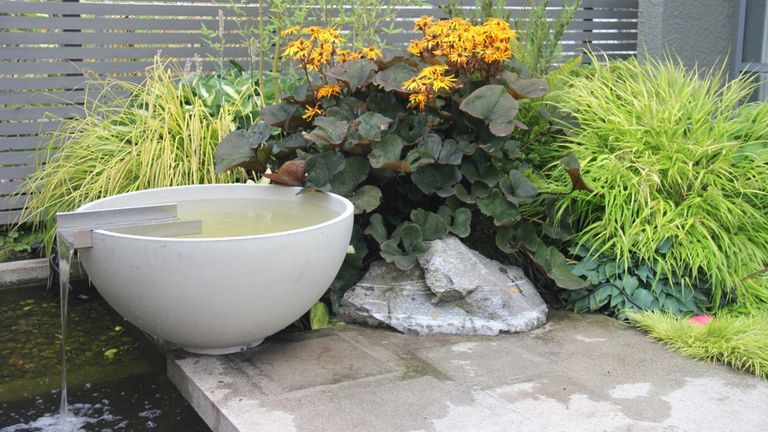 (Image credit: Solus Decor)
On the hunt for the perfect garden water feature ideas? Whether you want to add a simple basin style to your patio, an eye-catching water wall to transform a dull corner or have the space for a full-on wildlife pond, there's a feature to suit every garden style. 
Modern designs work well in urban gardens and are generally maintenance free, but whatever water feature you have in mind it can be a good idea to consider ones that also have integrated lighting as they create a focal point in summer and winter alike. The trickle of water adds a lovely sensory pleasure to your garden, and don't forget you can also use the sound of trickling water to muffle noise from traffic and neighbours if that's an issue. 
Designed with an eco-conscious slant in mind many styles now use recycled water, while the self-contained options don't need complicated rerouting of electricity. All you have to do is top up the water occasionally. You can buy solar-powered models, but if the design you choose features a pump system that moves water around you will need to look at powering it up and get an electrician on board if you don't have an existing supply laid on. Keep reading for our top water feature ideas, then head to our garden design gallery for more inspiration. 
1. Light it up
You can't beat the combination of light and water to create a focal point in the garden in summer and winter alike. Many water feature designs now have integral LEDs, some even come with changing cycles you can control with a remote. This plug-in Stone Sphere water feature from Lights4Fun has a warm white LED that gives the water a magical glow and can be displayed outdoors all year round.
2. Add some zen
A gentle cascade of water will add tranquillity to your outdoor space, creating a soothing backdrop that's perfect for unwinding at the end of the day. This Scupper water bowl from Solus Decor combines a cool reflective pool in smooth, hand cast concrete with a polished metal scupper that channels a cascade of falling water. The concrete and metal combine to create interesting reflections as light plays over their surfaces.
3. Choose a classic style
If your garden is more wild and romantic space than clipped and contemporary courtyard, choose a water feature that adds to this effect. A water tank style looks great and is good for attracting wildlife too. Go for something that looks like it has been sourced from an architectural salvage yard, like this distressed verdigris George & Dragon water tank from The Worm That Turned which even comes with the date 1776 etched on it. Instead of iron it's made of lightweight fibreglass. You would have to get up pretty close to the antique-style detailing to realise it's not the real thing. 
4. Add a modern water wall
Much loved by garden designers at the Chelsea Flower Show, water walls are usually a big ticket feature that doesn't come cheap. They look spectacular as the light casts reflections from the moving water and the soothing sound will add a serene quality to your garden. For a more affordable option, try a self-contained off the shelf version like this Kelkay Symmetry water feature from Dobbies. Simply connect it to a power supply to add a whole new dimension to a forgotten corner of the garden.
5. Go low maintenance 
If you like to keep things simple for a low-maintenance garden, choose a shallow bowl-style water feature that looks good and, even better, requires no input from you. Garden accessories in Corten steel are a real look at the moment and the finish gets even better as it weathers in. This Adezz corten water bowl from Garden House Design works well in both modern and country gardens and is available in six different sizes, so there's one to suit every space.
6. Introduce a quirky touch
Positioning a water feature on a wall adds some real wow factor. If you pair a fountain or water spout with a pool surround it has even more impact, especially if it's on a patio or near a seating area as the sound of running water will enhance your sense of relaxation. When it comes to choosing a water feature it's also about personal style. Decide if you want a classical or contemporary look. Or go for something offbeat like this Gekko water fountain from Haddonstone. 
7. Pick something edgy
If you want to make a real focal point choose a water feature that incorporates some distinctive styling to give things an edge. With its cool sculpted lines this Outdoor Spriral LED water feature in granite from Charlton Island wouldn't look out of place in a gallery. The spiral shape neatly wraps round the water shower for a modern and contemporary look that would work really well in a courtyard or patio area.
8. Get some urban cool
If a water feature is positioned near an area where you relax such as a patio it's important to choose one with sound effects that you like. Do you find the trickle of water creates a particular style soothing? Or might it eventually get on your nerves? Many companies now include a video of the sound effects on their website so you can listen in and don't even have to leave your sofa to make your choice. One that passes the test for us is this Adezz Aluminium Water Table from Garden House Design. 
9. Choose an elegant pond
A traditional garden pond creates a focal point in your garden that will be loved by all and the local wildlife will appreciate it too. The water will mirror the movement of branches and clouds to add a reflective element that is calming, while birds will like to splash in it. A round shape adds a classic detail to your garden design that always looks smart. Square and rectangular designs work well too.
10. Recreate a Mediterranean vibe
While you probably don't have any plans to visit the Med any time soon you can do the next best thing by pretending. Add the soothing sounds of an Italian courtyard to your own garden with a classically inspired fountain, the perfect soundtrack to an afternoon on the sun lounger. Choose an easy-to-install, low-maintenance option such as this Romanesque Fountain from Haddonstone in cast stone to create an elegant focal point. It comes with a pedestal too if you want to ramp up the grand factor. Just add Prosecco.
More to read: