Paving ideas: 24 beautiful looks for your patio or paths
Whether you want a new walkway or a chic outdoor living zone, our edit of paving ideas is sure to inspire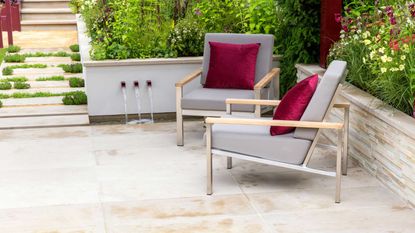 (Image credit: A Garden/Alamy Stock Photo)
We spend a lot of time choosing indoor flooring, so it makes sense to give outdoor paving ideas the same amount of attention. But, with so many designs available to choose from, it can be tricky to know where to start.
There are several things to consider. First, you need to ensure the tiles you choose are suitable for all weathers and won't crack after the first frost. Second, you need to think about the color and size of tiles, which will hopefully allow you to start narrowing down your selection. And as well as making sure your paving complements your other landscaping ideas, you may want to choose a style that ties in with your interior. This will help to create a cohesive feel from inside to out (essential for that indoor-outdoor flow).
To stop you from feeling overwhelmed by the options, we've put together our favorite paving ideas. We've looked beyond the usual gray square grids to give you a range of shapes, sizes and textures, so you're sure to find something that will work with your garden's style.
24 beautiful paving ideas to recreate in your backyard
Whatever look you're going for, we've got the paving ideas to suit, from modern styles to traditional designs.
1. Source close to home
Buying pavers that use stone imported from developing countries is not a green choice. The environmental cost of imported stone is high, particularly the amount of energy used to transport the stone halfway across the globe to our gardens.
So, consider the alternatives when planning a new patio or pathway and source locally wherever possible. And if you do decide on Indian sandstone or Chinese slate, try to make sure you buy your materials sustainably from an ethical importer.
You can find more eco paving tips in our guide.
2. Intersperse paving with plenty of greenery
Adding planting to your hard landscaping scheme is a great way to demonstrate a greener approach to garden design. It's good for attracting wildlife and gives a plot a more naturalistic look whilst offering an additional layer of color and texture.
You could install larger pockets of planting into the layout of your paved area. Or, space out your pavers to create more of a stepping stone effect, with plants nestled in the gaps as shown here.
Sedums and thyme are two good, hardy choices. Our best ground cover plants guide has other pretty picks to choose from.
3. Or, keep it neat with a strip of green
For a more orderly and unmistakably modern look, create a simple strip of greenery that runs across your patio. It makes a gorgeous accent to this show garden, adding a splash of vibrancy against the paving in a stylish dining zone.
Soleirolia soleirolii (otherwise known as mind-your-own-business) is a fantastic choice for this with its fresh green color and low-maintenance nature. Just keep it away from your lawn, however, where it can become invasive.
4. Opt for sustainable natural stone paving
Natural stone paving is quarried directly from the earth so there are no man-made materials involved. The extraction process is also low on toxic chemicals, which boosts its green credentials. It looks great too, adding a lovely rustic touch to patios or garden paths.
It's important to check that the natural stone you choose is quarried in a sustainable fashion though, so choose a supplier who ticks the eco box.
5. Create patios across levels
Paving can be used across levels to create a series of garden 'rooms'. The pavers don't necessarily have to match, but if you use a similar style throughout your plot you'll create a sense of cohesion.
This impressive garden uses large pavers in an understated, cool gray. They look beautiful against the modern exterior of the home and balance the textural walls out well.
There are plenty of tiered garden ideas in our feature, should you need more inspiration.
6. Use beige tones for a warm look
A great place to start when choosing new paving for your garden is the color. If you prefer a slightly more classic feel, opt for a style with warming undertones of yellows and oranges, like this porcelain paving.
The color will soften a contemporary scheme and work well with furniture made from natural materials – think wood and rattan – to complete the look.
You can find more advice on garden color schemes in our guide.
7. Go large-format for instant impact
Love an ultra-contemporary finish? Extra-large paving slabs make a statement in a garden, and their sleek appearance makes them the perfect accompaniment to pared-back seating and minimalist planting.
You can use them as you would any other sized paving, but we love the above suggestion – a stepping-stone-esque design that makes a real feature out of these porcelain tiles.
Why not finish your makeover with some beautiful new furniture? Our best garden furniture buying guide is a great place to start your search.
8. Create a decorative design
If you adore patterned tiles and have them inside your home, there's no reason why you can't follow the theme through to your exterior too.
These ones are made from porcelain and are non-porous and stain resistant so they're suitable for outdoor use. Find a range that includes different complementary designs – that way you can mix and match to create a unique look. Opting for a more subtle monochrome colorway means the pattern won't be overly dominant in your space.
9. Dare to go dark and make a statement
If you're after modern garden ideas, this is a winning approach. We know a dark colorway can feel a bit of a risky move, but trust us: darker shades in a contemporary garden scheme look amazing.
These slabs have been used to create a clean, sharp base for an architectural garden, with the sleek edges of the built-in planters, seating and fencing complementing the flooring. Plus, darker shades make for an eye-catching contrast with light furniture and lush green planting, so you're sure to make an impact with this choice.
10. Experiment with shapes for a unique finish
Paving doesn't have to be the ordinary square grids you're used to. This garden, belonging to interiors stylist Maxine Brady, is a case in point.
Inspired by the patterned tiles in Marrakech but worried about the slip-hazard in the drizzly English weather, she opted for bespoke hexagonal granite paving. Paired with potted plants and light blue accents, it's the perfect hint of pattern for her space.
11. Cheat a natural look with wood-effect tiles
Love the look of a wooden floor and want to replicate it in your garden? The good news is that you can! Wood-effect outdoor tiles are on the rise, and this design is particularly sophisticated.
You can lay them in the same direction, sure, but we like the way these are styled to create a pared-down pattern. If your garden feels a little flat, opting for faux timber is a great way to add texture.
12. Use patterned tiles to zone a space
Want something a little more understated for your paving ideas? For those of you who like a chic look with just a subtle hint of pattern to add a touch of interest, check out these tiles.
You can mix and match with plain tiles so you can have as little or as much pattern as you like – it's really versatile. And, it's ideal if you want to use pattern to zone an area, for instance, for your outdoor dining ideas.
13. Go for an eye-catching checkerboard design
Stone isn't your only option when it comes to paving, and venturing into the patterned tile market opens up a wealth of style opportunities.
For those who want to play it safe(ish), these three-color checkerboard tiles are a great place to start – they still have the feel of traditional square paving but with a twist.
Dare to go bold for your patio ideas? Traditional patterned Victorian tiles look elegant, sophisticated and ultra stylish.
14. Make your indoor-outdoor spaces flow
If you've recently completed an extension or have a rear room that opens out to your patio through bi-fold doors, consider using the same or similar outdoor flooring to those indoors for a seamless finish.
Your outdoor tiles will need to be slip-proof and weather-resistant, but many suppliers offer indoor and outdoor versions of the same design for ease.
15. Enjoy Mediterranean style in your own back garden
Dreaming of jetting off somewhere warm and sunny? Save on the air miles and add a splash of Mediterranean style to your garden by using terracotta for your paving ideas.
Not only is it instantly warming, but it also complements all kinds of looks, whether your furniture and planting are ultra-modern or a little more traditional.
You can find more Mediterranean garden ideas to inspire you in our feature.
16. Go for a luxe look
Nothing screams luxury more than marble tiles and they work just as well outdoors as they do in kitchens and bathrooms. That beautiful veining and uber stylish look are visually stunning, but, let's be honest, we can't all afford the real deal.
The great news is there are plenty of realistic lookalikes available, such as these. Designed to replicate genuine Italian white marble, they have all the appeal of the real thing but at a much lower cost.
You can find more modern paving ideas in our guide.
17. Mimic decking
Love the idea of having a decked terrace but don't want any of the associated maintenance? With a porcelain wood-effect tile, you get all the warmth of natural wood without the required upkeep. Plus, it will retain its color and won't change over time, unlike natural wood.
Look for a design that has indoor and outdoor versions of the same tile so you can use it in the house and out in the garden, visually extending the feeling of space.
Already have your heart set on decking? No problem, we've got some great looks to inspire you in our decking ideas feature.
18. Fill in the gaps with gravel
Create a stepping-stone effect and add interest to plain tiles by separating them and filling the surrounding area with light-colored gravel or a mix of small stones.
It's a super-modern look that can be used to create a border around tiles or, as in this look, a pathway out into the garden.
Our garden path ideas feature has more stylish ways to get from A to B.
19. Soften the scheme with ornamental grasses
Dotting ornamental grasses throughout your paved space will add an architectural twist to your garden.
We love the layout and variety of widths of this natural stone plank paving too, whilst the gentle curve helps to draw the eye to the seating area.
Meanwhile, plenty of lush greenery on either side and artfully positioned rocks enhance the naturalistic vibe. Want more landscaping ideas with rocks? Our guide has plenty.
20. Choose a textured effect
Want to steer clear of pattern completely? Textured-effect tiles are a great alternative for adding interest to a patio.
These ones are made from thick porcelain with a quartzite effect that shows directional veining. They are ideal for a patio space that needs a bit of warmth, which is exactly what these offer with the natural beige colors that flow through each tile.
21. Opt for permeable paving
Not factoring in drainage is a common landscaping mistake and can lead to flooding and damage to your property. A solution? Permeable paving.
It doesn't just look good, it's also beneficial to the environment and is ideal for paths and driveways. The porous nature means that rainwater can easily soak into the ground, which reduces the risk of flash flooding in your yard. What's more, it also helps to filter out pollutants.
As an alternative to permeable paving, you can opt for recycled plastic moulds filled with resin bonded gravel. Or, opt for just gravel as it is – our garden gravel ideas feature has lots of stunning looks.
22. Mix your materials for a bespoke look
There's no rule about sticking to one type of tile, so have fun with your patio and mix up different paving ideas for a truly individual look.
This patio uses a mix of gray square slabs and red brick in a herringbone pattern for a rustic feel, and we're in love with the result, especially when combined with the pergola overhead.
It's a great technique to try if you're curious about incorporating patterned tiles into your garden design but don't want to commit to an entirely patterned patio. Just tile over one section and finish off the rest of the space with a plain design.
23. Add a rustic touch
Digital printing technology has improved to such an extent that it's now even harder to tell the difference between real and faux paving.
With multiple color variations and a textured finish, these slate-effect tiles look like the real deal but they're actually a faux-slate porcelain tile. The warmth and depth of color would create a striking backdrop, while the large format design is ideal for increasing the feeling of space on a small patio.
You can find more small garden ideas in our guide.
24. Get creative with paint
You've painted your fence, updated your brickwork, and maybe even dabbled in upcycling a piece of outdoor furniture or two – but have you considered painting your paving?
It's an affordable update that can rescue a tired-looking but structurally sound patio with a bit of creative effort. Here, masonry paint has been used to add dabs of color over a white base creating a terrazzo design. It was then finished with a water seal to protect it from the elements.
Looking for more cheap landscaping ideas? Our guide has lots of suggestions.
What is the best type of paving to use?
'Porcelain pavers have become increasingly popular in recent years and given their qualities, it is not difficult to see why,' says Jo Oliver, Director of The Stone & Ceramic Warehouse. 'They are very hard-wearing and are virtually maintenance-free, making them the ideal solution for modern-day living. Unlike natural stone, which eventually succumbs to the elements, porcelain pavers are frost, stain, slip and fade-resistant; making them a practical choice that will look good year after year, with minimal effort.'
Mike Head, Managing Director of Atlas Ceramics adds, 'Aside from their durability, the best thing about [porcelain] outdoor tiles is how much variety there is to choose between when designing your garden. They come in a range of finishes including matte, stone effect, patterned, marbled and textured. This makes it easy to tailor your paving design to your taste and desired effect giving you total creative freedom.'
But, if you don't fancy porcelain pavers, you also have concrete or natural stone options. Concrete is 'man-made, produced by mixing cement with aggregates and pigments, where it's then either pressed or moulded to form a paving slab,' explains Cass Heaphy of Paving Direct. 'The curing process that bonds the materials together can take many months and years to complete, even though the slab appears to be completely hard after 3–4 weeks. Concrete paving is the weakest of the three paving materials, and consequently the slabs will be thicker to give them additional strength.'
Natural stone is quarried from the ground and then hewn, cut and processed for the desired size and finish, continues Cass. 'Natural stone paving offers its owners a unique product, as each stone slab is one-of-a-kind. Not only is there variation in aesthetics between each slab, but there are also significant differences between the types of stone too – both in the look and feel, and also their technical performance – largely related to their relative density and porosity. Natural stone is in the middle when it comes to strength and its thickness will be hewn or calibrated accordingly.'
In terms of maintenance, Cass rates porcelain pavers as the easiest to care for, so they are a good choice if you're looking for low maintenance garden ideas. 'The only real issue could be tannin staining from fallen leaves which might require a specialist cleaning product,' he says.
Natural stone is in second place, with granite and slate being the easiest to look after. Concrete comes last due to its high porosity and weaker surface strength. Cass recommends sealing it to protect it.
What is the best natural stone paving?
'Natural stone paving has been around for thousands of years,' says Pol Bishop, a gardening expert for Fantastic Gardeners. 'It is very durable and able to last for years if it is of good quality. Natural stone's colors have been produced by the earth and not by a man-made process, hence the reason why their colors are extremely difficult to be replicated.'
There are four main types of natural stone paving, Pol explains: granite, slate, sandstone and limestone.
Indian Sandstone
Indian sandstone is 'one of the most popular imported materials available on the market,' says Pol. This is partly because of the huge variety of colors and finishes available.
'Sandstones are composed of tiny grains which are held together by a cementitious material, which usually consists of silicon. It's the silicon "cement" that determines the durability of the material,' he adds.
It's easy to work with, durable, and easy to clean, but can fade due to bad weather if not properly maintained, says Pol.
Limestone
Limestone is formed from small grains naturally found under the earth, similar to sandstone, as explains Pol. 'The cementitious material that binds the grains together under pressure is a mixture of silicone and lime rather than entirely silicon, which creates the difference between textures and colors.'
It's easy to cut and work with, explains Pol, and comes in even color tones which is useful should you wish to create a uniform look. The texture is extremely fine, which results in a distinctive, soft-looking finish and a smoother surface, he adds. On the downside, the color palette is somewhat limited, and it is susceptible to fading.
Why not bring some smart garden edging ideas into your outdoor makeover plans? Our guide has plenty of inspo.
Granite
Granite is considered to be one of the most durable paving options, says Pol. The surface of granite slabs comes in different colors and finishes from white to black.
Granite also cuts incredibly cleanly because of its toughness, Pol continues. And, it has the lowest porosity of all other natural paving slabs. 'It's also very thermally stable and it doesn't change with temperature,' he adds. And, it's easy to keep clean. However, the slabs are very heavy, making the task of laying them labor intensive.
Slate
'The colors of slate paving slabs are beautiful and subtle,' says Pol. 'Slate is a bit different compared to limestone and sandstone. Both limestone and sandstone are sedimentary stones formed in grains, while slate is a metamorphic stone formed in layers.'
It benefits from having a low water-absorption rate, and its beautiful color doesn't fade as fast as limestone. It's also a durable option. It can, however, be difficult to install if you don't buy the correct stuff, as Pol says, and 'if affected by weather, the layers can flake off, which creates pits for water to pool.'
How much does paving cost?
Weighing up the costs of landscaping is always an important step in planning a new garden makeover. When it comes to paving, 'historically, concrete paving was the cheapest option,' says Cass Heaphy of Paving Direct.
'Then, global trade allowed low-cost importation of natural stone from the likes of China and India, creating a large market in the last 30 years for the likes of Indian sandstone in the UK. Recent disruption to the global supply chain from Covid-19 has seen natural stone prices rise again, as shipping costs increase dramatically. This has equalized prices, bringing all three types of paving into a closer range.
'Be aware though, if the price of paving looks too good to be true, it often is, because it's not the same quality of stone,' Cass continues. 'This can occur when the seller has sourced the stone from lower quality quarries or taken out shallower seams of rock. These shallow seams and lower quality quarries have stone that is softer and more brittle. Often the stone will appear the same, but your stone paving will have a shorter life. It will likely see more delamination, abrasions and cracking, as this cheaper stone is weaker.
'The same approach should be taken with concrete paving and porcelain paving too,' Cass says. 'These are both manufactured products, so if prices seem much lower, it's likely there has been cost-saving introduced in the manufacturing process, and they could be of lower quality.'
Don't forget about the costs of installation, as well. 'The key to keeping costs down is finding a good installer, with a good reputation and proven track record who knows what they are doing,' says Cass. 'Pay a little more to get the right installer – it will probably save you money as there will be no mishaps or errors to put right, and experts tend to work efficiently to their schedule too.'
After a stint writing for true life titles, Ellen made her venture into the world of interiors magazines in 2017 on Real Homes magazine where she is now deputy editor. She's a fan of clever tips and tricks for renters, and has a special interest in sustainability in the home. While she's waiting for a garden to call her own, Ellen keeps herself busy with her collection of houseplants – 28 at the time of writing, but ever-growing. She also enjoys helping out at her grandad's allotment and has made friends with the local cat along the way.