How to clean a patio: get your seating area and pathways ready for warmer weather with our advice
Follow our step-by-step tips on how to clean a patio – it's a simple way to transform any outdoor space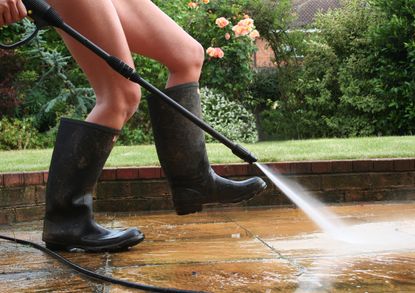 (Image credit: Getty Images)
Once you know how to clean a patio, you'll realise just how simple it is. In fact, it's one of the easiest ways to give your garden an invigorating lift and make it feel more welcoming.
Patios are a fabulous addition to a plot. They need much less maintenance than lawns, they last for years, and they provide a practical surface for what is often the epicentre of a garden. What's more, they can be decked out with tons of gorgeous lighting, seating and accessories – take a look at our patio ideas for inspiration. And, they can be a feature in themselves, as our modern paving ideas show.
To keep them in tip-top condition, all they need is a thorough clean a couple of times a year. The best way to do so depends on how dirty is it. For just a bit of grime, cleaning with soapy water or white vinegar can be all it takes to get your patio looking shipshape, and we've got the tips on how to do so below.
But if your patio's gotten so grubby that you can't remember what colour it used to be, don't worry – just follow our advice for using the best patio cleaner or even a pressure washer. Just make sure that, whichever cleaning method you choose, you clear any furniture or pots out of the way before you start so you've got an empty surface to work with.
How to clean a patio with soapy water
If your patio is relatively new or is cleaned regularly, then soapy water should be enough to get it clean.
Mix warm water with a tablespoon of washing-up liquid in a bucket.
Pour it onto the patio and use a stiff brush or broom to give it a scrub before rinsing with clean water.
Good ol' soapy water is a wonderful and affordable cleaning solution for lots of things in the garden. All you need to add is a bit of elbow grease to tackle the dirt.
It's good for cleaning garden tables and chairs too – head over to our guide on how to clean outdoor furniture.
How to clean a patio with white vinegar
Although vinegar is eco-friendly, bear in mind that it's acidic, so make sure you move any furniture or pots before you start, to prevent staining.
Make up a 50:50 solution of water and white vinegar, and then apply it to the paving. A watering can with a rose head attached will mean you get an even coverage.
Leave the solution to soak in for around 20 minutes, then use a stiff brush to remove stains.
Once you're done, rinse off with clean water.
This budget-friendly method is perfect for tackling set-in stains, without the need for a pressure washer. On the lookout for more budget garden ideas to elevate your plot? Head over to our guide.
How to clean a patio with a pressure washer
Before you start, make sure you're protected. Even if you're using the best pressure washer it can be a messy business, so pop on some old clothes and goggles to protect your eyes from flying debris.
Connect your hose and ensure that water is running freely and flowing through the machine before you begin, to remove any air locks, says the team at Homebase. They advise that the hose should be a minimum of 7.5m in length and ½ inch thick. And to ensure an uninterrupted flow, make sure your hose reel (if using one) is fully unwound and free of kinks.
If you have one, attach your patio-cleaning head to your pressure washer. This looks like a large circle and makes quick work of cleaning a big area, so use it when you clean your drive, too.
If you don't have a patio-cleaning head, start on a low-pressure setting and concentrate on cleaning the surface of each slab individually.
Then, working quickly, use the jet to spray along the grout. Don't use too much pressure or concentrate on one area for too long as this might damage it.
'One of the most common uses for a pressure washer is to clean the patio,' says Paul Hicks, Product and Marketing Manager at STIHL. 'It can definitely transform an area by removing any ingrained dirt.'
But before you get cracking, he offers some extra advice: 'Spraying on a cleaning detergent such as stone and facade cleaner before pressure washing can help remove tougher green growth and grime'. This will help return the stones to their original colour and give an extra shine to your patio, he says.
However, as with all pressure washer jobs, Paul advises that care must be taken when operating. This is particularly the case if your patio or drive uses sand between the stones, as a pressure washer could potentially blast the sand away. 'In this case, make sure you replace the sand as soon as you possibly can to ensure the structure of the patio isn't impacted,' he says.
How to use a dedicated patio cleaner
If your patio is really dirty, you might need to use a dedicated patio cleaning liquid. These formulas can often be used on decking, sheds and fences, too, so are perfect for giving the whole garden a clean.
Most patio cleaners need to be diluted with water. Some come in a bottle that attaches directly to your garden hose and then sprays out in the correct concentration. Alternatively, mix the solution in a watering can, attach a rose head and apply to the area.
Most patio cleaners need to be left on the surface, not rinsed off, and work their magic over a course of 2-3 days.
Always check before you buy to make sure your chosen patio cleaner is safe to use if you have young children or pets. For more advice for keeping them safe, check out our guides on how to design a child friendly garden, and also our advice on the most poisonous plants for dogs.
When should you clean a patio?
Spring is the perfect time to clean your patio, to get rid of all the dirt and grime that's accumulated over winter. Plus, with the warmer weather, it can be a rather enjoyable way to spend a Sunday afternoon.
And once your patio is looking spick and span, why not turn your hand to some of our spring garden ideas to give your plot an extra boost? You might even feel tempted to adorn your newly clean terrace, courtyard or seating area with some colourful garden furniture ideas, too.
It's also a good idea to give your patio a deep clean in autumn, before winter weather arrives. A top tip to bear in mind whilst doing so is to check the condition of the grout. If you can see cracks, chisel out and replace it before the frost sets in and makes the cracks any worse.
Laura has been writing about homes and gardens for 14 years. She started out as a newspaper reporter, then was editor of a regional magazine, and editorial manager for a travel company. She started at Real Homes magazine in 2015 as Deputy Editor and then become Editor before taking on her current position, which focuses on video and events.