How to design a child friendly garden: make your plot a safe space ready for action-packed fun
Are you wondering how to design a child friendly garden? Look no further! From planting advice to what materials to use, we've got all the expert tips you'll need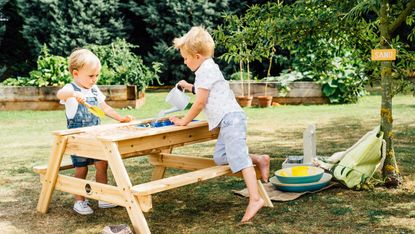 (Image credit: Plum Play)
If you're wondering how to design a child friendly garden, then you've come to the right place. After-all, it might feel straightforward to design a plot that you'll love, but if you've got little ones, it's important that it's right for them, too.
A child friendly garden doesn't mean you need to cram it with every toy imaginable, either. The top priorities are safety, as well as offering space to let imaginations run wild. Sometimes a raised bed, a potted sunflower, a wilder patch of grass and a bit of creativity can be all it takes for kids to have a jolly good time out in the fresh air.
Our garden activities for kids might have you inspired already, but when it comes down to the actual design, we're here to help. From kid-friendly materials to awesome play equipment that won't be an eyesore – read on to find out more.
1. Work with zones
Matt Jackson, landscaping consultant of Land and Heritage, shares his expert advice on the The Middlesized Garden. He says, 'Most adults want an area for themselves, and an area for children – particularly the play equipment.'
But he suggests to zone your space with safety in mind. 'Think about it in concentric rings radiating from the house. The first area should be the safest – close to the house, where you can see very young children clearly, even if you aren't outside with them. Half of our garden is fenced, keeping the stream and steep sections out of bounds, allowing for slightly hands-off supervision.'
Matt suggests that near the house may be the best area for your favourite plants and other showy features – but allow your children to share the space. 'It may not seem like it at the time, but the toddler stage doesn't last very long. A few years of toys all over the terrace will pass very quickly.'
Lee Burkhill, multi-award-winning garden designer of Garden Ninja, also uses zoning in his child friendly garden designs – incorporating relaxing areas for adults and teenagers, too. But, he stresses the importance of not over-stylising a garden, which can make it feel overly exclusive to adults. And, throughout the plot, remember to pick plants that won't mind being hit with the occasional football or two!
Garden designer Jonathan Martin of Living Gardens has this advice too. 'A Wendy house, playhouse or den are all fantastic options, and can be especially helpful for sharing space with kids in small gardens.' Take a look at the image above for an example. 'You can even involve your children in creating natural tipis!' he adds. 'Stepping stones leading to these features are especially fun for younger children, and can create a beautiful journey that will make your design cohesive.'
2. Keep it simple to encourage authentic play
'Most people are used to seeing the swing set of a massive jungle gym as the only way to keep children entertained. However, a better way to create entertainment is through more subtle approaches,' says Lee Burkhill of Garden Ninja.
His ideas include creating a path through the borders made with cross-sections of logs, to encourage a sense of adventure through the garden. He also uses adds playful elements to more grown-up garden features – such as monkey bars attached to a pergola walkway. And rather than a swing set, 'why not hang a rope from an existing tree with a tyre on it? Then it's a swing, a seat and a secret spy window all in one!'
Matt Jackson, writing for The Middlesized Garden blog, also says that it's good to relax expectations. He explains how an empty space caused by clearing a lavender border was immediately adopted by his three-year-old as a 'great new place to dig for mud pie ingredients'! We're not suggesting to go out and dig a trench for your kids to play in – but it does go to show that kids can find fun and adventure in very simple things.
3. Add shallow water features for paddling
Garden designer Tom Howard of Tom Howard Garden Design has great advice regarding water in the garden. Rather than a paddling pool (annoying to store, and not the prettiest garden item in the world), why not opt for a shallow water feature pool?
He says that not only does it look good, but also kids will have tons of fun splashing around in it. His design shown above is an excellent example.
Of course, remember to supervise young children or non-swimmers around water for safety reasons.
4. Get kids excited to grow
Growing your own veg and flowers is a fascinating process for people of all ages, and that includes the kids. Speaking from experience, growing a simple sunflower as a kid was utterly magical – especially if it grew taller than my brothers! So, when you're designing your child friendly garden, consider creating a special area where they can enjoy their own green-fingered efforts.
This could be raised beds, a part of the border, a few pots on the patio, or even one of these nifty grow tables made especially for children.
Jonathan Martin of Living Gardens says, 'Dedicating a raised bed or pots for your children to tend to their own plants in can inspire a lasting love of nature. These might be suited to a space near to the kitchen where herbs and vegetables can be grown, nurturing an interest in healthy eating too! '
Try lettuces, strawberries, or colourful nasturtiums, and check out our guide on how to grow sunflowers or how to grow tomatoes, too.
5. Look for play equipment that will complement the space
If your kids are adamant on climbing frames, or you fancy elevating their playtime up a notch, then there are plenty of lovely play equipment options available.
The piece above is a part of a wonderful range that is inspired by forest schools. Made of natural materials, each piece aims to inspire active play, imagination, and learning. If you have the space, a treehouse also makes a fabulous option – just take a look at our treehouse ideas for inspiration.
Matt Jackson for The Middlesized Garden also suggests the DIY route, which is 'especially good because the children can join in and have a real sense of ownership.' This could be anything from building a den from sticks and blankets for an afternoon's worth of fun, to creating a more permanent structure out of pallets.
Matt also suggests checking out the local second-hand shop and getting creative with old sideboards, pots, and pans, to create some fun mud kitchen ideas. 'I have yet to see this method be met with disapproval!' he says.
Jonathan Martin of garden design company Living Gardens says, 'If you do decide to include climbing frames, swings or slides, a soft landing area is essential. Grass is best, but there are many good alternatives like recycled rubber matts.'
Don't forget that we've picked out the best climbing frames for you to peruse too.
6. Nurture an interest in nature
Jonathan Martin of Living Gardens says 'Learning to identify plants and pollinators is a key part of the national curriculum for children of all ages.'
He suggests to place an insect hotel, bird bath, and bird feeder nearby the kids' special growing space, which will bring the area to life as well as support the natural world. Kids will love to spot creepy crawlies and learn their names.
You can find out how to make a bug hotel or how to make bird feeders with our guides – older kids might like to get involved in the making process too.
What materials should I use in a child friendly garden?
Pick your materials wisely and watch out for sharp or hard materials, such as jagged rocks, spiked fences, or metal finishes. Natural options often look more aesthetically pleasing than plastic and are kinder to the environment too!
Lee Burkhill of Garden Ninja suggests that timber sleepers are a good choice. They are multifunctional, safe, and soft enough to blend in with many garden areas. 'Their height, when stacked two sleepers high, is tall enough for a toddler to be protected from the border', but can also be used as a seat or perch for growing children and adults, he says.
Materials such as wood chips, turf, and smooth pebbles for a shallow stream can work well. Lee goes on to explain that walls can be also be suitable, but be wary of sharp edges. Check out our garden wall ideas for a dose of inspiration.
Paving can also be tricky. 'Often parents worry that stone will provide a harsh surface for children to play on,' he says. However he does advise to pick your materials depending on your plot's zones, saying that, in his experience, paving still tends to be the best option for seating and pathways as it provides a stable surface for furniture.
Tom Howard from Tom Howard Garden Design says, 'External porcelain is excellent for young families as many have a textured surface making it slip resistant. It is also near impossible to stain, as porcelain is non-permeable so any marks can easily be washed off the surface.' We have lots of paving ideas to get you started.
Although gravel might offer a slightly softer landing than hard stone paving, Lee Burkhill of Garden Ninja says that it often finds its way into young children's mouths! Lee also uses clever tricks such as flat lawn edging, to provide a path for play when the grass is wet.
Tom Howard adds that composite decking is also slightly softer than real wood, 'making it a bit more forgiving if there are any tumbles.' Check out our decking ideas to get inspired.
Matt Jackson gives his tips on The Middlesized Garden: 'Stone and brick are good for riding bikes and trikes, and for all other wheel-related games,' he says. 'Grass and bark chippings are soft to fall on or crawl over.' He suggests against gravel for play areas – no good for bikes and spiky if fallen onto!
Finally, when it comes to steps – 'We recommend round or bullnose edges on steps for child safety, and they look so much better too,' as suggests Jonathan Martin of Living Gardens.
What plants should I use in a child friendly garden?
There are some dos and probably-don'ts when it comes to which plants to use in a child friendly garden. 'Avoid using poisonous plants,' says Jonathan Martin of Living Gardens. 'Especially ones with bright berries that can be tempting to young children such as yew, which is a wonderful structural plant to use otherwise.'
'To provide robust structure, small leaved evergreen plants like box, Ilex crenata and Prunus lusitanica work beautifully with large, silver, strappy leaves of Astelia, or the red and purple tones of Phormium.' Why not take a look at our 10 evergreens that are easy to grow in any garden?
'All of these can be placed to protect your flowering herbaceous plants from the rough and tumble of children playing, flying footballs and remote control trucks,' continues Jonathan. 'For gardens with young children, avoid very prickly plants like Berberis, Pyracantha or rambling roses.'
Lee Burkhill from Garden Ninja has more advice too. 'If your children are likely to eat plants or be left unsupervised in the garden then, of course, you need to consider what plants you're putting in.' Do your research to avoid any nasties – Lee particularly warns against monkshood (otherwise known as wolf's bane). It's a good idea to teach children to not eat anything without checking with an adult first.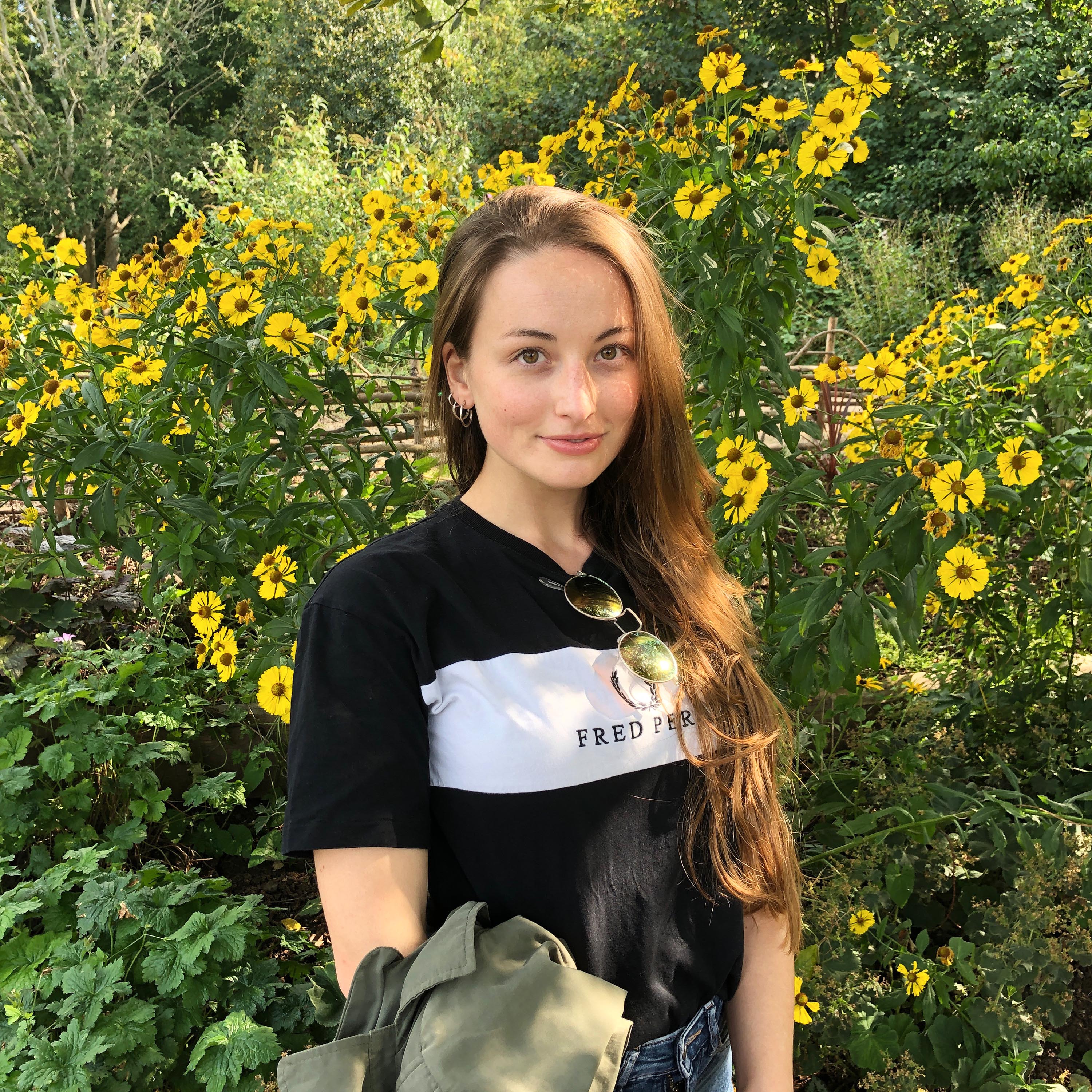 The garden was always a big part of Holly's life growing up, as was the surrounding New Forest where she lived. Her appreciation for the great outdoors has only grown since then. She's been an allotment keeper, a professional gardener, and a botanical illustrator – plants are her passion.