Colourful garden furniture ideas: 14 vibrant ways to brighten up your space
Try these colourful garden furniture ideas and instantly revive a lacklustre plot – from show-stopping sofas to bold bistro sets and more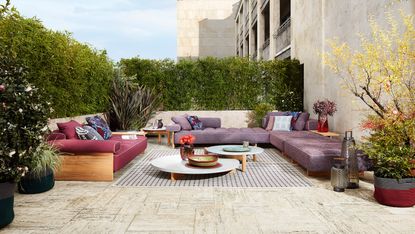 (Image credit: Chaplins Furniture)
Our colourful garden furniture ideas are the perfect solution if your patio is looking a little uninspiring. Opting for a chair, table or outdoor dining set in a vibrant shade can bring a burst of personality to any outdoor space, even on the dullest of days.
You don't have to splash out on a whole new set-up either, if you don't want to. Why not combine a more neutral garden sofa with a couple of inexpensive but colourful chairs to change up your space without having to blow the budget? Or, you could even get creative with a brightly-coloured lick of exterior paint. And even a singular statement piece can breathe new life into a garden.
We've rounded up some of our favourite colourful garden furniture ideas so you can give your outdoor space a boost. So, keep scrolling to get inspired, and don't miss our garden furniture ideas for more beautiful designs.
1. Contrast statement colours against a black backdrop
A simple way to create a statement is to pair the best garden furniture in a range of bright colours with dark backdrops. Here, stand-out hues of red, yellow, orange, and blue come to life against the black fence and pared-back pergola.
The result feels fun, yet also sophisticated and contemporary. Want to try it at home? Take a look at our best exterior wood paint to take your fence over to the dark side.
2. Bring the sunshine to your space with yellow hues
Sunny yellow hues are a surefire way to bring cheer to a garden – as demonstrated by this beautiful seating set-up.
'The bright uplifting tone of yellow works perfectly outdoors, and it can easily be incorporated into any space with just a few simple accessories or pieces of furniture,' says Outdoor Living Buyer at Dobbies, Lynsey Abbott.
'A naturally good fit for the garden, it is rooted in the colour of nature – reminiscent of warm spring days, golden daffodils and cheery sunflowers. Versatile and timeless, it can easily be incorporated into every outdoor space. Whatever the weather, this shade will help to bathe your garden in sunshine!'
Don't forget to check out our guide on how to grow sunflowers for an extra dose of yellow-toned joy.
3. Go for berry-coloured outdoor sofas for a luxe feel
Crushed raspberry, blackcurrant, and mauve-grey accompany one another beautifully and make a lovely choice for outdoor living space ideas.
We love the luxurious, berry-coloured hues in this modular set-up. The plush sofas are inspired from 1950s holiday resorts, so bring a gorgeously retro feel to this courtyard. Add one of our best outdoor rugs, a lantern or two, and a scattering of patterned cushions to finish the look.
4. Use blue around the pool for a blissed-out vibe
If you're lucky enough to have a pool in your garden, a pond, or even one of our water feature ideas, then give this colourful garden furniture idea a try. Azure-blue hues are a perfect pairing to any aquatic feature, and will maximise the soothing vibe.
These gorgeous chairs are stackable too, making them a fabulous addition to our small garden ideas.
5. Mix and match colours
Why stick to just one colour, when you can combine several in your outside space? Choosing tables and chairs in two or three complementary hues is a simple way to liven up a decked dining area or patio.
These folding chairs are available in on-trend shades of terracotta, green and blue. Team them with complementary tables to create a chic French café-style vibe. The best bit? Both the tables and chairs can be folded away when not in use, making them a great choice for small patio ideas and balcony garden ideas.
Want more great buys for small spaces? Check out our best bistro sets.
6. Liven up neutrals with citrus tones
You don't have to go all out with a whole new set-up to introduce colourful garden ideas into your plot. Just a few statement pieces can be all it takes to zing up your seating space, outdoor bar ideas, or patio.
This neon-orange tone lifts the surrounding neutrals, offering a lively energy to the scene. Any citrus colour – think lime green or zesty lemon – is a great choice for an instant boost.
7. Choose one key piece
Short on space and budget? Go for one bold buy to create a striking focal point on your patio. Updating just one key item of garden furniture each year is an easy way to change up your space without blowing the budget every time summer rolls around.
With its curved shape and gorgeous mix of colours (we're loving the blue and mustard combo), this chair certainly won't fade into the background.
8. Match your furniture to your foliage
With tons of overhanging and architectural foliage you can turn any sized plot into your own private jungle. And, just a couple of brightly coloured chairs will add a refreshing, contemporary twist.
These designs are made of a single piece of moulded polyethylene and are as comfortable as they are striking. Juxtaposed against the surrounding, more natural features, they instantly elevate the scene.
9. Update a classic style with colour
Rattan or rope-style furniture is a classic buy for gardens, but choosing one in an unusual colour will make yours stand out from the crowd and give it a more modern edge.
Gorgeous terracotta hues are perfect for creating that holiday vibe at home too – this sofa above has us thinking of sun-drenched getaways in the Med. A colourful buy like this will help transport us to sunnier climes, even if we're only in our own back garden.
10. Reinvent your outdoor furniture with a lick of paint
If you fancy getting creative, why not transform one of your more neutral outdoor pieces into a vibrant delight? All you need to do is give it a lick of paint in your favourite hue. Simply 'updating patio furniture with a pop of colour can make the whole garden feel renewed,' says Ruth Mottershead, Creative Director of Little Greene.
'I love to use colour in unexpected or surprising ways to update an outside area,' she continues. 'Even the smallest outdoor space can be transformed with a splash of colour into a place in which to escape and retreat to at the end of the day.'
This bright green table looks stunning against the pinkish tones of the wall behind – a great addition to any courtyard garden ideas.
11. Pick a main colour but mix up the textures
Rebecca Stanton, Dobbies Garden Centres Stylist, says 'If you decide to use one main colour, a variety of textures and different heights will add interest. This could be a range of flowers and plants, or by adding cushions and throws to outdoor furniture.' The large container plants positioned behind the chair above demonstrate this tip perfectly, alongside other textures and shapes all in a beautiful green hue.
'On a warm day where no rain is forecast, I like to borrow accessories from inside the house for some garden home comforts,' Rebecca continues, 'adding in rich velvets and glassware to complement outdoor cushions.'
12. Match an outdoor chair to a vibrant wall
'Have some fun with a specific area, whether that's an otherwise unused corner or a dining space that needs some character,' says Rebecca Stanton of Dobbies. 'Painting a wall or fence is a quick option which offers maximum impact for a backdrop. Use a spectrum of tones in the same shade to bring the look together.'
This deep turquoise hue ties both a wall and chair together to make a show-stopping statement – a gorgeous addition to our modern garden ideas.
13. Mix neon hues for a tropical feel
Want to bring some tropical garden ideas into your outdoor space? Boost those summer holiday vibes in your plot by mixing up neon-hues for your outdoor chairs, tables, and even your parasol.
Keep it chic by pairing with minimal surfaces – our modern paving ideas make a great accompaniment to this look.
14. Keep it casual
Looking for somewhere comfy for the kids to sit outside too? An oversized outdoor bean bag is just the ticket. Opt for ones in bold, vibrant shades to create a colourful corner of the garden that's just for them.
Super easy to pack away in a shed during winter, or if you don't have enough storage space you can even put them in the kids' bedrooms as a gaming chair or reading spot. These beanbags above are made from a polyester waterproof fabric so are suitable for outdoor use.
Plus, they're available in a choice of 11 colours so you're guaranteed to find your perfect shade. Check out even more best outdoor bean bags in our buying guide.
What is the best colour for outdoor furniture?
The best colour for outdoor furniture totally depends on your personal style, as well as what works for the rest of your plot. However, the team at Dobbies are big fans of yellow garden furniture for 2021, which also happens to be one of Pantone's colours of the year, for an uplifting boost.
But no matter what hue you choose, Rebecca Stanton from Dobbies shares her expert advice when it comes to making it work in your garden or for your patio ideas: 'If you're unsure how to use the colour or pull a look together, one essential styling tip would be to find a muse to base your inspiration on. This could be your favourite shirt which uses the colour, a picture in a magazine, painting, or a specific pattern.'
'Use your muse to build a picture and bring various elements and colours in your garden together. This also helps to know if the colours work well together, using the tones proportionally in the right way.'
Should outdoor furniture match?
No matter what hues you choose for your colourful garden furniture ideas, they don't necessarily have to match.
True, using a palette of complementary or matching colours is a reliable way to make a plot feel well-balanced and pulled-together (see the image above for example). But, it all comes down to your individual style, so there are no rules set in stone that you have to follow. Instead, you might prefer to get creative and pick a range of colours that you love.
However, different colour combinations will impact the overall look of your space. As Rebecca Stanton of Dobbies says, 'The colours you choose to pair together can dramatically change the final look.' For a tropical, holiday-at-home vibe, she suggests mixing apricot orange with fiery red and soft pinks.
'Taking on a totally different feel, bold black accessories such as metal lanterns, tall square plant pots and charcoal grey furniture will create a more graphic, contemporary styled space.'
If you're now feeling inspired to treat your garden to some new furniture, head over to our guide on the best garden dining sets or best garden benches.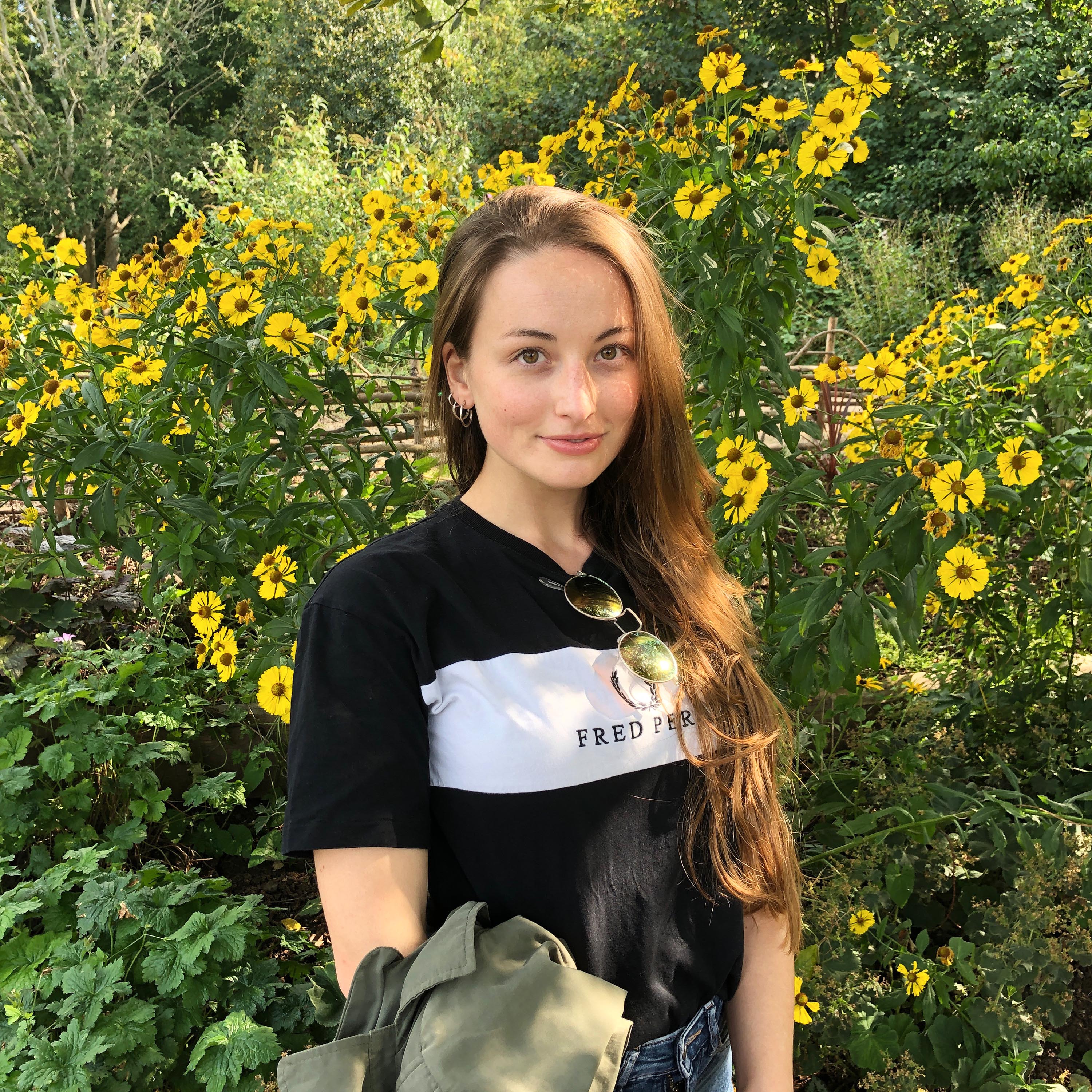 The garden was always a big part of Holly's life growing up, as was the surrounding New Forest where she lived. Her appreciation for the great outdoors has only grown since then. She's been an allotment keeper, a professional gardener, and a botanical illustrator – plants are her passion.