Pergola ideas: 10 designs that will add style and shade to your garden
See our pick of the best pergola ideas to add shade, make a statement and embrace outdoor living in style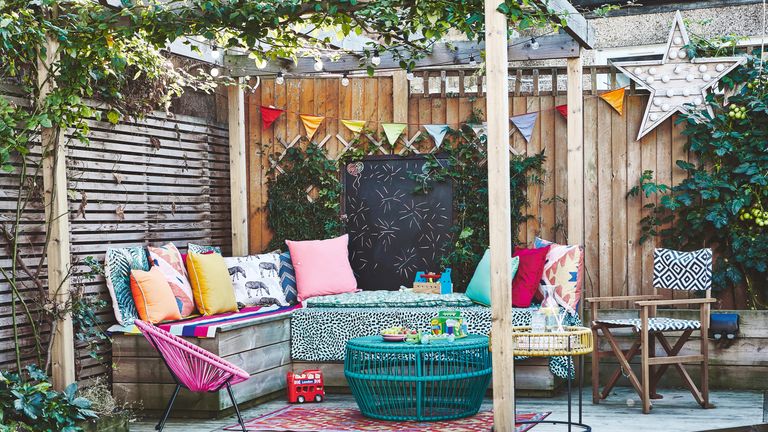 (Image credit: Malcolm Menzies © Future)
By Ellen Finch
If you're looking for a focal point for your garden, these pergola ideas could be just the thing for you. Ideal for acting a structural centrepiece for a garden, zoning the space and providing much-needed shade in sunny spots, a pergola is a great addition to any plot. The great news is that it suits every budget, too: from off-the-shelf designs to DIY attempts, you're sure to find something that works for you.
Love the idea of having your own pergola to create a chill-out zone or seek shelter from that incessant sunshine? Read on for our round up of the best ideas for pergolas, from making them work for your lifestyle to personalising them with paint and plants.
1. Paint your pergola for a statement piece
Make a pergola work for your scheme by transforming it with paint. A black, charcoal or deep grey adds a dramatic accent to an industrial or moody scheme, while a pastel colour – like the above scheme from stylist Maxine Brady – lightens the space and makes a garden feel summery. Maximalist? Try a bright pop of colour in primary hues – we love a cheery yellow in particular – for instant impact.
2. Create an all-natural roof with climbing plants
Take a style cue from Lights 4 Fun and grow climbing plants up and over your pergola for a natural ceiling that provides protection from sun and showers. To avoid the space feeling too enclosed, train the plants up one side of the pergola and over the top, leaving the other three sides free.
Top tip: set your pergola against a wall and use a trellis to help the plants make their way up.
3. Create an outdoor living room…
One of the best uses for a pergola is to create a zoned area, defining key parts of the garden for their various uses – one of which, of course, is relaxation. Try using your structure to frame an outdoor living area complete with coffee table and outdoor lanterns. This design uses a pergola along with angular decking to define the lounge space and make it feel like a room of its own.
4. …or dine in style with a garden dining area
Love the idea of dining alfresco, but not so keen on your food being completely open to the elements? Use a pergola to protect food – and guests – from rain, wind and birds. Bonus: with the addition of some string lights and a candle or two, your new dining space will feel less 'picnic table on a rainy British summer's day' and more 'outdoor table at a fancy Mediterranean restaurant'.
5. Combine home office and covered pergola in one sleek design
Tempted to introduce a garden office into your scheme after months of home working? You could integrate a pergola into your design for a covered patio – what better place to take those regular coffee breaks and get some fresh air? We like this design from Garden House Design, which turns the covered space into a room of its own complete with lighting, sofa and even a coffee table.
6. Seize the opportunity to add a dramatic lighting scheme
If you're looking to highlight your zoned outdoor 'room' with lighting, your choice isn't limited to string lights or a smattering of lanterns – consider hanging pendant lights from the top of your pergola for a dramatic look. This garden dining room by Curiosa & Curiosa uses a pergola to show off its gorgeous Acid Drop lights. The scene is reminiscent of an evening meal at a restaurant table along the seafront… somewhere much warmer than here.
7. Extend out from your house for the illusion of extra living space
A pergola can be freestanding or joined to the side of your house, so if your patio is in need of a feature – or suffers from too much bright sun – you can add a pergola directly from your back door for instant shade. This can act a little like an extension, helping to enhance the feeling of space in your home and, if you're also investing in a covering, providing a slice of your garden that's still accessible even when it rains.
8. Enjoy the luxury of an outdoor spa in your garden
Always dreamed of a hot tub in your garden? Whether you're about giggly, music-filled garden parties with your friends or a glass of bubbly with your significant other, a combination of pergola and hot tub, like this shaded sanctuary from Garden House Design, is a luxurious addition to a space. You might never need a spa day again (we're joking – treat yourself!).
9. Buy off-the-shelf for an easy update
For ready-made shade, there are plenty of off-the-shelf offerings from the likes of VonHaus, above, so you can add instant impact to your garden scheme without the fuss of installing a bespoke version or building your own. We like the sleek style of this one, plus it comes with an adjustable canopy so you can stay in control of how much sun you get.
10. Get automated with a smart pergola
For those with a big budget and even bigger ideas, we love this statement pergola from Renson and Garden House Design. A major step up from your average pergola, this structure features a remote-controlled roof system which can be rotated to protect from sun or increase ventilation whenever you need it. It's super handy for those typically British summer days that involve sun and rain in equal amounts – beat the unpredictability with this smart design.
More ideas for modern outdoor spaces: