Best gazebo 2021: add shade and shelter to the garden
The best gazebos create shade on a sunny day and provide shelter from the rain. Find our top picks for covering hot tubs, outdoor seating, play areas and more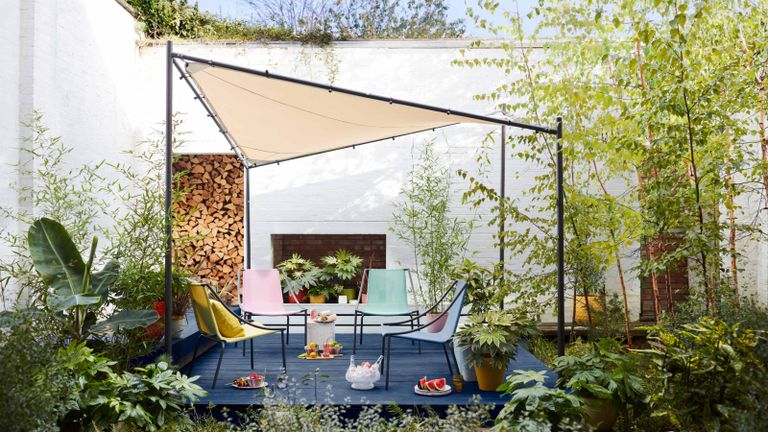 (Image credit: Dobbies)
By Amy Lockwood
Looking for the best gazebo? Whether you want to add shade to the garden when the sun's beating down or create a shelter from the drizzle on a less than perfect day, a gazebo is a really useful item to have stashed in the garage for when it's most needed.
Perfect for shelter over the hot tub, to create a shady kids' play area on the lawn, or to provide protection from the elements at the all too familiar drizzly British barbecue, a gazebo will make your outside space a more weather-resistant place to be.
Gazebos come in many varieties, from permanent hard-topped structures to temporary pop-ups, and from cheap and cheerful sun shades to more expensive waterproof designs. In this guide, we're focusing on the best self-assembly and pop-up gazebos for stylish cover, along with the cheapest options for affordable shelter from the elements.
Once you've found your perfect gazebo in our selection, don't forget to check out our guide to the best garden furniture to ensure you have your outdoor seating sorted, and our edit of the best BBQs of the year so that you're ready to cook up an alfresco feast.
Best gazebo 2021
1. SUNMER 3x3m Pop-Up Gazebo with 4 Sides
Best pop-up gazebo: a robust waterproof gazebo with detachable sides
Specifications
Dimensions: H330 x W300 x D300cm
Materials: Steel & PVC
Type of assembly: Pop-up
Weight: 28kg
Colours: Grey, white & black
Reasons to buy
+Easy to assemble pop-up design+Waterproof+Good on any surface+Four detachable sidewalls+Wheeled carry bag +Four sandbag weights, tent pegs and guide ropes
Reasons to avoid
-Maybe not the most stylish option
Shelter from the elements doesn't get any easier than a quick and simple pop-up design, and, in our opinion, the waterproof Sunmer gazebo is one of the strongest pop-up gazebos about.
The pop-up frame makes for fast and easy assembly when the clouds loom, whilst the waterproof roof offers plenty of protection from a full-on rain shower. If you want more protection then the four detachable side panels with see-through windows and two zipper doorways will provide plenty of shelter from the worst of the elements.
Although most gazebos aren't built for strong winds, the four 10kg sandbags included (you'll need to add sand yourself), tent pegs and guide ropes make this gazebo easier to secure than most and mean it's suitable for decking, patio, grass and more.
Even better it comes with a wheeled carry bag that makes manoeuvering it from the garage to the garden - or from the car to the campsite - easy as can be.
2. VonHaus Pop Up Gazebo 3x3m
Cheapest gazebo: a good-value gazebo with easy pop-up set up
Specifications
Dimensions: H250 x W300 x D300cm
Materials: Steel & PVC
Type of assembly: Pop-up
Weight: 11kg
Colours: White
Reasons to buy
+Easy to assemble pop-up design+Water-resistant+Telescopic legs can be adjusted to any surface+Carry bag +Anchoring pegs and cords included
Reasons to avoid
-No side protection
If you're looking for a budget buy that still offers ease and convenience, then we love the simple functionality of this fairly cheap pop-up gazebo.
You don't get side walls with this model, but if you just want some shade on a sunny day and enough protection to keep off the drizzle when the skies are grey, then this budget gazebo is a great option. Plus that pop-up design means you can whip it out of the garage and have set up on the lawn in no time.
Great for adding shade to a kid's play area or covering one of the best hot tubs in our buyer's guide, there are anchoring pegs and cords included to help you secure it to the lawn, and the telescopic legs are a useful addition to help you adjust the fit to uneven ground. There's also a handy carry bag to take it on location.
3. Maisons Du Monde Sail Shade Gazebo 3m x 3m
Best sail shade gazebo: zone an outdoor area in style
Specifications
Dimensions: H270 x W31 x D312cm
Materials: Epoxy-treated metal & polyester
Type of assembly: Self-assembly
Weight: 37kg
Colours: Grey & white
Reasons to buy
+Contemporary design+Freestanding+Ideal for decking or a patio
Reasons to avoid
-No side protection-Not so good on grass-Self-assembly required
Although a gazebo is a brilliantly functional item, let's face it, many of them can be a bit of a compromise aesthetically.
The most stylish shelter options may not be the cheapest or offer quite as much functionality as a waterproof side-paneled design, but they do perform in the style stakes, and a sail shade is one such option.
This contemporary Ombre sail shade from Maisons Du Monde will create a statement look in a modern garden, allowing you to add freestanding shade to a patio or decking area.
Available in dark grey or bright white, the 3m square canopy offers plenty of space to cover a garden dining area or outdoor lounge area and is a great way to zone an outdoor space. Just add one of the best outdoor rugs on our list to finish the look.
4. BLOOMA BETTY WHITE RECTANGULAR GAZEBO 6m x 3m
Cheapest large gazebo with side walls: the ideal party tent for large garden gatherings
Specifications
Dimensions: H281 x W596 x D297cm
Materials: Steel & polyethylene
Type of assembly: Self-assembly
Weight: 42.5kg
Colours: White
Reasons to buy
+Spacious+Great size for a party
Reasons to avoid
-Self-assembly required-Guide ropes and tent pegs not included
If you're looking for a large gazebo at an entry-level price point then the Blooma Betty rectangular gazebo from B&Q offers plenty of space to play with.
At 6m wide it's big enough to cater for a small party, and the water-resistant side panels with large see-through windows offer plenty of protection from the elements whilst keeping the interior bright.
It's self-assembly, and due to its size this gazebo isn't going to be a spur-of-the-moment decision to erect, although with two pairs of hands the instructions are straightforward enough to follow.
It's a shame the guide ropes and tent pegs aren't included in the price, but they're easy enough to add to your basket when you checkout.
5. Homebase BBQ Gazebo 2.5x2.5m
Best gazebo for the BBQ: small and stylish with built-in shelves
Specifications
Dimensions: H260 x W250 x D152cm
Materials: Steel & polyester
Type of assembly: Self-assembly
Colour: Beige
Reasons to buy
+Smart looks+Handy drinks shelves+Compact design
Reasons to avoid
-Self-assembly required-No fixings included
This useful gazebo features a vented roof to let out the grill smoke and two handy shelves in the frame to rest plates and glasses - perfect for the all too familiar drizzly British BBQ!
One of the smaller gazebos on our list, this option also makes a great addition to a compact courtyard or petite patio, although the lack of fixings or guide ropes does mean you'll need to be careful the wind doesn't get too strong.
And again, this gazebo is self-assembly, which means you'll need to plan ahead as to when you want to use it.
6. Cox & Cox Fringed Gazebo 1.8m x 1.8m
Best gazebo for classic looks: introduce pretty Riviera style to your space
Specifications
Dimensions: H210 x W180 x D180cm
Materials: Metal, reclaimed wood & water-resistant treated canvas
Type of assembly: Self-assembly
Colours: Blue-stripe & white
Reasons to buy
+Stylish design+Pretty fringed detail+Compact design
Reasons to avoid
-Small canopy-More of a parasol than a gazebo-Expensive
For a classic English-garden look then this pretty fringed gazebo from Cox & Cox is hard to beat, and to up your style game even further you can pair it with the matching fringed deckchair for a true Riviera feel.
At 1.8m square it doesn't offer as much shade as some of the other gazebos on our list, but that does make it perfect if your garden is on the smaller side, allowing you to add shade - and style - without overpowering a compact space.
It's available in a coastal-inspired nautical blue and white stripe or a pretty plain white which will both make an attractive addition to the lawn.
Although it's potentially more of a parasol than a true gazebo - with just one central pole to secure it into the ground - the attractive corner drapes have hidden pockets to weigh them down and add stability, plus the extra fabric makes for elegant aesthetics.
---
Where can I buy in-stock gazebos?
Just like the best garden furniture, the best gazebos are selling out fast this year. If our top choices aren't in stock when you want to buy, you can browse the best in-stock options below. Just scroll to the right to see more options.
---
How to choose the best gazebo
Size and style
Ultimately you'll want your gazebo to fit your household and a couple of guests comfortably. Think about the garden space you have and when you're going to use it, then select the size accordingly.
When it comes to looks, going for a neutral or green colour will blend well into most garden settings, while if you'll be taking your gazebo camping or to the beach, you could consider a brighter colour or a pattern to help your canopy stand out playfully from the crowd.
Coverage
Will you be using your gazebo solely during the day for shade, to house a BBQ or picnic area? Or, will you want to host there in the evening? This will determine whether you need to choose a gazebo with sidewalls or panels, or not. Walls will make for a more comfortable setting come sundown, and it should keep mosquitos and the likes at bay.
Weather-resistance
Not all of the best gazebos are waterproof, with some just offering some welcome shade on the sunniest of days. So if you want an option that is going to keep you dry in the drizzle then make sure you check the small print to avoid disappointment.
Assembly type
A pop-up gazebo is the most fuss-free option. These are also useful if you want your gazebo to be portable so you can take it to the beach or the car boot, or just so you can erect it in the garden in a hurry when the clouds loom.
However, gazebos that require self-assembly can still be pretty straightforward to erect - although two pairs of hands will help - you'll just need to plan ahead as to when you want to use it. At the higher end of the price bracket, self-assembly gazebos can also offer more options in terms of style and aesthetics.
Want more outdoor inspiration?
Little brings as much pleasure as spending time in the garden, so make sure yours is working hard for you and embrace outdoor living with our outdoor living space ideas or transform your paving with these fresh patio ideas.
And if you have a lawn you need to tame before you can set up that gazebo, find the right option for you in our guide to the best lawn mowers.
Amy writes about interiors and decoration for Livingetc, Homes & Gardens and Real Homes, bringing her design expertise outdoors into the garden for Gardeningetc.
Initially honing her green thumb growing indoor plants in her first-floor apartment, Amy greatly appreciates the benefits we gain from coexisting with plants, including improved wellbeing, air purification, and reductions in the chemical VOCs that are slowly released into our homes from manmade materials.
Amy's wider interest in gardening embraces the design principles of permaculture; considering how we can best balance our valuable outdoor spaces to restore health to our own patches of soil, boost diversity for plants and wildlife, grow healthy nutritionally-dense food, and embrace outdoor living with style-conscious design that helps us to relax, entertain and improve our overall wellbeing through relationship with nature.