Outdoor seating ideas: 15 stunning designs to help you sit back in style
Sit back and enjoy the view of your plot with our outdoor seating ideas – from dazzling daybeds to luxe sofa set-ups, you won't want to miss these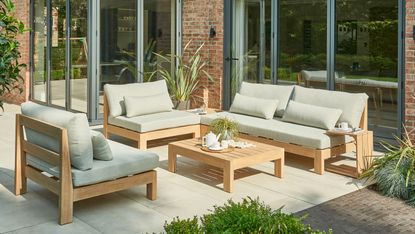 (Image credit: Kettler)
The right outdoor seating ideas can transform both the look and the use of your plot. But with such a huge range of options to choose from, it can be tricky to know the best one for you.

After all, some gardens primarily call for outdoor dining spaces for all the family, so seating needs to be both practical and durable. Smaller gardens might benefit from clever designs that are built into the landscaping of the plot – such as benches incorporated into walls, or sunken seats beneath higher levels. Or, if you simply want a chill-out spot, then perhaps a luxurious daybed or totally on-trend hanging chair is the seating solution for you.
To help you decide, we've brought together our favourite outdoor seating ideas. So keep scrolling to get inspired, and then head over to our garden furniture ideas for more gorgeous designs.
1. Build a multi-functional bench
Is your garden on the not-so-large side? Well, along with our small garden ideas, you might want to consider incorporating a multi-functional bench into your set-up.
This cool grey number with its contemporary, clean lines acts as a bench, border, and platform for pretty garden accessories all in one. Plush, white cushions boost the comfy factor – opt for removable ones for extra flexibility.
We love how it seamlessly blends into the surroundings to create a chic patio set-up – perfect if you love our modern garden ideas.
2. Snooze away the afternoon in a covered daybed
Want to turn a space in your garden into a cosy sanctuary for snoozing beneath the sun? Then a gorgeous daybed might be the best garden furniture for you.
This design above is perfect for getting really comfortable with your favourite book or simply a glass of something cold. A pretty rattan-style canopy provides shade when it gets too hot and adds to the luxurious feel.
3. Incorporate a bench into a border for narrow plots
If you're working with a narrow space, then why not take inspiration from the image above? A white, mid-height wall is used to keep borders at bay, before dropping into a stylish bench to accompany an outdoor dining table.
It's a great way to incorporate extra seating whilst using minimum floor space. Opt for a light colour palette and pared-back materials for a fuss-free yet on-trend vibe.
Need more help transforming a difficult-shaped plot? Head over to our ideas for awkward shaped gardens.
4. Opt for a chic corner sofa for ultimate indoor-outdoor living
If you love a classic look that will never go out of style, opt for a comfy corner sofa. A design like the one above wouldn't look out of place in your living room, so is the ultimate solution for cosy outdoor living.
A subtly slatted design and beautifully toned acacia wood is all that's needed to bring an air of elegance to any garden. Pair with an outdoor coffee table to pop a cuppa or a glass of vino on and you've got the perfect spot for an afternoon spent lounging in the fresh air.
5. Create a covered chill-out zone
Bring a generous dose of zen to your outdoor space by creating a zone specifically made for relaxing. To recreate the look, mix and match pouffes and bean bags in neutral colours – it offers a minimal yet playful flair.
Finish the array with a modern coffee table or two and a chic shade sail to provide shelter for your outdoor haven. It's a fabulous way to transform lacklustre decking – a great addition to our covered deck ideas.
6. Get on board with the hanging chair trend
Hanging chairs are all the rage right now, and we're not surprised! For who doesn't want to chill out in a gently swaying, totally on-trend pod? By keeping tones neutral, they make a sophisticated statement to any patio or decking space.
Kids will love them just as much as grown-ups. For more family garden ideas, check out our feature.
7. Use your garden's levels for a hideaway retreat
Sloping garden ideas can be a tricky one to master (although our feature will help you on your way). However, when it comes to making the most of your space for seating, then why not make your levels work for you?
A secret hideaway on a sunken part of your plot feels intimate and private. What's more, by building it into your hard landscaping plan, you can incorporate the higher level as a roof – protecting you from rain or the midday sun.
Add one of the best garden benches and some cosy festoon lights and you've got a lovely spot to retreat from the daily hubbub.
8. Merge materials for a cohesive look
For a country-classic look, a rustic brick wall is a winning feature (especially when adorned in sweet-smelling climbers such as honeysuckle or roses). It also provides a sheltered spot for seating.
To make the most of it, why not add an attached corner bench in the same materials for a permanent place to perch. Removable cushions can be added in summer to soften the look. Add a dining table and extra chairs to provide a stunning space for alfresco entertaining, or swap out for a low coffee table or foot stool for quieter moments of rest.
Either way, this rustic scene is perfect if you're a fan of our cottage garden ideas.
9. Elevate a bench with overhanging accessories
A humble garden bench and table combo can be given a modern lift with an overarching frame. It's such a simple update to make but, as demonstrated by the image above, the results can pack a punch.
Simply hang lanterns full of LED tealights, festoon lights, or even bunting to make the scene feel welcoming and homely. It'll transform any meal eaten outside into a special occasion whereby you and your guests will want to linger for hours.
Need more inspiration for gorgeous alfresco set-ups? Our outdoor dining ideas have got you covered.
10. Go for a timeless bistro set
Ah, the classic bistro set. It's timeless, it's practical, and it looks great in any patio, courtyard, or as part of your balcony garden ideas.
Available in tons of colours (and styles), bistro sets are an affordable way to bring stylish seating to any garden. They're a practical option too – many are totally foldable, meaning you can clear them out of the way if you need more room. These particular ones are made from powder-coated steel, so are resilient whilst also being lightweight.
They'll suit all styles, from romantic, cottage themes to contemporary set-ups. Check out our best bistro sets buying guide for more options.
11. Relax beneath the trees in a hammock
If you'd love to lie back and look at a canopy of leaves on a sunny weekend afternoon, then why not invest in one of our best hammocks? It's a lovely way to get back to nature and is sure to help any stresses melt away.
A dark charcoal design keeps things stylish, and can be brightened with a pop of colour from a soft cushion.
12. Add corner seating beneath a chic pergola
For a tucked-away spot to watch visiting birds, try placing one of our pergola ideas into a corner of your plot. Surrounded with foliage, it will make a peaceful shaded spot in the summer months.
You could train climbers over the top too – wisteria or climbing roses make lovely options (follow our guide on how to grow wisteria to get started). Just add a few comfy cushions and perhaps a soft throw or two for a calming outdoor seating idea to retreat to after a long day.
13. Opt for a blue hue
Adding a splash of colour to your outdoor seating ideas is an instant way to breathe new life into even the dullest of plots. Try a matching set-up in soothing blue hues for a modern feel – especially stunning when used to accompany a pool or water feature.
Our colourful garden furniture ideas have plenty more designs to liven up your plot - head over for lots more vibrant inspiration.
14. Use giant rocks for a natural vibe
Here's an outdoor seating idea that's the perfect addition to gravel gardens or our small rock garden ideas. Naturally-formed stone benches bring a sculptural yet authentic vibe to any seating spot – the perfect way to get back to basics with your plot. Don't forget to adorn with plenty of cushions though, to up the comfy factor.
Surround with simple planting in a pared-back colour scheme and pop one of our water feature ideas in the centre as a focal point – it'll make a picture-perfect spot for reflecting and relaxing.
15. Opt for wood and rope combos for a rustic touch
Outdoor seating provides a great opportunity to get creative with statement furniture. These oak designs are a fabulous example of sustainability and craftsmanship and make beautiful design pieces, as well as being functional.
A woven rope seat and back makes for comfortable yet unique support – you'll feel like you're floating on air. Beautiful for both indoor and outdoor use.
What do I need to consider when buying outdoor seating?
When choosing your outdoor seating ideas, you need to consider how you want to use your garden space to make sure you pick the best option for you. As the team at Nest says, 'Take a moment to consider what you want from your outdoor space before investing – cleverly choosing garden furniture that suits your lifestyle will help to create an outdoor space that has longevity.'
They also suggest to opt for sustainable materials, to ensure long-lasting use. Powder-coated steel finishes are hardy and weatherproof, whilst wooden pieces, especially in teak, require very little care and look stunning (don't forget you can find out how to clean wooden outdoor furniture in our guide).
'It's also worth considering brands like Mater, who are using recycled plastic in their outdoor furniture collections,' they add. 'The Ocean Collection makes use of old fishing nets to create a beautiful range of tables and chairs that are weatherproof and sustainable.'
How do I make my outdoor seating space cosy?
Clever use of outdoor accessories can ramp up the cosy factor for any outdoor seating.
'Lighting and textiles can transform your outdoor area,' says Dani Taylor, Product and Creative Director of Cox & Cox. 'We are a huge fan of festoon lights which can be left out all year round; pair them with some textured cushions and a cosy throw for chilly nights and you have an easy and inexpensive way to add magic to any outdoor space, no matter how small.'
Claire Hornby, Head of Creative at Barker and Stonehouse, agrees, suggesting to go for textiles that not only look stylish but will keep you warm. 'Think faux sheepskin draped over a rattan sofa or a warming wool throw and plump cushions on a hanging chair.'
'Outdoor rugs can really transform an outdoor seating area into a glorious garden room and provide a warming texture underfoot,' Claire adds. Check out our best outdoor rugs for ideas.
'Solar lights are such a great idea because you can add them to any space without worrying about plugs or wires,' Dani Taylor of Cox & Cox says. Head over to our buying guide for best solar lights to pick your favourites.
Claire Hornby of Barker and Stonehouse also says, 'If you want to go all out, patio heaters and fire pits are a real show-stopper and are guaranteed to draw all the family out of their bedrooms for an evening of fun toasting marshmallows.'
The team at Kettler agrees. Their KALOS brand has lots of good options, or you can check out our buying guides for the best patio heaters or the best fire pits.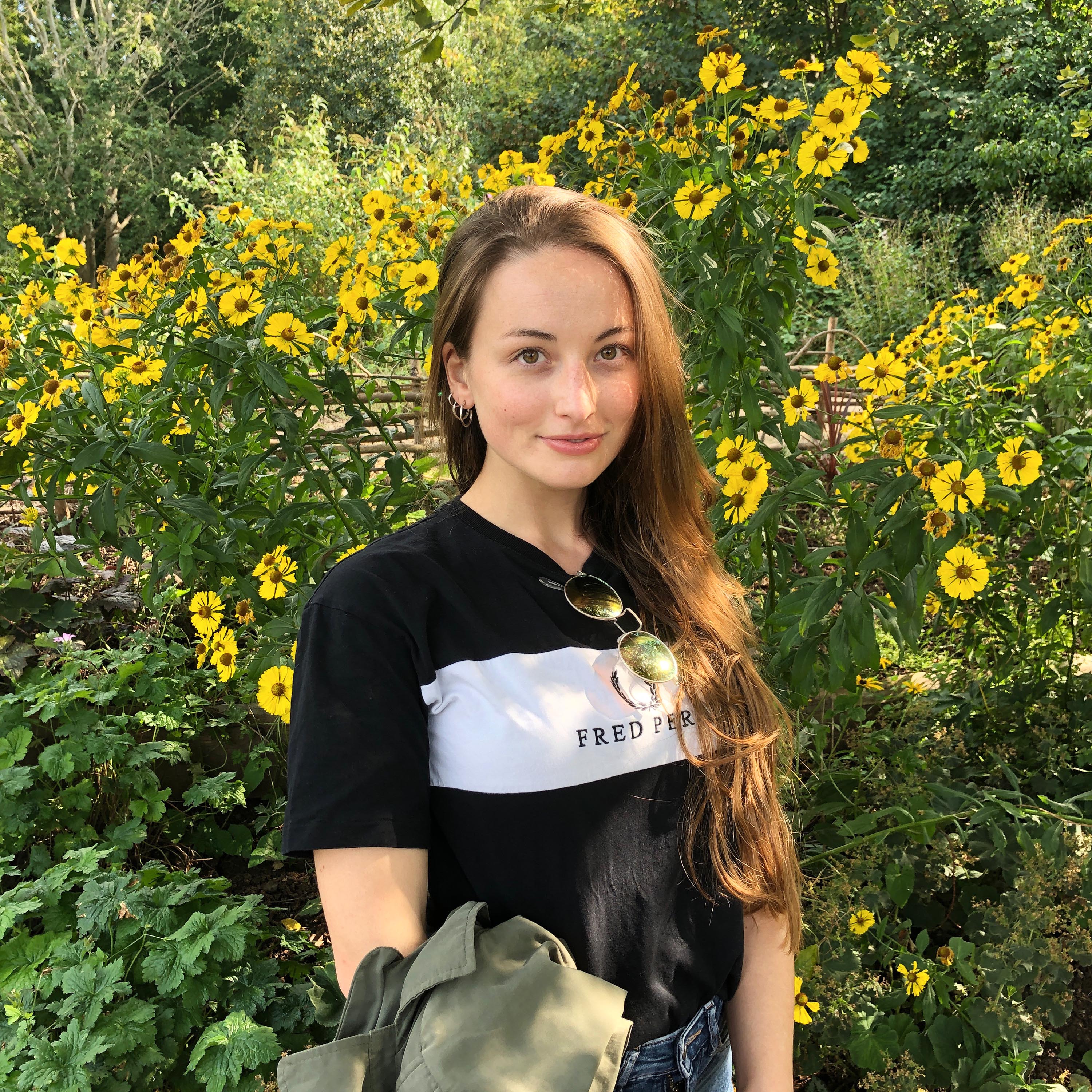 The garden was always a big part of Holly's life growing up, as was the surrounding New Forest where she lived. Her appreciation for the great outdoors has only grown since then. She's been an allotment keeper, a professional gardener, and a botanical illustrator – plants are her passion.