Small rock garden ideas: 17 ways with alpine plants, succulents, water features and more
Discover our favourite small rock garden ideas and get inspired to create a rocky haven of your own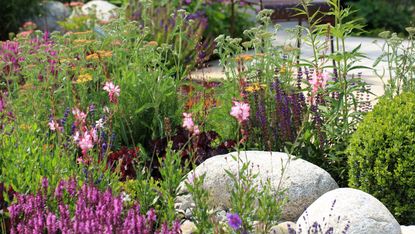 (Image credit: Getty Images)
Our small rock garden ideas are perfect to liven up a lacklustre plot and make a fabulous addition to our other small garden ideas. Why's that? Well, for starters, rock gardens are simple and budget-friendly to build.
And, when it comes to planting, there are tons of beautiful alpines and succulents available, that will thrive in a rocky home. Think spiky succulents, soft stachys, even bulbs – all of which will add textural interest, colour and diversity to your plot. Plus, rock gardens are super easy to maintain, and even small ones look effective.
'Rock Gardens do not have to be on a grand scale or include monumental works of earth and stone,' says Thomas Freeth, Rock Garden supervisor at the Royal Botanic Gardens, Kew.
'A small bank in a garden or even a good stone or concrete trough will do. However, they all will need good drainage and a permanently aerated substrate, to facilitate the long, searching roots that these plants require.'
When it comes to the materials, 'local stone in all shapes and sizes, building aggregates and even recycled bricks or reclaimed material can all be tried,' says Thomas. 'As long as they are inert and allow for air spaces in the rooting environment that won't close up over time, they are good.'
Chris Bonnett, from Gardening Express, says 'Rockeries are easy to build from scratch and can be designed to fit in any garden.' However, there is some light preparation that should be done first.
'To prevent unwanted shoots from popping up in your rock garden, dig up any organic material like weeds and grass,' Chris says. 'Once the space is clear, set about laying out a perimeter of rocks as your rockery base.' Once that's done, all the fun of arranging and planting can begin!
So read on to discover the best herbs for rock gardens, how to add a Japanese vibe, where you can find rock-effect speakers, and much more!
1. Add an air of the sea with coastal plants
Plants that thrive by the sea are tough – they've got salty air, strong winds, and often drought to deal with. Providing they are positioned in a sunny spot, these hardy beings are a good match for rock gardens. And, they offer tons of textures, colours, and movement.
One of our favourites has to be sea thrift, otherwise known as Armeria maritima. Its jolly pink pom-pom flowers sit above clumps of thin, evergreen leaves. It can spread to create dense, low-growing mats, so works great at the front of a display. They also come in white, if you prefer.
You could also try Festuca glauca 'Elijah Blue', a compact ornamental grass that's striking with its blueish tufts of evergreen foliage.
2. Embrace the creeping sedum
With its thick and succulent leaves in a variety of shapes, sedum is definitely one of the best rockery plants. The creeping varieties thrive in small rock gardens, with their foliage forming attractive, blanket-like growth to fill any nooks and crannies. It's no surprise they're also known as 'stonecrops'!
Many types of sedum adorn clustered, star-shaped flowers in colourful hues throughout the warmer seasons. But, when not in bloom, their leaves can offer vibrancy too, in plum and russet to bronzed-tipped and blue-green tones.
Hardy and generally drought-resistant, sedum's easy-peasy maintenance also makes them a great plant to consider. Try 'Matrona' for bronze-flushed leaves and pink flowers that pollinators will love, or the Russian stonecrop for bright yellow flowers and green foliage.
3. Consider a Japanese style
Rock gardens are very popular in Japanese-style gardens and encourage quiet reflection and calm. They often include simple arrangements of larger rocks, which symbolise mountains or islands. These are surrounded by gravel, which can be raked into patterns, to represent water. Whether large or small, this simplistic style of rock garden is a beautiful and effective addition to a garden.
Jessica Smith, gardener and florist at Flower and Land, suggests 'let moss grow on surfaces and in between cracks in the ground'. This is a lovely, traditional look for Japanese-style gardens.
Check out our small Japanese garden ideas to discover more about this particular garden style.
4. Go bold with blooms
If you think rock gardens are mostly grey, then think again. For alpine plants and succulents can be nothing short of spectacular, giving even your prized garden border a run for its money.
'Once the rocks are in place and the structure is secure, it is time to start picking the plants,' says Chris Bonnett, from Gardening Express. 'Look around the garden to see what colours will complement the rest of the space.'
Don't hold back on layering your plants to build up a beautiful, vibrant palette. Chris suggests saxifrages, for their bright colours in pinks, reds, and whites.
'Bulbs also thrive in well-drained rock beds,' Chris adds. 'A hyacinth will bring beautiful lilac blooms to the rockery and can be used for cutting too.'
5. Add an element of softness with stachys
A well-loved and ground covering perennial, stachys byzantina is a must-have for many rockeries.
Fondly known as 'lamb's ears', its attractive, silvery leaves have a wonderfully soft texture, which provides a striking contrast against stones or more structural plants. With some varieties, onlookers can also enjoy vibrant pink or purple spikes of blooms in the spring and summer months.
And, this evergreen needs very little watering, making it a great addition to any rock garden. Just pop it in a sunny and ideally well-drained spot with space to grow, and it will add interest to your display all year round!
You'll find more ideas for the best ground cover plants in our expert guide.
6. Add a gentle waterfall
For small rock gardens with height, why not up the ambience with a small, babbling stream? Arrange your stones into a gentle, step-like formation. 'The key is always to mimic the natural arrangement of strata and weathering seen in nature,' says Thomas Freeth, of the Royal Botanic Gardens, Kew.
As the water gently trickles its way down the stones, it will bring soothing sounds and movement, as well as sparkles of reflected light. Nearby wildlife will also enjoy dipping in and out of it for a drink. It doesn't matter if your rockery is only small – think of it as your own mini-mountain spring (but probably don't drink from it).
7. Enjoy the pink hues of dianthus
If vivid colour is at the forefront of your small rock garden ideas, then dianthus is certainly a top contender to consider. Varieties offer a bold array of pink, red, purple and white blooms which flower throughout summer with their signature frilly petals.
What's more, many types are deliciously scented – adding clouds of clove-like fragrance to your outdoor space. When not in bloom, its blue-hued foliage with an elegantly narrow structure is an attractive feature in itself.
Favouring well-drained soils with a bit of sun, this cheerful perennial is sure to bring joy to your rockery and to any nearby butterflies! Try 'Gran's Favourite', an evergreen with fragrant, showy petals laced with deep pink.
8. Create a rocky herb garden
'Drought-resistant plants are the best for rockeries, but herbs also thrive in these surroundings,' says Chris Bonnett from Gardening Express. Mediterranean kinds will especially thrive in well-drained, sunny rockeries, due to their natural climate.
Not only do they look stunning, but they will also add a wonderful fragrance to the air. Plus, of course, you can then use them to elevate your cooking. Creeping thyme comes in a variety of colours – pink, purple, white – and grows quickly to form a mat.
Oregano, sage, and lavender are other good options, as are chives, with their onion-flavour and spiky pink blooms. You could try the curry herb too, which although not so useful in the kitchen (its name is rather misleading), does have a wonderfully spicy scent, attractive silvery leaves, and yellow flowers.
Also, 'consider planting some 'Large Trailing Rosemary', as it benefits from the added protection that the rocks provide from bad weather,' adds Chris.
There's plenty of expert tips on how to create a herb garden in our guide.
9. Plant vertically
Don't feel restricted to only decorating the top-facing parts of your small rock garden – you can plant vertically too.
The RHS advises adding plants as you build the rockery. That way, you can spread roots out, cover them with a mix of soil consisting of grit, loam, and a peat substitute. Then, surround with a few pebbles to keep the air flowing around them before you start the new layer of rocks.
But, if your rockery is already built, don't worry. You can, instead, plant small specimens into the existing crevices. Carefully push a little bit of soil into the gaps, followed by the roots of plants.
Really tuck them in – it should look subtle and natural, not with big clumps of earth falling out! Try chamomile or Erigeron for pretty clusters of flowers, or succulents such as sempervivums.
10. Add a flash of blue
For a refreshing splash of blue in your small rock garden, try Idaho blue-eyed grass. Contrary to its name, it is in fact related to the iris.
'This first-year flowering perennial features bright blue flowers, which look especially good grown in small bowls on a garden table, as well as being perfect in a rockery,' says the team at Suttons.
It grows in clumps, which should be divided and replanted annually to encourage more blooms. If you want to continue the blue-hued theme, try mixing with Gentiana verna, a low-growing alpine plant with intense, cobalt-coloured flowers.
11. Use to shelter your seating area
Most small gardens will include a seating area, for entertaining, eating alfresco and enjoying the view. But, instead of using a fence, screen or trellis to break it up from the rest of your garden, why not build your rock garden around it?
Simple rock garden wall ideas will add height, shelter and give your plot a structured 'zone', whilst you get to admire all your pretty rock plants as you sit back and relax. Use foldable furniture to optimise a small space further, as you can tuck them away when you need more room.
12. Use playful plants
Why not add something a little unusual to your rockery plants? 'This gorgeous woodland flower (known as American cowslip) features the most unusual shooting-star shaped blooms, with backwards-pointing petals that look just like the trail of a comet!' say the team at Suttons.
'Featuring a beautiful mix of colours in various shades of white to pink and with a hint of purple in there too, it's no surprise it will also attract the bees. Once established, it will provide a welcome warmth across the garden every year from March and continue flowering until August every year. It's both easy to grow and super versatile, thriving in sun and part shade with flowers reaching 30-40cm tall.
'What's more, it's suitable for cutting too and can be used for dried flower displays in your home!'
13. Up-cycle cinder blocks
Are you planning a rockery on a budget? Then why not give this a go. If you or your neighbours have been renovating, there might be some leftover cinder blocks, or structural bricks (the ones with holes in) going spare. You could also have a scout around online, to see if anyone further afield is offering some cheaply (or ideally, for free!).
Then, have fun arranging the blocks to create a rockery structure with an urban feel. The holes are perfect for poking succulents into, along with a little soil and grit. Cluster a few together for a fuller look, and mix up the sizes to keep things interesting.
14. Get camouflaging with rock-effect speakers
Time to get your rockery rockin' (ahem) with these cleverly camouflaged Bluetooth speakers. Made in a weatherproof material, they are perfect to place amongst your rock garden and blare out the tunes on a hot summer's day. Or, why not pop the radio or a good audiobook on, whilst you're tending to your plants?
15. Get creative with unusual succulents
Succulents come in a huge variety of shapes and colours. For rock gardens, sempervivums and echeverias steal the show.
Sempervivums are formed of evergreen, spiky clumps, with star-shaped flowers come summer. They can be intensely coloured – try 'Plum Parfait' (Chick Charms®) for stunning purple foliage, or 'Gold Nugget' (Chick Charms®) for show-stopping shades of yellow, tinged with red.
Echeverias are similar in that they display rosettes of fleshy leaves with racemes of flowers. Whilst sempervivums often have tiny spikes along their leaves, echeverias are more often smooth.
One thing to remember is that echeverias tend to be less hardy, and so aren't such a fan of very cold temperatures. To play it safe, you could place these ones in pots to decorate your rockery, then bring them inside if the winter is harsh.
Take a look at our advice on how to grow succulents for more tips.
16. Complement with a water feature
If your space is really quite small, a real-life waterfall amongst your rockery might be a stretch too far. Instead, why not invest in a water feature? Small, simple varieties made of stone can complement a rock garden beautifully.
Place them at the corner of the patio just in front of your display, or even build the rockery around them, enticing nearby plants to creep up closely as they grow. The cool sound of water will add an instant refresher to your design.
Head over to our water feature ideas for more inspiration.
17. Boost colours with pots
For an extra burst of colour and texture to your rock garden, introduce some brightly coloured pots. Wayne at @gravel_gardener has done exactly that, creating a stunning mix of glossy blues, succulent spikes, and smooth stones.
The pots complement the blue hues of the agaves beautifully ('Parryi 1684' in the blue pot, 'Blue Brian' to its left, and 'Ovatifolia' being the large species to the right). The three 'Ebony' echeveria agavoides add a darker, purplish tone, whilst the mangave 'Mission to Mars' combines both blue and purple colours, to finish the striking display.
Wayne's garden has been a 'labour of love', but we certainly think it's paid off. 'The bed was made from rubble, then ballast, then gravel – no soil,' he adds. 'My bed is only young, but I'm hoping to improve it more.'
How do you make a small rock garden?
'A good place to start is by picking a few boulders or large stones and then thinking what plants could work well with the colours,' says Chris Bonnett from Gardening Express.
'Remember that rock gardens are fairly permanent structures. Choose the right spot, because relocating the heavy stones later will be pretty tricky. Start building up your space in one corner of the garden. You can always expand the rockery when feeling more confident.'
Once your ground is weed-free, 'fill the area inside the perimeter with sandy soil, as it allows for the drainage needed,' adds Chris. 'Then carry on placing and experimenting with the layout of your rocks, spiralling inwards from your existing circle or with lines of stone that pass through the centre.
'Use the most attractive stones last, because they will be the most visible. For a natural-looking space, group together random rocks in odd numbers. But, to achieve a cleaner and more elegant look, scatter smooth pebbles or rocks that come in uniform sizes.'
Remember you can plant as you go, building up in layers. 'Once happy with the plants within the rock garden,' says Chris, 'you can add extra pebbles and stones for decorative effect.'
How do you make a rock garden look natural?
Think about how rocks look in nature – and then try to recreate this in your garden. That means avoid arranging rocks in straight lines, for starters. Instead, go for clusters of various sized stones, in a similar colour – perhaps of a local variety.
Encourage moss by covering your stones in a moss slurry, made using a blender, water, and buttermilk or beer (be sure to wash the blender thoroughly afterwards).
And, as we've mentioned, make sure you make the most of your rock garden's pockets and cracks, filling them with small plants. Think about foliage as well as flowers for an enchanting, wild feel.
Can you take rocks from the beach for your garden?
In short, no, at least in the UK. According to the Coastal Protection act of 1949, taking any natural material from the beach, even one or two pebbles, is illegal. And, although the rules are less enforced in some areas than others, that doesn't mean it should be encouraged. As the JollyExplorer.com report, there have been instances where well-meaning beachcombers have been given police warnings or told to return their collected treasures. The thing is, if everyone did it, it would damage the ecosystem of the beach, and we don't want that.
The JollyExplorer.com goes on to say that when done moderately, collecting sea glass is okay, as is collecting shells – as long as there's nothing living in them. Sand, however, is a no-go.
So, for stones, rocks, or even sand if you're creating a beachy feel, check out your local garden centre, have a look online, or see if your neighbours have any going spare.
More garden ideas: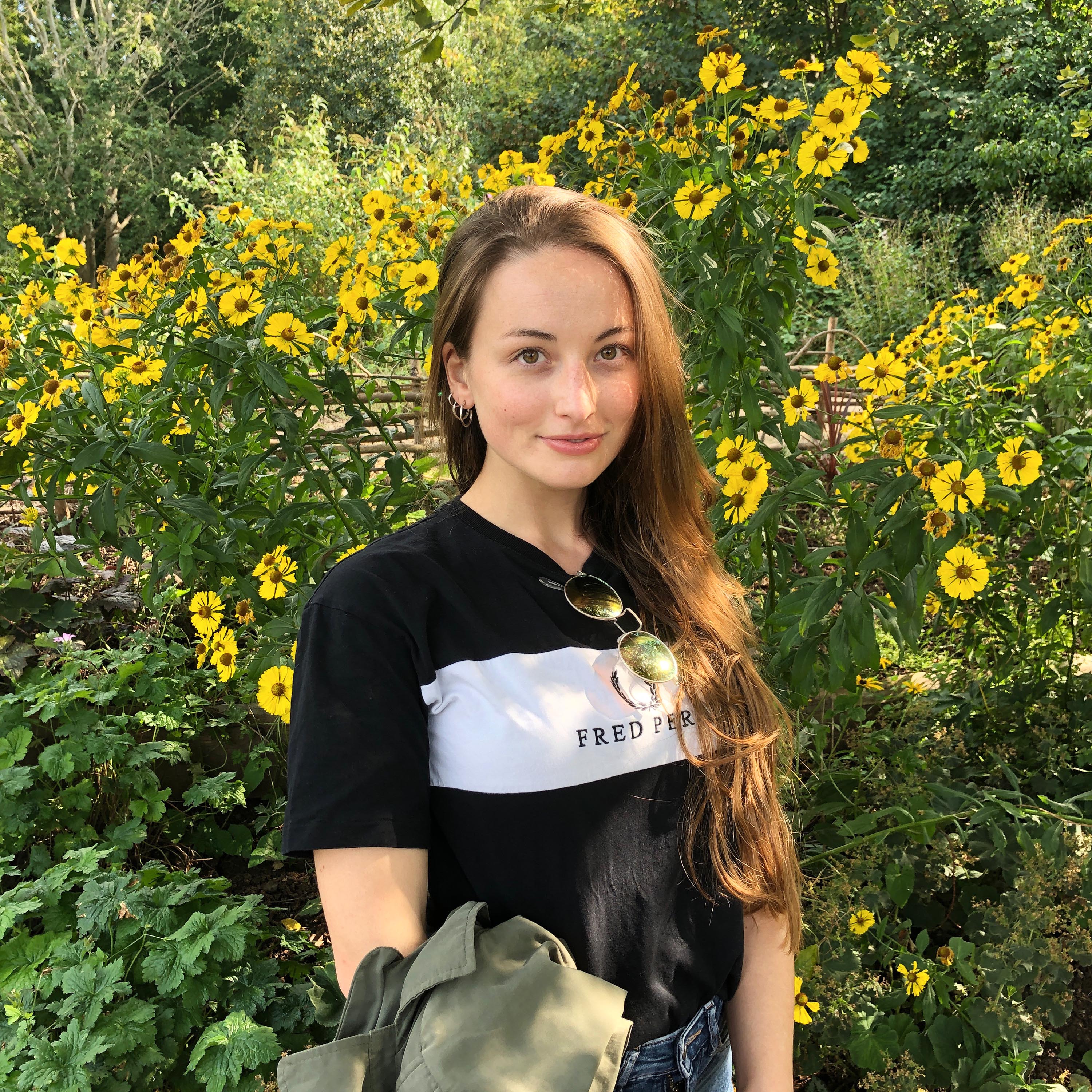 The garden was always a big part of Holly's life growing up, as was the surrounding New Forest where she lived. Her appreciation for the great outdoors has only grown since then. She's been an allotment keeper, a professional gardener, and a botanical illustrator – plants are her passion.