Outdoor dining ideas: 20 ways to enjoy eating alfresco
Make eating in the garden a breeze with these outdoor dining ideas – perfect for plots both big and small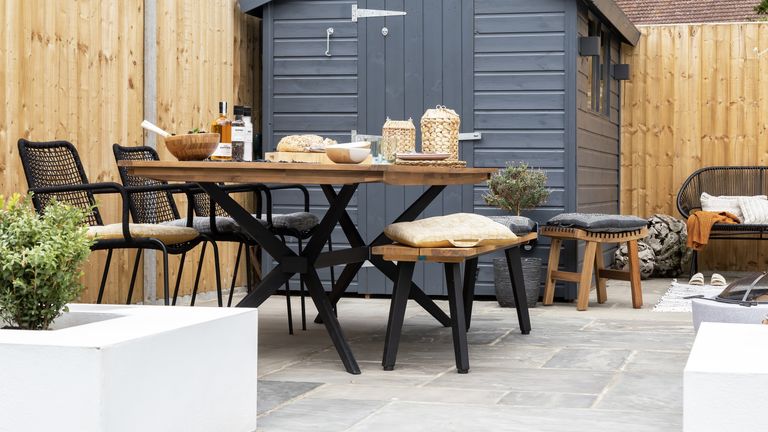 (Image credit: Fiona Walker-Arnott)
By Ellen Finch
With sunnier times ahead, we're on the lookout for outdoor dining ideas to pep up our outdoor spaces. If you love hosting barbecues or garden parties then the perfect dining area is key, from a spacious table and chairs that will seat all your friends to the must-have heating, flooring, lighting and more that will complete your setup. Oh, and don't forget the accessories: pops of colour through cushions, throws and even a rug will bring summer style to any space.
So, if you're browsing the web for outdoor dining ideas, look no further – we've gathered up the best hints, tips and pretty pictures below to get you inspired. All that's left for you to do is enjoy your next meal in the sunshine! And if you want even more inspiration, you can find more patio ideas in our design guide too.
1. Fit durable flooring
Just like an indoor dining room, your outdoor area will endure all the scrapes and scratches that come with supporting heavy furniture, so invest in a durable, hardwearing surface that's slip- and spill-resistant too. Uneven flooring is a huge trip hazard, especially when you're carrying a tray of cocktails or plates of food, so opt for a smooth tiled or decked surface for safe walking. Setting your outdoor dining space near your house? Opting for the same or similar flooring will give you that indoor-outdoor link. If you're using decking, keep it protected with a treatment from Cuprinol.
2. Use decking to zone your space...
You've probably heard talk of zoning, a way of defining a space – indoor or out – with separate areas. It's often used in open-plan living, but it also works brilliantly in a garden – in this case, for an outdoor dining area. This setup from Sandtex uses raised decking to create a section of the plot that's dedicated solely to dining out, and the introduction of a structure around the area adds interest. Get the look with decking of your choice, or use tiles to define a patio area for eating.
Find out more great decking ideas in our feature.
3. ... or make a statement with a pergola
Another way to zone is by including pergola ideas in your design. Stylist Maxine Brady has used one in her garden to create a cosy seating area in the corner of the plot, differentiating it from the garden and the dining set outside the house. A bonus of a pergola is that you can paint it to create a feature – we love the pastel shades in Maxine's space, but a dark and dramatic charcoal shade would look just as fabulous.
4. Barbecue all summer long
Love a good grill, or fancy trying your hand at homemade pizzas? With a range of price points, outdoor cooking equipment like the best BBQ and best pizza oven are a great investment for anyone who loves to host in their garden. A top-of-the-range barbecue might come with extra storage and multi-fuel capacity, but you can get a decent model on a budget, including portable tabletop barbecues for small spaces. We love this Ikea version, which is part of a modular kitchen set-up (more on that in the next point) – it's got space for pots and pans as well as a decent sized cooking surface.
5. Cook your meals alfresco
Outdoor kitchens are growing in popularity as more and more people opt to eat and host guests in their back gardens. Far from a luxury, you can create your own kitchen space on a budget with the likes of Ikea, whose Klasen storage cabinets and trolleys are perfect for wheeling out with the barbecue. If you're looing for something a little more fancy, there are bespoke, more permanent options out there, such as WWOO kitchens – and if you're handy, you could even knock something up yourself.
Find more inspiration in our round-up of outdoor kitchen ideas.
6. Keep your cool with a gazebo
As much as we love the sunshine, it's important to integrate shaded areas into a garden, especially in dining areas – the last thing you want is a sunburned guest. Depending on your budget, there's a range of options to choose from: from parasols (attached to a table or separate) to pergolas, which can offer dappled shade, and gazebos. The bonus of a gazebo, of course, is that you're protected from pesky summer showers too – and so is the delicious spread you've laid out for guests. We like this one from Ikea.
7. Choose folding furniture for small spaces
In need of small garden ideas? Opt for folding furniture that can be easily stored away in a garage or shed when not in use, like this bistro set from Dobbies. This kind of furniture is normally a little daintier than others, so you can afford to go for strong, bright colours to bring some pizzazz to your garden. Another option is stackable furniture: chairs that can be piled on top of each other will take up less floor space in a crowded garage.
8. Keep it compact with bench seating
Another great option for smaller plots, benches are a stylish alternative to chairs that can easily be tucked under a table when not in use. They also double up as extra seating space for more informal gatherings. We love the look of this dining table and bench set from Garden Trading.
9. Make guests comfortable with cushions
As pretty as garden furniture is, it's not always the comfiest – which is where seat cushions come in. Not only do they up the comfort factor for guests gathered around the table, they also add a welcome dash of texture, colour or pattern to a garden. Just make sure they're weather resistant: you're almost certain to forget to bring them in at some point, leading to the familiar sinking feeling when you hear rain pattering against the window…
This image features the Marlow garden dining set from M&S.
10. Invest in a lighting scheme
As with any room, garden lighting ideas are a must in an outdoor dining space. At a minimum, you'll need lighting around the dining area itself, which will set the mood as well as allowing guests to see the treats you've cooked up – we love this example from Ella James.
You'll also need task lighting over any cooking areas – the best outdoor wall lights are great for this. If you have a path leading up to your dining area, lighting will be a welcome addition when it gets dark, and you could consider illuminating your favourite trees or plants to dramatic effect.
11. Switch on a summer soundtrack
No dinner party is complete without a soundtrack, and that goes for garden parties, too – so get yourself an outdoor speaker that delivers. We love this design from Kitsound, which can sit on a table or be driven into the ground using the removable plastic stake. Alexa – play that summer playlist!
Get your perfect garden soundtrack with our guide to the best bluetooth speakers.
12. Add texture with a rug
When it comes to the finishing touches for your space, treat it like any other room in your house, right down to the soft furnishings you use. The best outdoor rugs will provide comfort underfoot and add pattern and colour. This Nani Marquina rug is a fabulous investment buy, but we also love Made's offerings. Look for recycled plastic rugs for eco credentials – not only do they save plastic from landfill, they're also water resistant and super durable.
13. Get fancy with dinnerware
When it comes to a visual display, the smallest items of dinnerware are just as important as the furniture it's being laid on. Invest in a set you love, with bright colours, bold patterns and some pretty coloured glassware. Add a striking feature jug and a tray – useful for piling up cutlery – and you're sorted. Got kids? Durable sets made from melamine or bamboo, like this LEON set from John Lewis & Partners, are a great shatterproof alternative.
14. Tidy accessories with outdoor storage
Planning to dine out late into the evening? You'll need plenty of blankets and cushions to keep guests warm, so invest in some storage to keep them clean and dry when not in use. This Chatsworth storage box from Cox & Cox is handy for storing soft furnishings, as well as garden tools or kids' outdoor toys.
15. Keep cosy with outdoor heating
Extend the life of your outdoor dining area into early autumn by investing in some outdoor heating. You can buy tabletop gas or electric patio heaters for under £100, or invest in a standing or hanging model in a stylish finish like this copper halogen heater from Homebase. Want more of a feature? A chiminea or fire pit can be a focal point as well as a practical source of heat, like the stylish fire pit table from Kettler pictured above.
16. Transform an old dining set with paint
Give your old dining room furniture a new lease of life by upcycling it into a garden set. Brighten it up with a lick of paint – we recommend Annie Sloan's chalk paint – then finish off with a lacquer to seal and weatherproof it. Set against a background of green foliage, colourful flowers and neutral fencing, anything goes when it comes to the shade you choose (though we're personally partial to a bright pop of yellow for a cheery summer hue). Let your imagination run wild!
17. Whip up a cocktail at your outdoor bar
If your ideal dining set-up includes some outdoor bar ideas, bring that dream to life in the garden. Okay, you might not have the space or inclination for a full-on tiki bar, like the above from George Home, but you can purchase outdoor bar tables from your favourite retailers, or even build your own from pallet boards if you have the DIY prowess. Love the idea but no room to spare? A portable drinks trolley like this one from Made is the perfect compromise.
18. Choose sleek furniture for a contemporary look
Love a contemporary garden scheme? Make sure your dining furniture matches by choosing sleek, slimline styles in modern materials – think smart steel frames and powder-coated aluminium finishes. Use accessories like cushions and throws to soften sharp lines and add colour. This Kettler dining set from John Lewis & Partners is a great option.
19. Soften your scheme with natural materials
Perfect for traditional and modern gardens alike, dining sets in natural materials like light wood and rope will soften a space and add texture – try Dobbies for something similar. You can bring in more natural textures through accessories, too: try finishing off your table with a potted plant in an earthenware planter.
20. Mirror your indoor scheme for harmony
There's no reason you can't treat an outdoor space like any other room in the house, so if your home has a clear scheme, carry it out into your dining area. Love Scandi style? Opt for an outdoor dining table in a light wood colour. Love industrial style? Put this table from La Redoute on your wishlist right now…
Find the best buys for your outdoor dining area: