Garden table ideas: 12 functional yet stylish designs to update your plot
Discover our favourite garden table ideas – from a handy surface to pop a cuppa on to a large dining set-up for all the family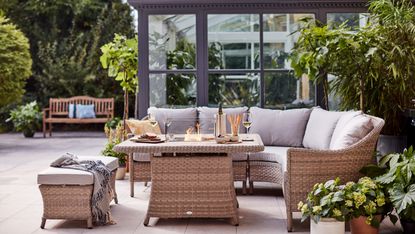 (Image credit: Dobbies)
Are you on the lookout for garden table ideas? Whether you want to get outside for more alfresco dining, or simply need a few more surfaces that aren't, well, the floor, they're a fabulous way to boost the practicality of your plot.
There are loads of stylish options to choose from, too. Think sleek, concrete designs and colourful statement pieces that will instantly make your plot feel on-trend, or chic bistro set-ups that are perfect for two. Or, maybe a durable teak number, big enough to host all the family, is the best match for your plot. We've collected all these ideas and more, so just keep scrolling to find the right garden table for you.
And then, if you're after more beautiful designs to update your outdoor space, take a look at our garden furniture ideas.
1. Try accents of colour
A garden table can be a fabulous way to inject a boost of colour into your plot. And you don't have to go all out – just an accent of a vibrant hue can be all it takes to liven up a scene.
Pair with matching chairs for an eye-catching look (we love this show-stopping red ensemble), or swap with neutral-toned seating for a more pared-back finish. Enhance the playful vibe with a string or two of multi-coloured festoon lights.
2. Go classic with rattan
A traditional look gets a modern twist with a chic grey hue and on-trend rattan. Perfect for two, this design pictured above is a timeless classic that will add a touch of luxury to any patio. Complementary chairs pull the look together beautifully. Altogether, it makes a lovely spot for a romantic morning coffee alfresco.
Opting for a glass top means it's easy to wipe clean, too. Check out our tips on how to clean garden furniture for more advice.
3. Or, opt for an uber-contemporary style
Love a more minimal look? Then check out this concrete table. With its smooth, pleasing lines, it's a beautiful addition to any of our modern garden ideas.
You can easily soften the look with comfy throws and pretty lanterns, whilst plenty of surrounding foliage will offer a striking contrast.
Not only is it oozing with contemporary appeal but it's tough as nails, too. If you're wondering how to make a garden feel modern, then this is a fabulous place to start.
4. Combine with a fire pit for a cosy focal point
Sure, our best fire pits may have you tempted, but if you're in the market for a new garden table too, then this might be the solution for you.
Opting for a two-in-one combo results in a gorgeous scene that will instantly elevate your plot's ambience. The flicker of flames is sure to enchant both you and your guests, creating a beautiful focal point. Plus, you'll be pleased for the cosy warmth once night falls.
Pair with a comfy corner sofa or chair and you've got yourself a enviable chill-out spot for evening drinks with friends.
5. Use for an outdoor bar
Speaking of drinks with friends, if you love a chilled glass of bubbly on a summer's afternoon, then perhaps it's time to consider incorporating some outdoor bar ideas into your plot.
This spacious table above feels light and bright and has plenty of room for lively outdoor gatherings. Of course, the real highlight is the central ice bucket, which will ensure that a chilled glass of your favourite tipple is always within arm's reach.
6. Go bright and bold
If our colourful garden furniture ideas have you swooning, then why not opt for a stand-out hue when it comes to your garden table? To up the fun factor even more, pair with chairs in mix and match yet complementary colours.
Choose interesting shapes and textures for a unique look (this one above mixes woven polyethylene threads with a painted steel frame). And why not combine with one of our modern paving ideas to make a real statement for your patio?
7. Try a pared-back bench for a minimal look
Not a fan of bright colours? Then perhaps this is the garden table idea for you. It's simple, it's chic, and it's exactly what you need if you love a fuss-free look that's practical as well as stylish.
Just pair with a couple of matching benches to provide enough space for everyone. In fact, it's a wonderful pick for family dining, as it's coated in an easily wipeable, UV-resistant layer.
We love how it complements the backdrop of cool panelled fencing, too. Take a look at our garden fence ideas for more inspiration.
8. Opt for foldaway tray tables
Are you the proud owner of a teeny-tiny plot, or perhaps you've been eyeing up our balcony garden ideas? If so, you'll already know how important it is to make the most of your floor space. And, opting for a foldable garden table is a fantastic way to do so.
A design like the one above is versatile, affordable, and stylish (and comes in a variety of colour options). Plus, the tray detaches, so you can use it to carry multiple drinks from inside the house.
It's a great place to pop a cuppa or a bowl of snacks. And when not in use? Simply fold it up and tuck it out of the way.
9. Double up as a foot stool
Sometimes it's handy to have a surface to accompany your outdoor seating ideas – not specifically for dining, but simply for keeping a magazine or book nearby.
Opt for a footstool and you'll have somewhere to put your feet up too, after a long day. It's stylish but unimposing, and will make any set-up feel more homely. A pretty tray can be perched on top to provide a more stable surface for a cuppa.
10. Go for teak for a long-lasting look
Teak is an incredibly durable material so makes a great option for garden table ideas. With a beautiful honeyed-finish that transforms into a gorgeous silvery-grey patina over time (if you let it), it's a failsafe option for a focal piece of garden furniture.
Pair with complementary benches as seen above and you've got yourself a stunning set-up that will last for years. All you need is one of the best pizza ovens to recreate the look and you'll be summer ready in no time.
11. Add an industrial element with nesting tables
For maximum versatility, go for a set of nesting tables for your garden. They offer tons of flexibility, giving all your guests somewhere handy to pop their drinks. However, for quieter times (or when you need more space), they can be neatly slotted together.
These gorgeous designs above have been crafted from toned acacia wood which makes a lovely contrast against their coated aluminium legs. It sets an on-trend, industrial tone that will complement all kinds of garden styles.

12. Go for a chic bistro table
A chic bistro table is another lovely option for smaller plots, especially if you want to dine alfresco. There's a huge variety of styles and colours available, but we love this cool design with matching chairs. It's made from recycled plastic and, as a bonus point, can be fully recycled again should you wish to do so down the line.
It'll bring a fashionable, cafe-culture vibe to any courtyard, terrace or urban plot, without taking up tons of space. If you love the look, head over to our best bistro sets for more designs.
What is the best material for outdoor tables?
'When it comes to choosing an outdoor table, picking a material that not only looks great but will also withstand harsh weather conditions is extremely important,' says Claire Hornby, Head of Creative at Barker and Stonehouse.
'If you're looking for durability, strength and fuss-free maintenance, rattan is a popular choice. With an aluminium base and tempered glass top, it's not only lightweight enough to move around and store but is easy to care for too.'
'If you love the natural charm of wooden outdoor furniture, go for a rich teak wood,' Claire continues. 'It can last generations and will require very little looking after.' Dani Taylor, Product and Creative Director of Cox & Cox, also suggests acacia wood as a good, hard-wearing option which is also often used when building ships. Head over to our best wooden garden furniture buying guide for lots of stunning ideas.
In terms of metal, 'Benefiting from the latest innovations in fabric technology, modern metal pieces also make for the perfect all-weather outdoor furniture,' says Claire Hornby. Dani Taylor adds, 'Aluminium is our metal of choice for outdoor furniture as it is light, lasts a long time and doesn't rust.'
'With all outdoor tables and furniture, its best to cover them when they're not in use to protect them from natural weather conditions,' Claire adds. Take a look at our best outdoor furniture covers buying guide to find one of your own.
Ready to find your perfect garden table? Head over to our best garden furniture buying guide to find the right design for your space.
The garden was always a big part of Holly's life growing up, as was the surrounding New Forest where she lived. Her appreciation for the great outdoors has only grown since then. She's been an allotment keeper, a professional gardener, and a botanical illustrator – plants are her passion.