16 garden storage ideas: organise your outside space with these nifty solutions
Our garden storage ideas will help you make the most of every inch of space and get your outdoor clutter sorted in style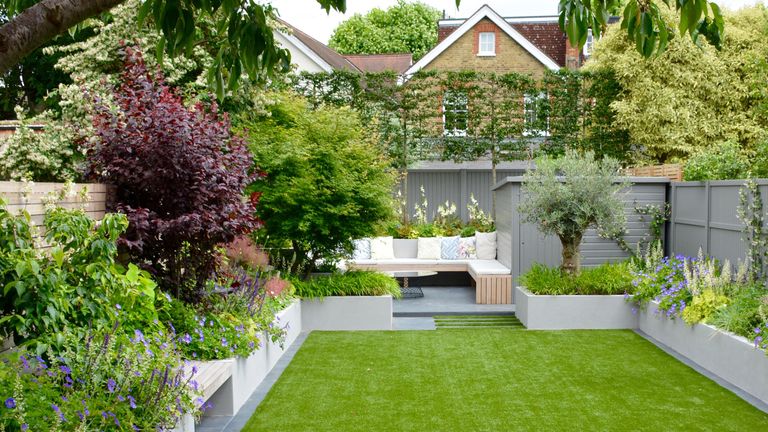 (Image credit: Tom Howard Garden Design)
By Jill Morgan
Thanks to clever garden storage ideas, organising your outside space isn't as daunting as it might first appear. Rest assured there are plenty of smart tricks and buys out there to solve your clutter issues. It's amazing how quickly we gather garden essentials, everything from tools, lanterns, pots and planters to larger essentials such as bikes, BBQs and logs can quickly leave your beautiful backyard looking more like a chaotic mess.
To start with, editing what you do and don't need is the key to getting on top of the problem. So embrace your inner Marie Kondo and recycle or give away anything you no longer need and then sit back and list everything you need to store. Group your list into small and larger items as this will help you work out exactly the scale and type of storage solution you need.
Next, look at your outside area and highlight potential storage spots. It could be as simple as finding room for a shed, a slimline wall unit or watertight chest, but chances are, especially if is space is tight, you will need to be a little more imaginative. Under steps, a narrow side alley or the void below a deck are all prime areas waiting to be transformed.
So go on, what's stopping you? Start organising your space today and if you need further inspiration, head over to our garden design ideas for more outdoor updates.
1. Use the walls
When it comes to small garden ideas, one way to solve storage issues is to use the surrounding walls to maximise every bit of available space. A series of shelves, hooks and hanging rails or wall-hung containers can hold a surprising amount of clutter. Double your storage options with a base unit that has a tall trellis or slatted panel attached and then you can use it as a growing space for favourite herbs and plants too.
2. Make the most of modular shelving
Need to make the most of a long, low wall or awkward corner then try a modular shelving system that can be tailored to the fit the space. The beauty of these designs is that they offer a smart solution, often at a fraction of the cost of a bespoke solution, and that they can be adapted or taken apart and moved as your needs change. As pictured, you could even use them as a space for the best herbs to grow in your garden.
3. Choose flexible storage on wheels
What could be better than storage boxes that look good, double as side tables or occasional seating and can be wheeled around to exactly where they are needed? There are plenty of sturdy chests that are suitable for outside use, many are watertight too – but few are as smart as these storage benches on wheels from La Redoute. If these don't fit the bill, you can take on an easy DIY project and simply adapt standard storage boxes by fixing heavy duty castors to the base. They're readily available from Amazonand are easy to fit to your storage. Opt for designs with brakes to stop the storage unit moving around, especially if you want it to double up as a seating area.
4. Fix up a handy display
Open storage is a great way to free up floor and worksurfaces while keeping everything close to hand. Wall hung crates or boxes, canvas pockets and neat multi-sectioned grids, like this one from Crocus, make perfect homes for smaller essentials and can liven up a plain wall too. Stash away everyday items such as the best secateurs, garden twine, the best gardening gloves, pots and labels, and don't forget that the top of the organiser doubles as a handy shelf too.
5. Go for sleek small space storage
Style counts, particularly in a small space so choosing storage can be tricky. Look for sleek lines, simple shapes and go for units with doors so you can hide the contents away to maintain a smart, streamlined look. For balcony garden ideas where space is really right, work out exactly what you need on a day-to-day basis and find a storage unit that will accommodate everything. Ikea's Kolbjorn range comes in a range of heights and configurations featuring both open and closed designs. The shelves can easily be repositioned and you can stack different combos to suit your needs.
6. Stash essentials in one place
If you're fed up with the endless hunt for gloves, the best secateurs and string then create a garden caddy to keep everything you need in one place. It doesn't have to be particularly smart but it needs to be easy to carry. A simple canvas bag, basket or lined fruit crate will also do the job. Divide the interior into two or three sections to help keep some order and try and store similar items together, hand tools one side and plant ties, labels, twine on the other.
7. Blend in large storage
Larger storage spaces, such as the best sheds and bike stores can dominate a small backyard or look out of place in if added as an afterthought. Thankfully, there are some clever and very effective tricks you can try. No one wants to look out onto an ugly ash-felted roof so why not swap it for a living roof instead. There are plenty of planting options to choose from including pre-sown matting and pocket systems which makes installation a simple project.
Painting or cladding the garden store to match surrounding garden fence ideas and walls is a simple way to create continuity. In this stunning garden scheme, a lack of front facing windows and a flush profile merges the store into the planting, so it becomes a blank canvas to show off the stately olive tree.
Head over to our feature on the best trees for small gardens to find the right pick for your outdoor space.
8. Utilise wasted space
Garden structures often eat up space but look carefully as, with a little tweaking, they can provide storage opportunities too. Clever garden steps ideas, raised decking ideas, built-in bench seating and retaining garden wall ideas can all incorporate handy nooks perfect for stashing away items such as BBQs, folding chairs, tables and parasols. Yes, these spaces may be unconventional shapes, but they are often large and roomy offering the perfect spot to stash your garden essentials.
9. Squeeze in a shed
The best sheds come in all shapes and sizes, offering endless amounts of storage but sometimes even the smallest off-the-peg design can be too imposing for a tiny outdoor space. The solution is to adapt a bought or existing model to suit your needs and garden layout. Or, if you are feeling handy, create one from scratch.
Think about how you want to use the storage space – is it for housing bikes, long, thin garden tools or bulky toys, as this will help you decide on the dimensions and best location. Reduce the structure by cutting down the panels and securing any loose boards with timber battens. Upgrade features such as doors and windows with reclaimed materials and paint to blend in with surrounding walls and planting, You'll find the best exterior wood paint for your project in our buying guide.
10. Snap up a seat with storage
If you're on the hunt for a super stylish new bench, then why not go for one with storage built in? Choose from designs with lift up seats or a series of drawers, ideal for keeping cushions, throws or smaller accessories neat and tidy, ready for the moment they are needed. They're a great way to make the most of your outdoor living space ideas and keep everything clutter free.
11. Organise your work area
Whether you are super neat or you long to be, here's the secret for keeping sheds and garden rooms organised, the humble pegboard. Loved by shopfitters, DIY enthusiasts and crafty types alike, it's easy to keep everything in its place and spot what's been borrowed too. Pick one up online – there are numerous specialist companies out there that also sell extras such as shelves, hanging pots and slot-in racks that are compatible with their systems. Alternatively make one yourself using timber board, wood pegs, tape measure and a drill.
12. Assemble your own outdoor kitchen
Love the idea of learning how to design an outdoor kitchen? Then get organised with some practical units and create the perfect spot for an outdoor cook-up. There are plenty of budget-friendly outdoor kitchen ideas too, so you don't have to bust the bank balance either. Look for affordable modular units that sit neatly together to make a spacious worksurface with oodles of shelving space below. Handy built-in rails provide a place for cloths as well as a spot for hanging utensils and pans.
13. Introduce some display shelves
Gather up pots, lanterns and any other outdoor favourites that are cluttering up your patio and pop them, pride of place on a stunning set of shelves. Not only will it free up floorspace, but open shelves can act as handy divider or help cosy-up your patio ideas too. Group together similar items for a cohesive look – one shelf could be lined with small potted plants while a group of larger lanterns sit proudly on another. Try not to cram the unit full though, the aim is for a smart but calm, interesting display.
14. Keep logs in order
A sprawling log pile can take up a huge amount of space and look cluttered too, so get organised and turn it in a striking garden feature. There's a huge range of different shaped metal stores out there that not only look amazing but keep the timber secure, ventilated and dry. Choose from interlocking pyramids, rectangular walls and eye-catching circles like the one pictured above.
15. Make space for a boot and shoe store
Fed up with trailing dirty boots through the house or falling over the pile left by the door? Then adding some suitable shoe storage is the answer. There are plenty of roomy weatherproof chests available that would do a brilliant job, but we really love this stylish design. The small footprint saves on valuable space while the handy shelves enable you to grab and go. Just pop a metal boot scraper nearby and you'll be all set.
16. Disguise your bin store
They are definitely less-than-lovely to look at, but wheelie bins are the perfect excuse to get creative with your front garden ideas. Bin stores are great for hiding these plastic hulks from view, but they are practical too, as they also stop bins being raided by foxes and blown over in the wind.
A simple lick of paint is a good way to blend them in with the surroundings but go one step further and crown them with a living roof. Plant it with alpines and low-growing succulents for year-round colour. Head over to our guide on how to grow succulents for top tips on growing them indoors and out.
Read more: